Hey Friends! My name is Lucía. I'm an Argentine based in beautiful Vancouver, Canada. I decided to create this space for us to share our love for baking.
I love everything related to food. I like to gather family and friends around the table every time I can. I'm crazy about decorating cakes for my loved ones' birthdays and events. I love to put together a lot of ingredients and transform them into magic.
I'm in love with baking. It's been like this for as long as I can remember, and it was my mom who introduced me to this unbridled passion for cakes and desserts.
In my younger years, I studied photography, and later on, I got a degree in Communication. But I couldn't wait to throw myself into what I loved the most. I went to pastry school and got a pastry chef degree. From that moment it became my whole life.
Now I work as a full-time pastry chef in Vancouver and in my spare time I like to continue playing in the kitchen.
That's the reason why I started testing recipes, creating my own, and taking photos of my creations.
What I never imagined is that my three passions, writing, photography, and baking, could come together to form this little nest of pastry love, which perhaps – and I hope – can serve you as inspiration.
It fills me with joy to be able to share with you the results of my sweet experiments.
In this space, it's my intention to help you with your questions and awaken your curiosity about the baking world and gastronomy. Here you will find the traditional Argentine recipes that I learned when I lived there, some French-style baking that I learned when I studied, and also some classic American recipes that I learned while living here.
I have to say that even if I feel comfortable with many types of preparations, I keep on working on my baking skills every week, every day, with every recipe I make. And want to add that at some point, my cakes also sunk in the middle, I burned my brownies and I over beat chantilly cream. Believe me, I've been there and it's all part of the process! For my part, I want to encourage you to start or to continue experimenting with these lovely desserts recipes ;D
Have an amazing baking journey and don't forget I'm here to help!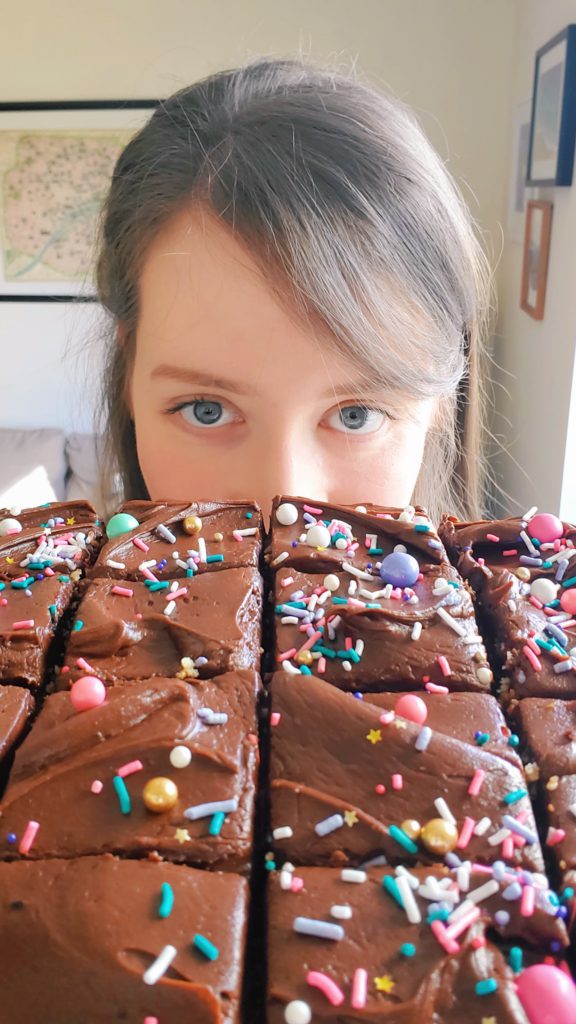 Fun facts about me
Although in my life I have always been surrounded by excellent dishes, my favorite food is still hot dogs. And my favorite dessert, ice cream.
I am extremely shy but I love to dance! Especially Latin-American rhythms; D
I love all the animals in this world but my favorites are bunnies!
Speaking of rabbits, there are people in my hometown who still remember when I participated in a children's parade, with a rabbit costume. You could see from my face I was in the worst mood. And so everyone was waiting to see "angry rabbit" again. I was 4 years old.
I can't stay awake until after 10 pm. I just fall asleep.
My three sisters work in gastronomy/events. So when it was my wedding, we all put together the party of the century! It was seriously cool.
Most of my birthday parties in my life were an afternoon tea with friends and we always made a giant dessert and bake goods table!
I had a cake business in Argentina, it was called Pequeña Bitty. Bitty was my mom.
My dad helped me a lot with my business, from cutting wooden plates for the cakes to deliver my orders himself!
I'm a lousy photographer, but I enjoy doing it. The bright side is I sort of know how to handle my camera.
My last name is difficult to pronounce so instead of saying Acevedo, people sometimes say Avocado!
My husband patiently taught me everything I know about math in baking. It used to be really bad but I learned some really good tricks!