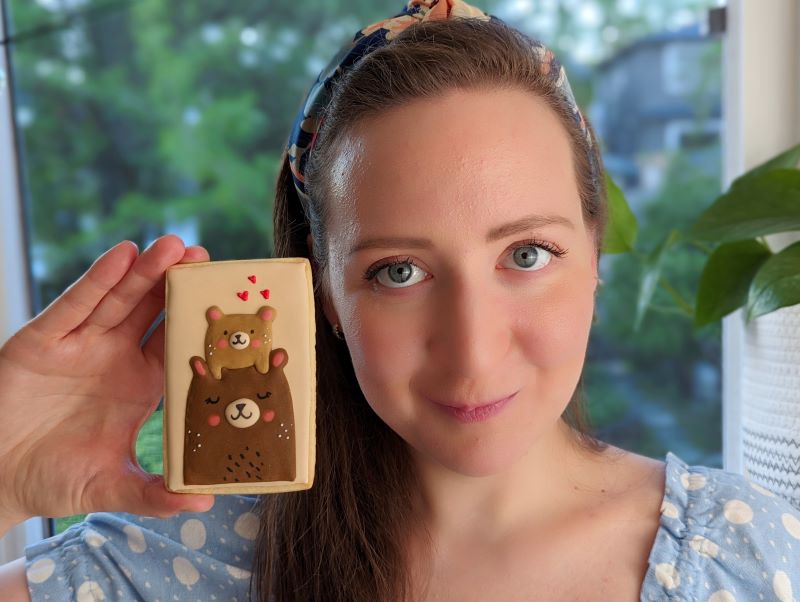 Welcome!
I am about to launch my online cookie decorating course. This course teaches you how to make the highest quality cookies decorated with royal icing. On this occasion, the theme is unicorns, rainbows, and flowers. You're not only going to learn how to make these cute themed designs, you'll also learn the techniques on decorated cookies, from scratch. We will cover the basic decorating techniques: royal icing transfer, and flowers and leaves piping.
About this course
It is a self-paced course that contains a series of explanatory videos with the step by step on recipes, techniques, and the decoration of each cookie. I will guide you through the entire process to make cookies from start to finish, without losing details. The course also has a guidebook that you can print with the recipes and procedures thoroughly explained. You'll also get printable templates and guides to help you practice your technique and to create the final product. The course will cost $25 USD, and will be released in August this year. For more details about the course contents, see the FAQ below.
A little bit about me
In case you don't know me, I'm Lucia Paula Acevedo, creator of "Lucia Paula"'s baking blog. I am Argentine and based in Canada. I'm a pastry chef with a degree in Communication, content creator, recipe developer, and photography apprentice. What I love the most in the pastry world are simple recipes that remind us of home, holiday baking, dessert tables, as well as cake decoration, and above all, cookie decorating! I started decorating cookies in 2012, and I want to share with you everything I learned during this time!
FAQs
1. Who is this course for?
Apprentices, Beginners:
If you have no previous knowledge, this course is for you! This course will cover the making of dough and icing, the icing stages, and basic cookie decorating techniques from scratch. Once you have learned the basic decoration techniques, you can experiment with the rest of the techniques according to your ability, speed of learning, and/or your desire to do so!
Experienced, or with some knowledge:
If you have basic notions, or you already decorate cookies in general, but you want to polish your recipes and take your cookies to another level, this course is for you! With this course you will be able to experiment with my formula for cookies and icing, you will be able to learn the way I use basic techniques, and you will also be able to learn more advanced techniques that will give something extra to your cookies.
2. Why do this course?
I recommend that you take this course if…
You want to start a cookie business or you want to add decorated cookies to your product list.
You want to learn the art of making decorated cookies to give to your loved ones or to offer as a party favor.
You want to start a new family tradition or an activity with friends.
You are looking for a new hobby or to learn a new skill. Decorating cookies can be very relaxing, fun, and satisfying!
You know how to decorate cookies but you want to learn how to make these cute Unicorn, Rainbow, and Flower designs.
3. What are the decorating techniques included in this course?
The basic cookie decorating techniques you will learn are:
Flood
Dimension
Wet on wet
Details with royal icing
Details with edible markers
Details with metallic painting
The advanced cookie decorating techniques you will learn are:
Royal Icing transfers
Small flowers and leaves made with royal icing
4. What does the course include?
This Cookie Decorating Complete Course includes:
A digital printable guidebook that contains:

Detailed recipe for cookie dough (with ingredients and step-by-step photos), instructions for baking, freezing, and conservation.
Detailed royal icing recipe (with ingredients and step-by-step photos).
Instructions for coloring icing and the different icing stages or consistencies. Packaging and conservation instructions.
General instructions, baking tips, and frequently asked questions about the recipes.
List of tools you need to decorate cookies.

A printable guide with details of the quantity, color, and icing stage that you will need for your cookies.
A printable production schedule to help you plan your tasks day by day.
A printable piping practice sheet.
Printable cookie templates for this course.
A printable typography template for transfer.
Videos with the following content:

Course introduction.
Instructions for making your own cookie molds.
Instructions for making cookie dough, cutting, freezing, and baking.
Instructions to make royal icing. Color and consistencies. Packing of the icing.
Instructions to piping practice.
Royal icing transfer instructions.
Small flowers and leaves piping instructions.
Cookie decoration: one video per cookie.