These peanut butter blondies are delicious little squares filled with peanut butter flavor, which goes amazing with the brown sugar and the white chocolate chips. They are chewy, rich, packed with flavor, super crispy on the outside, and moist inside. I am part of that small percentage that prefers blondies over brownies. But if there's anything better than blondies, it's peanut butter blondies!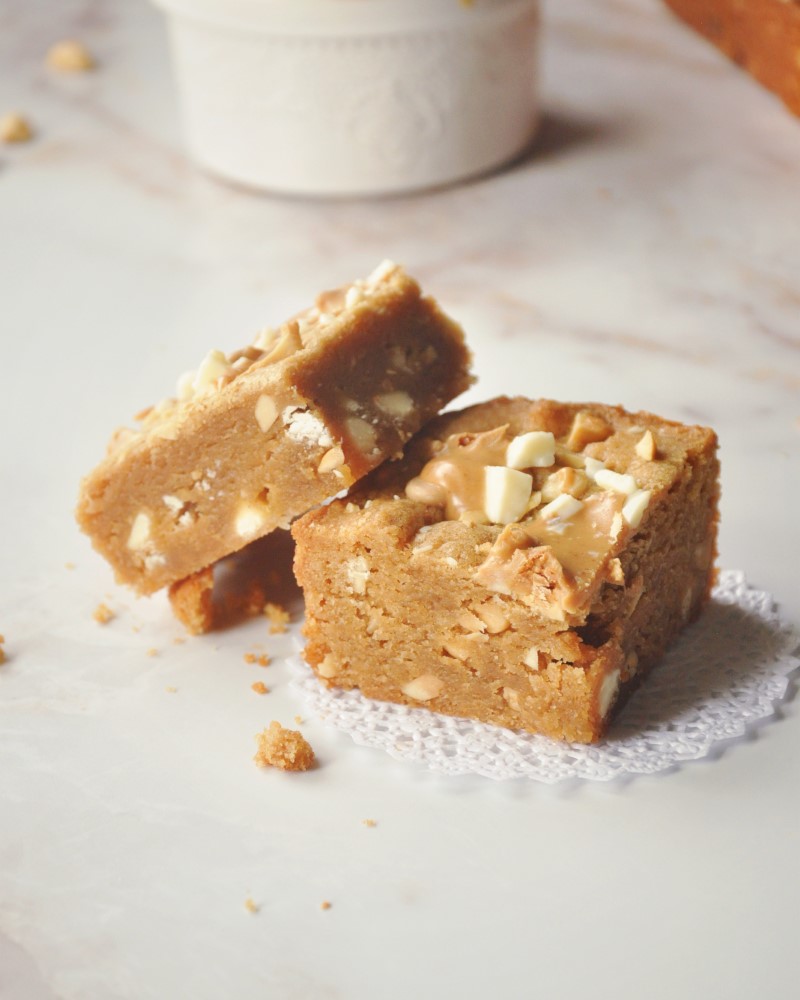 How to make peanut butter blondies?
Follow these steps to make this recipe:
Melt the butter and combine with the sugar.
Mix the peanut butter in.
Mix in the eggs.
Add the dry ingredients and add-ons and combine.
Bake and let cool.
Add the decoration and cut in squares.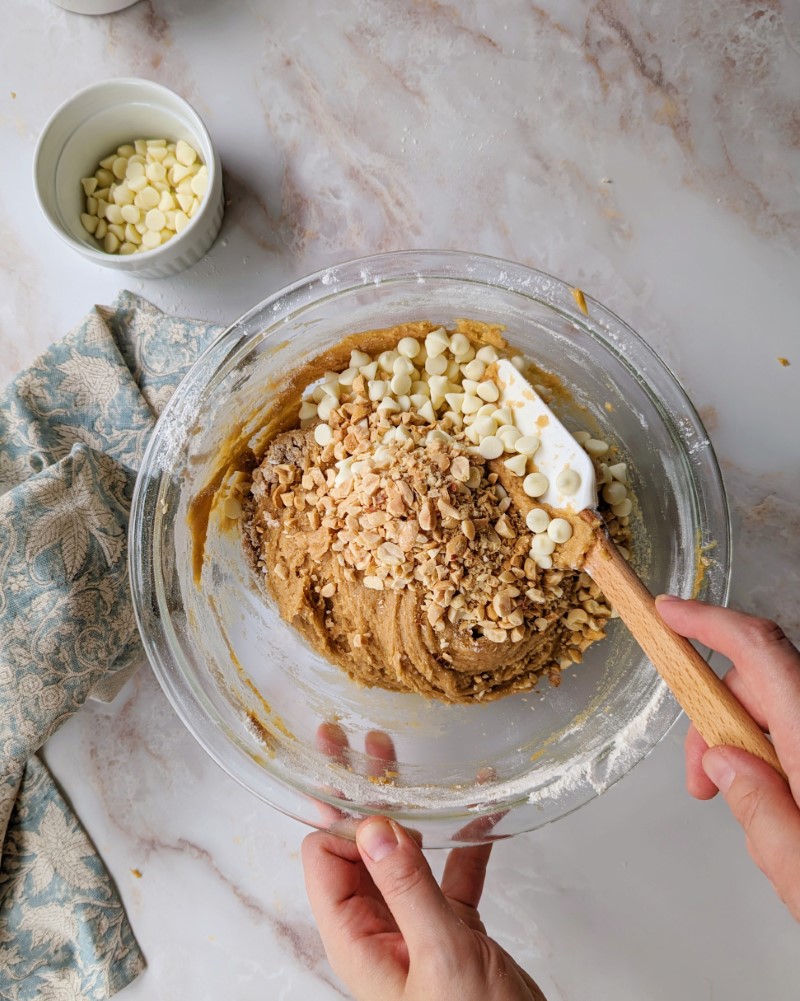 What is the difference between brownies and blondies?
Brownies batter is made from a base of dark chocolate and melted butter, to which we add eggs, a generous amount of sugar, and a small amount of flour. The result is a compact and moist cake with an intense chocolate flavor. Blondies are made with butter and brown sugar, to which we add eggs, flour, and white chocolate chips. We wouldn't want to melt white chocolate with butter since it can get overly greasy (white chocolate has a high fat content). To sum up, blondies are a white chocolate version of the brownie. But instead of using melted chocolate, we add a small amount of white chocolate chips.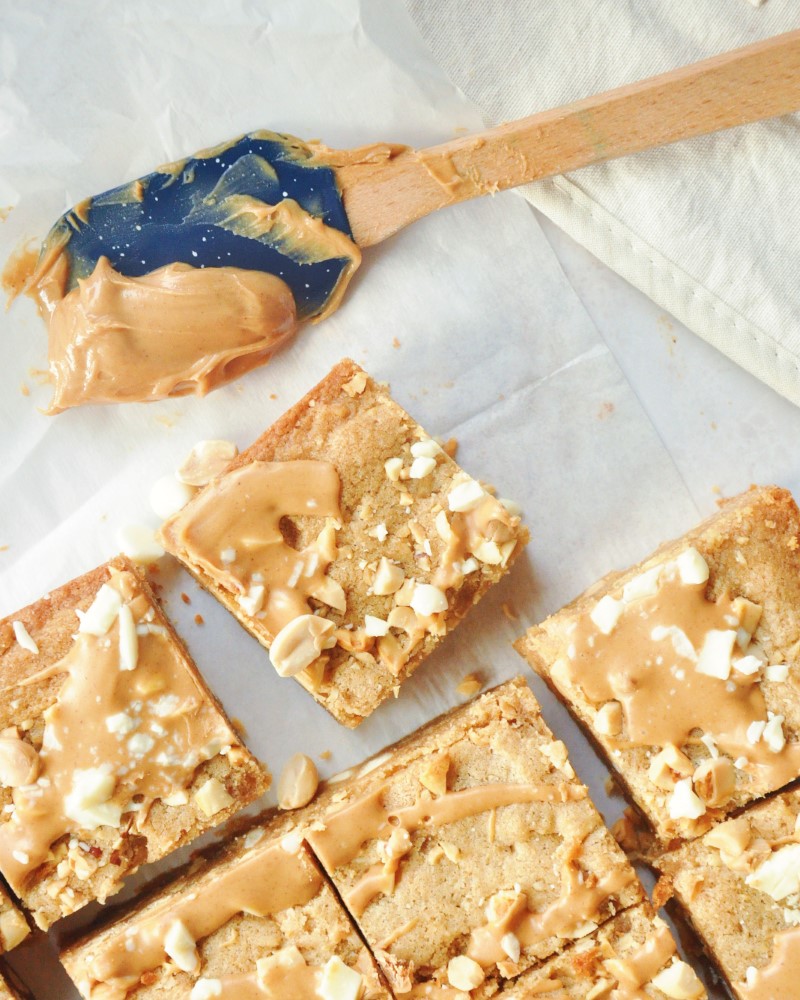 Can I make the blondies with any peanut butter?
You can use whatever peanut butter you have at home. But it's better to use regular peanut butter, which is stabilized. If you use organic peanut butter, your blondies might turn a little dry. I use smooth peanut butter, but if you rather use the crunchy version, you can skip adding chopped peanuts to the batter.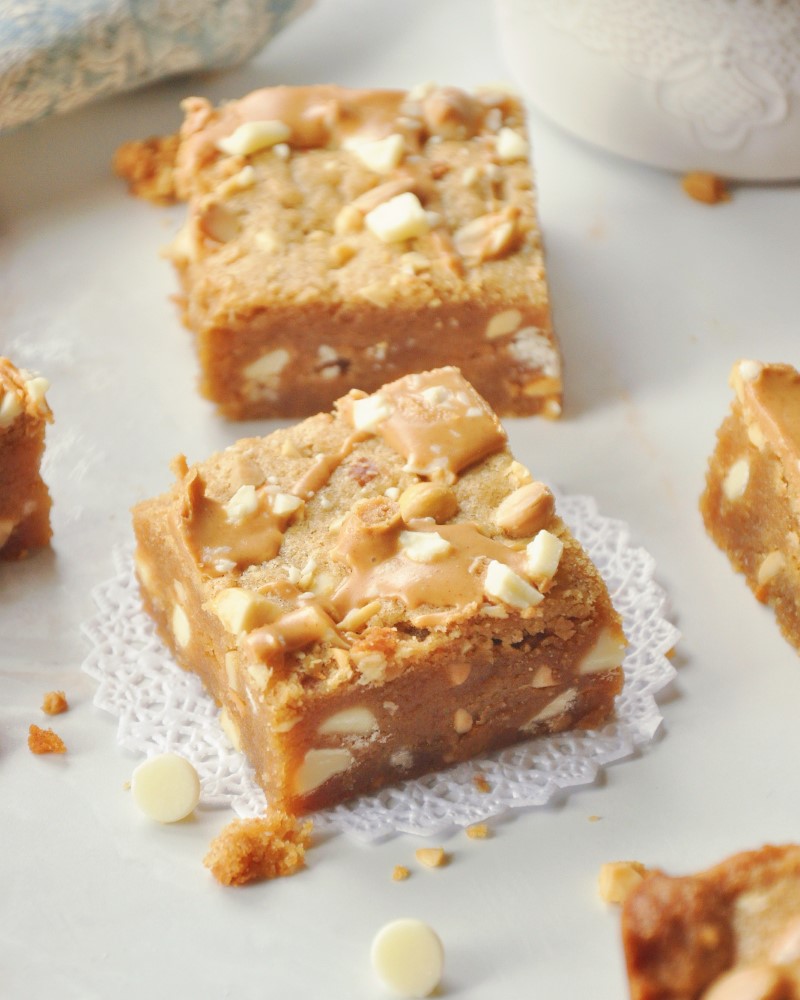 Substitutions for this recipe
Peanut butter: This can be substituted with any nut butter, like almond butter.
Unsalted butter: It shouldn't be replaced on this recipe as it is vital to providing a good flavor. It also helps the blondies stay firm once they cool.
Add-ons: I added white chocolate chips and chopped roasted peanuts. You can use the add-ons of your choice: walnuts, almonds, and dark chocolate chips are some examples.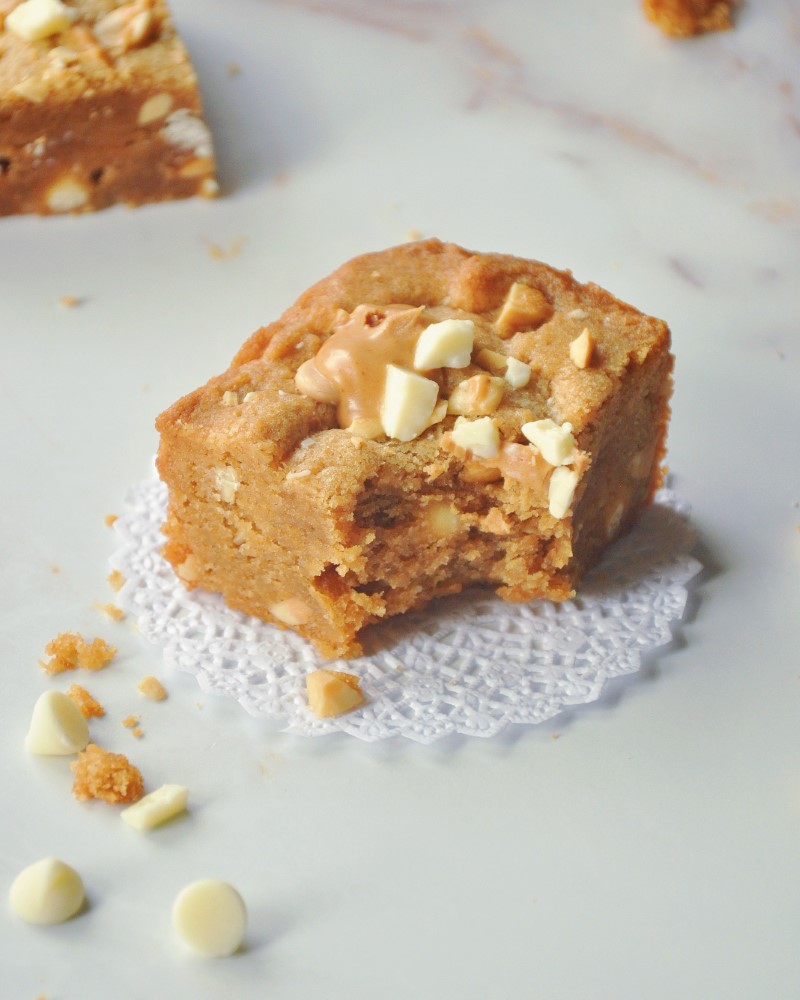 Peanut Butter Blondies Conservation
Store these blondies at room temperature for up to a week, covered with plastic wrap. You can freeze them for up to three months, covered with plastic, or in an airtight container.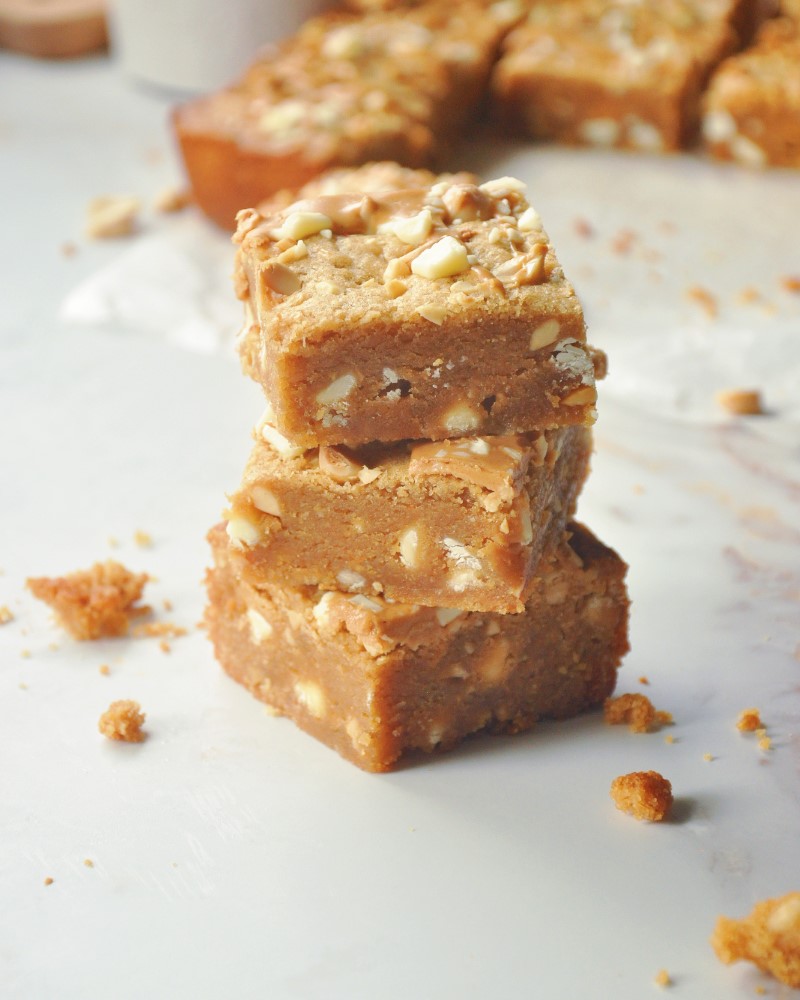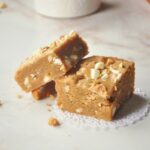 Print Recipe
Peanut Butter Blondies
These peanut butter blondies combine brown sugar, white chocolate, and peanut butter to make a delicious bite. They have a moist and compact center, while the outside is crispy and caramelized.
Ingredients
160

g

Unsalted butter

200

g

Brown sugar

100

g

White sugar

1

tbsp

Vanilla extract

200

g

Peanut butter

room temperature

2

Eggs

260

g

All purpose flour

1

tsp

Baking powder

½

tsp

Salt

140

g

White chocolate chips

100

g

Chopped roasted peanuts
Decor
60

g

Peanut butter

20

g

Chopped white chocolate chips
Instructions
Preheat the oven to 350°F (180°C). Butter and line the pan with parchment paper, leaving an overhang on two sides. That way, it will be easier to lift the blondie after baking.

Melt the butter in a saucepan over low heat or in the microwave at 20-second intervals. In a bowl, mix the two sugars with the melted butter and vanilla extract. Use a hand whisk.

Add the peanut butter at room temperature and mix just until combined.

Mix in the eggs until smooth.

Add the flour, baking powder, and salt and mix with a spatula until combined.

Reserve two tablespoons each of chopped peanuts and white chocolate chips. Add the rest of the chopped peanuts and chocolate chips to the batter and mix.

Pour the batter over the mold and spread even with the spatula. Add the extra peanuts and chocolate chips as a topping before baking.

Bake in a preheated oven at 360°F for 30-35 minutes. You can tell when it's done when poking it with a knife it comes out clean or with a few crumbs.

Let cool for at least 15-20 minutes before decorating. To decorate, heat the peanut butter for about 20 seconds in the microwave and when it is very soft, let it fall on the blondie in the form of ribbons. Sprinkle chopped white chocolate chips.

To unmold, cool completely, and pull the parchment paper firmly from the edges. It will come out of the pan easily. Cut once unmolded.