This pumpkin spice cake is incredibly moist and soft, with a sweet pumpkin flavor and a blend of spices that makes it unique. This cake is decorated with the most delicious cream cheese frosting I made with brown sugar, which gives a depth of flavor and goes wonderfully with the pumpkin spice mix. This cake is a must for fall and winter. It's easy to make since we're not using layers. It has a beautiful presentation, which makes it great for the holidays!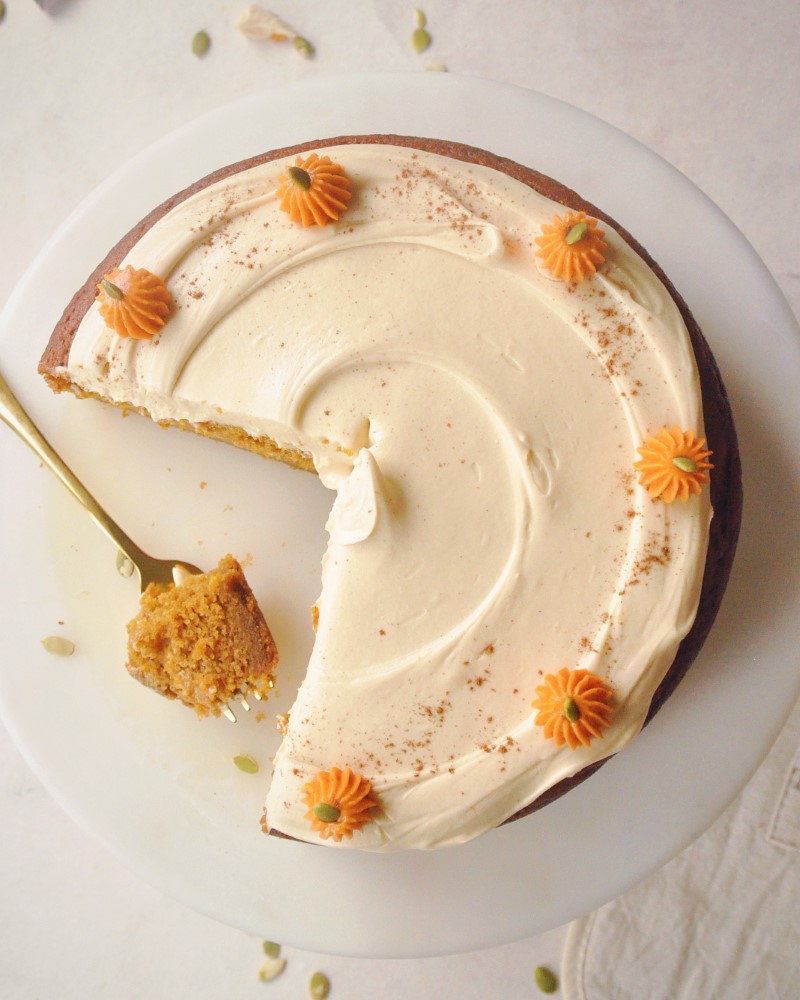 If you're into pumpkin desserts, don't miss out on my Pumpkin Cupcakes with Brown Sugar Meringue recipe!
How to make a pumpkin spice cake?
Follow these steps to make this recipe:
Beat the eggs with the sugar.
Add the pumpkin puree and oil and combine.
Mix in the dry ingredients.
Pour into the mold and bake. Let cool and unmold.
For the frosting, melt the butter with the brown sugar and let it cool.
Beat the butter with the cream cheese and icing sugar until you get a creamy frosting.
Decorate the cake with the frosting and pumpkins made with orange-colored frosting.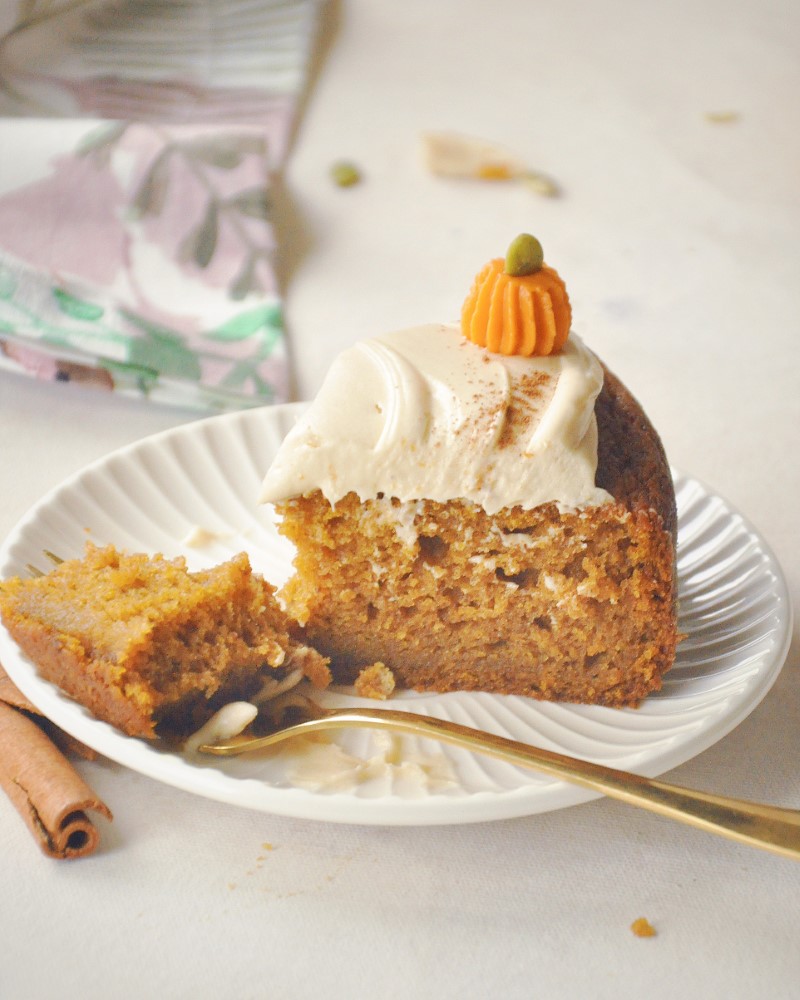 How to make a pumpkin spice mix?
Baking spice mix is widely used in bakeries and at home. Before starting the fall baking season, it's a good idea to make a batch of pumpkin spice mix. It's nice to have a premade spice mix ready to go! You can include the spices you prefer to make the combination you like best. Here is my recipe for pumpkin spice. As you might tell, my recipe doesn't include allspice. That's because there's no allspice where I'm from, and I got used to mixing in black pepper instead:
4 tbsp cinnamon (32g)
2 tbsp ground ginger (17g)
1 and ½ tsp nutmeg (3g)
1 and ½ tsp ground cloves (3g)
1 tsp ground black pepper (2g)
1 tsp anise (2g) optional
Mix and sift the ingredients and store them in an airtight container until ready to use. For the pumpkin spice cake, use 3 and ½ tsp of mixture instead of the spices called for in the recipe.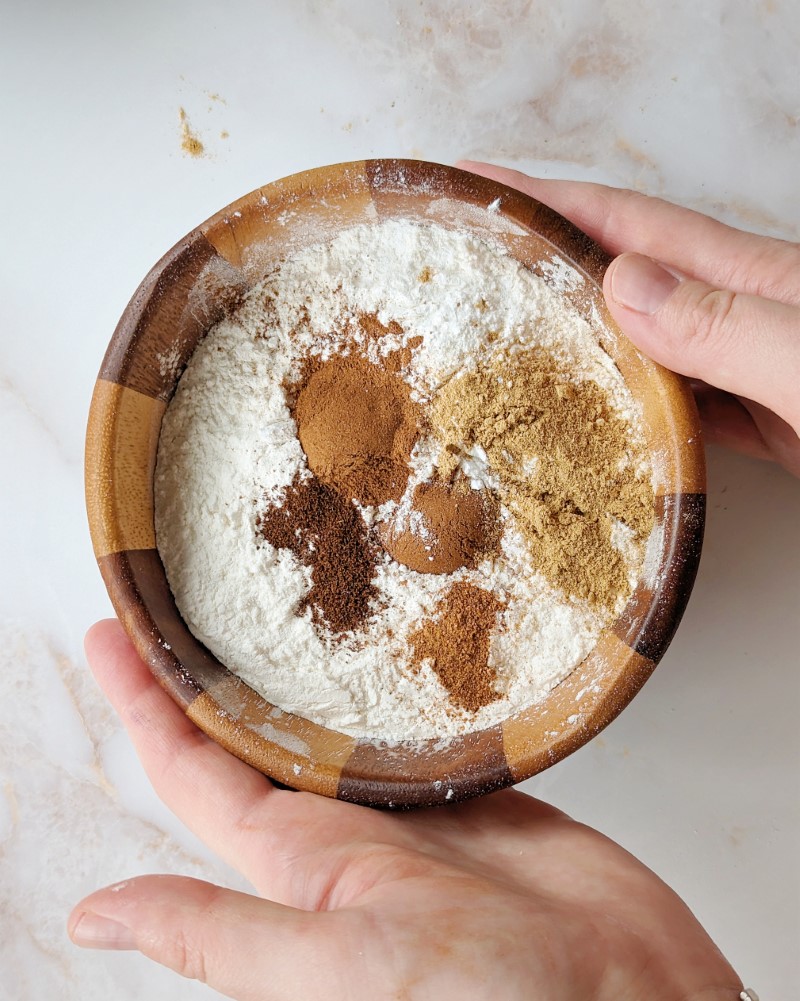 Replacement: classic cream cheese frosting
The brown sugar cream cheese frosting takes this cake to another level. But if you prefer to make a simpler version of the topping, I recommend that you use my classic cream cheese frosting recipe that you can find in this Carrot Cake post.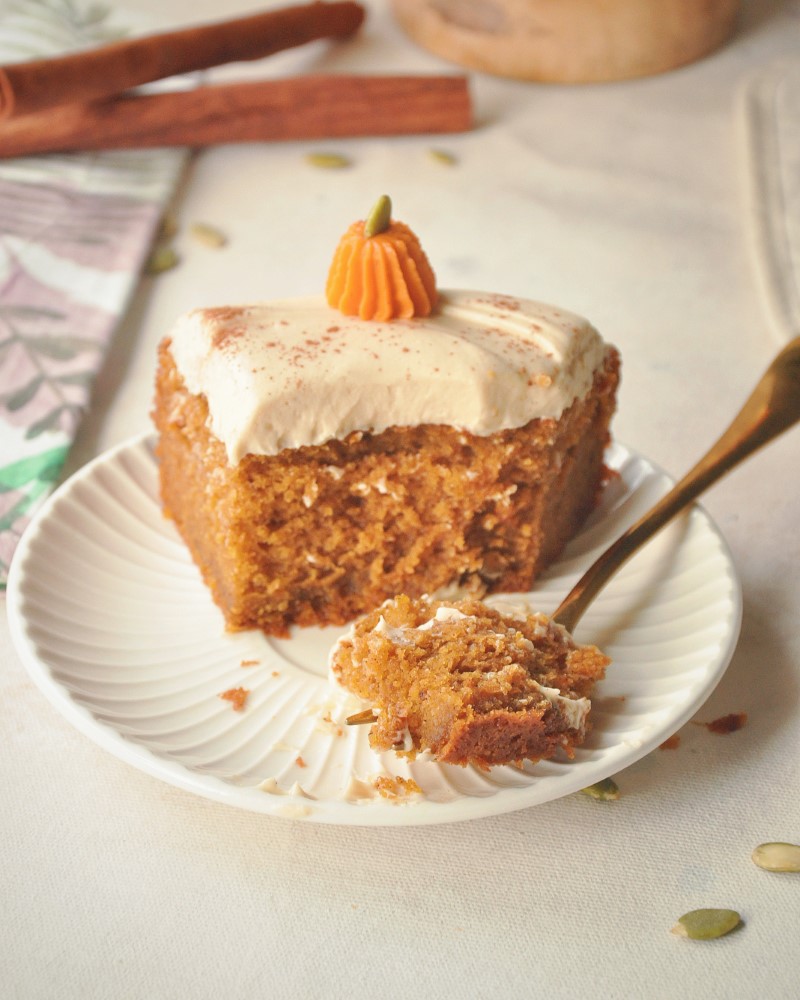 Pumpkin spice cake conservation
Store it in the fridge for up to a week, covered in plastic wrap or a cake dome. Take it out one to two hours before serving. It can be served at room temperature or cold.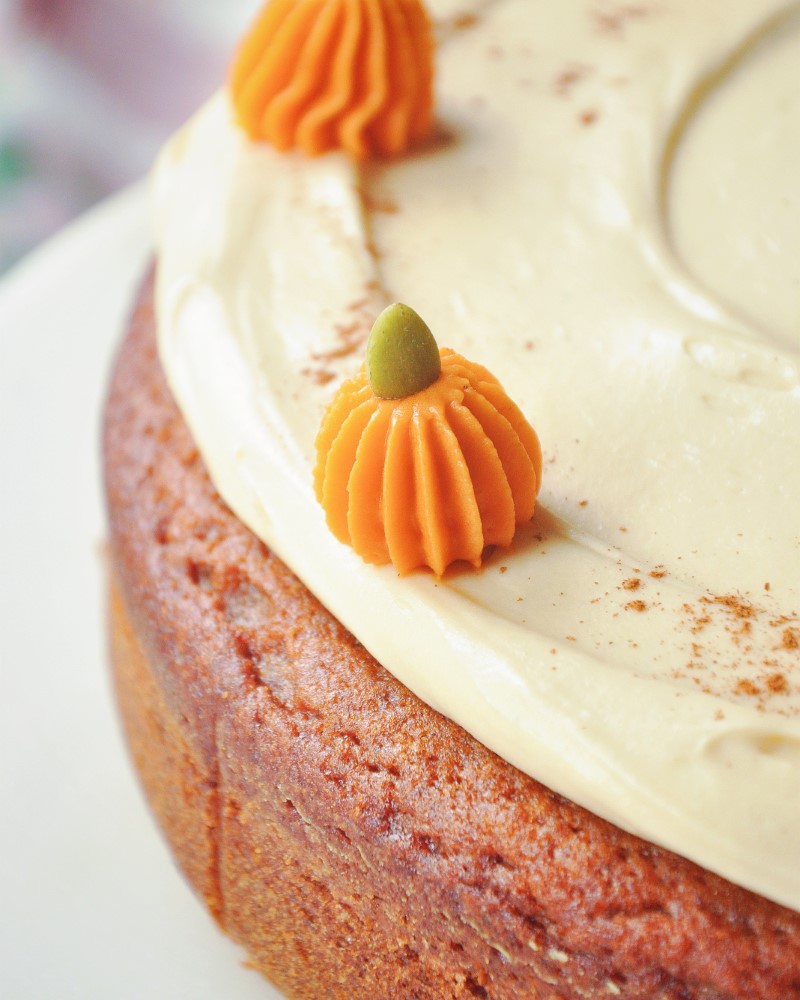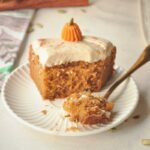 Print Recipe
Pumpkin Spice Cake with Brown Sugar Cream Cheese Frosting
This pumpkin spice cake is soft, spicy, and moist. The brown sugar cream cheese frosting makes a delicious dessert. It's great for fall and the Holidays!
Equipment
9-inch cake pan

Piping bag

Wilton 6B Piping tip
Ingredients
For the Cake
150

g

White granulated sugar

150

g

Brown sugar

2

tsp

Vanilla extract

3

Eggs

180

ml

Vegetable oil

400

g

Pumpkin puree

230

g

All purpose flour

2

tsp

Baking powder

1

tsp

Baking soda
Spice mix (see notes)
2

tsp

Cinnamon

1

tsp

Ground ginger

¼

tsp

Nutmeg

¼

tsp

Ground cloves

⅛

tsp

Ground black pepper
For the Brown Sugar Cream Cheese Frosting
150

g

unsalted butter

80

g

Brown sugar

160

g

Cream cheese

220

g

Icing sugar
For the Decoration:
Orange food color

Pumpkin seeds
Instructions
Cake
Butter the cake pan and line the base with parchment paper, or butter and flour your pan. Preheat the oven to 350°F (180°C).

In a bowl, place the eggs with the vanilla extract, both sugars and the eggs. Beat vigorously with a hand whisk for a few seconds until the sugar is well combined.

Add the oil and pumpkin puree and mix until incorporated.

Combine the flour, baking powder, baking soda, and spices with a small whisk. Fold the dry ingredients gently into the batter.

Pour the mixture into the cake pan and bake in the preheated oven (350°F) for an hour or until a toothpick inserted in the center comes out clean.

Let cool before unmolding and decorating.
Brown Sugar Cream cheese frosting
Place the butter and the brown sugar in a saucepan and place over low heat, stirring all the time, until the butter has melted and combined with the sugar.

Let it cool in the refrigerator until it reaches a creamy consistency, like soft butter.

Place the butter mixture in the bowl of the stand mixer and add the cream cheese. Beat with the paddle attachment for a few seconds until soft and creamy. You can also use a handheld mixer.

Add the icing sugar all at once and continue beating. First, at low speed until the sugar is incorporated, then at medium speed, for approximately 2 minutes, until you get a soft and creamy frosting.

For decoration, scoop out 1/2 cup or ¾ cup of frosting and color with orange food coloring.

Cover the cake with the rest of the frosting and decorate with a spatula in a rustic way.

Place the orange frosting in a piping bag with a star tip and make long blobs towards the edges of the cake.

Place a pumpkin seed on each frosting pumpkin to finish the pumpkin look.

Serve at room temperature or cold.
Notes
If you'd like to make a larger amount of pumpkin spice mix for future bakes, you can find my recipe in "How do you make a baking spice mix?" on this post. For this cake, use 3 and ½ tsp of mix instead of the spices called for in the recipe.