This is the best carrot cake with cream cheese frosting recipe you'll ever try! It is extremely moist and delicious, and luckily one of the easiest cakes to make, since it simply requires combining all the ingredients together, without the need of a mixer.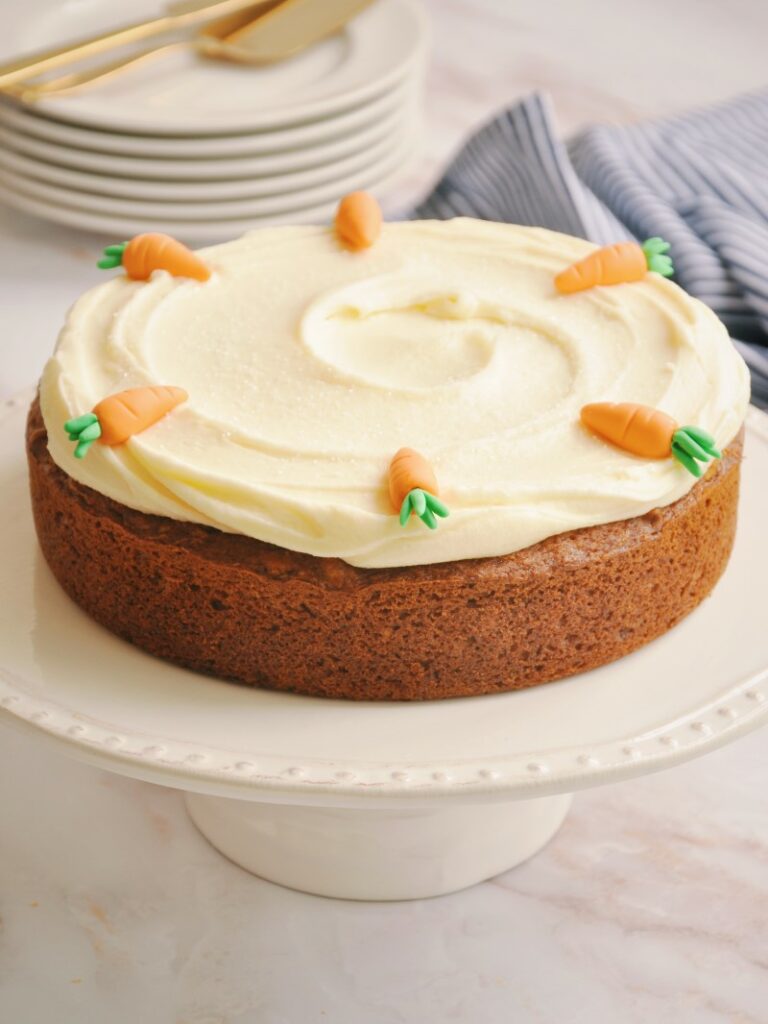 This is my go-to carrot cake recipe and I believe deserves saving for the future. It is extremely moist, has a delicate carrot flavor, and is mildly spicy. One of the things I like the most is that it is not so sweet, which makes it ideal to combine with cream cheese frosting or another sweet icing.
How to make a Carrot Cake?
Honestly the hardest part of making a Carrot Cake is grating the carrots!
Make the batter
First combine the eggs with the oil, vanilla, sugar and applesauce. You can do this in a bowl with hand whisk or with a wooden spoon. In another bowl weigh out and sift the dry ingredients, and add them into the liquid mixture without mixing too much. Finally peel and grate the carrots, which should be previously washed. Add the grated carrot and walnuts and mix until combined. You can use chopped or whole walnuts, whichever you prefer.
Baking, cooling and cutting
This recipe makes one round 9 inch or two 6 inch cakes. In both cases, they can be cut in layers after baking. In my case, I decided to leave the 9 inch as a single layer, topped with a good amount of cream cheese frosting.
To prep the mold, grease and line the bottom of the cake pan with parchment paper. Pour all the mixture (which is going to be quite liquid) in the pan and level with an offset spatula.
To bake the cake, preheat the oven to 175°C or 350°F and bake for about 50 minutes. We should always begin to check at the minimum time, in this case 45 minutes for the 9 inch cake. If it is baked in smaller molds, you can start testing after 35 minutes. When you insert a toothpick in the center, it should come out clean.
Once baked, let it settle for 10 minutes and carefully unmold. Let it cool completely before decorating or filling.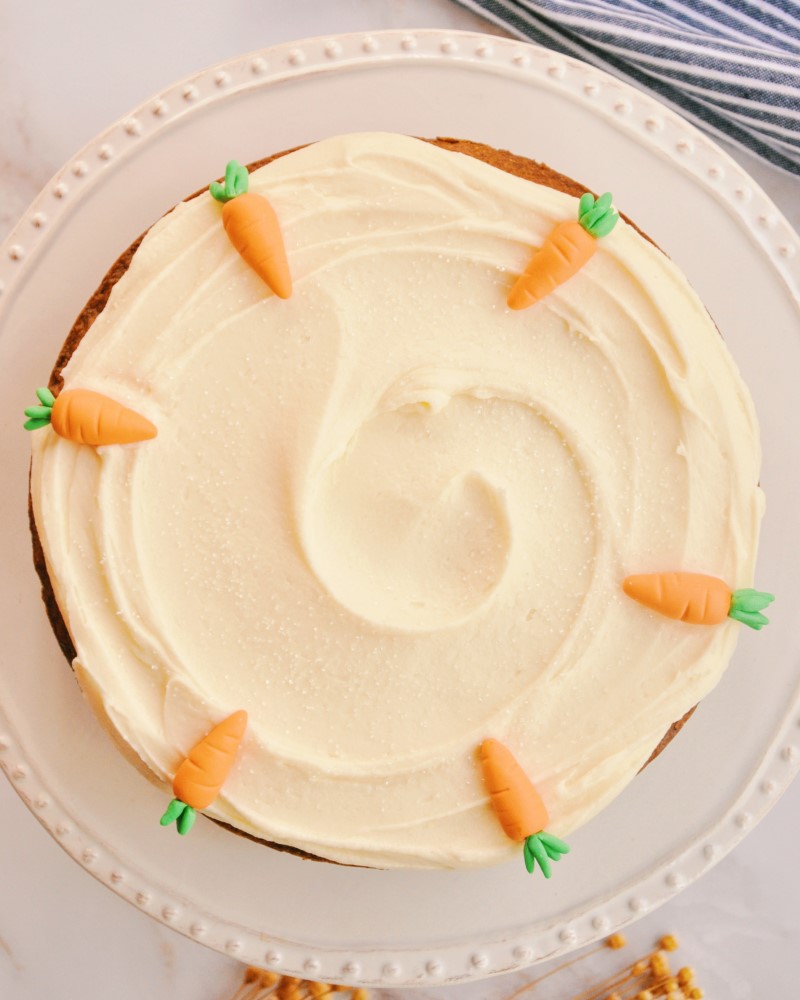 Topping: cream cheese frosting
For the cream cheese frosting, beat the butter, which must be very soft, with the cream cheese that must be at room temperature. Once the cheese and butter mixture become super creamy and light (it can take about 2-3 minutes of beating at medium speed), add the icing sugar and beat, first at low speed so that the sugar doesn't fly everywhere. Then, increase the speed and keep on mixing for a minute. The texture of the  frosting should be creamy and smooth.
If the cake is already cold, we can use the frosting right away. We can also save the frosting for later in the fridge, covered with plastic wrap until ready to use.
To decorate this cake, I used some super cute carrots that I made with fondant.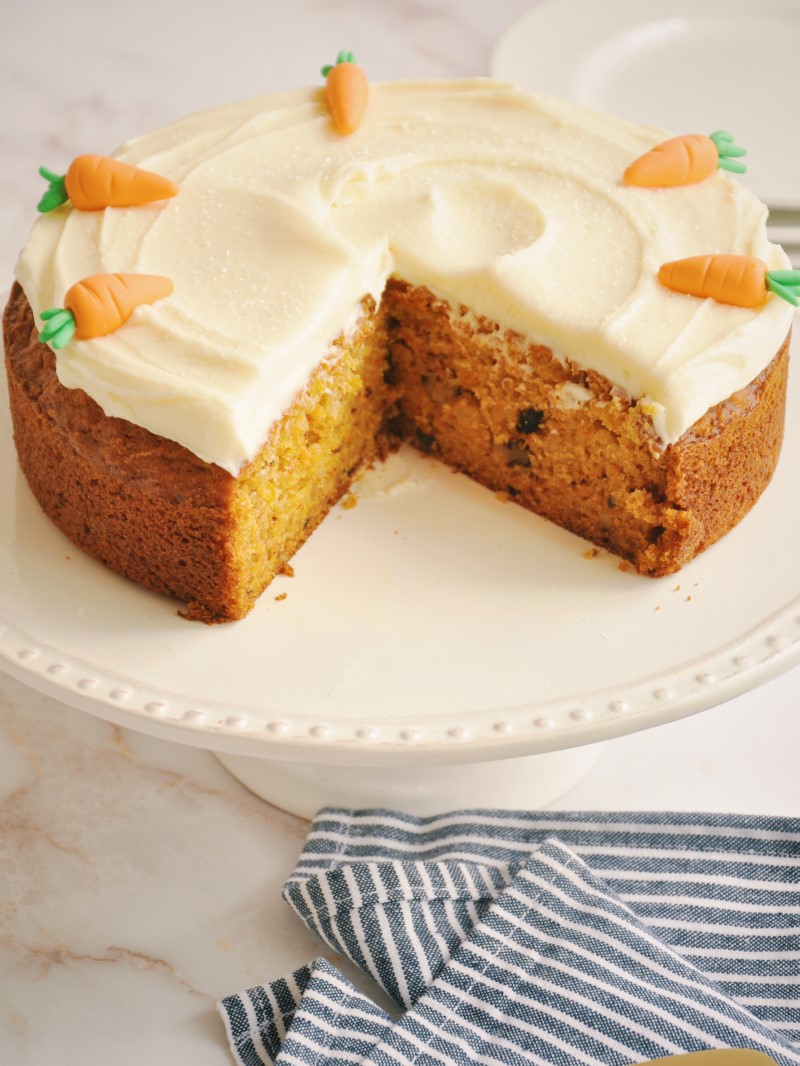 Baker's tips:
1) Grating the carrot very thin will help you not to find carrot pieces in the cake. That will ensure the carrots combine with the rest of the ingredients in the oven in a harmonious way.
2) You can use walnuts or any other nuts that you like, such as pecans, almonds, macadamias, etc. If you prefer you can also make this cake nut free!
3) While this cake tastes great with cream cheese frosting, it can also be served without any frosting, as a loaf cake, as cupcakes, or as a single layer round cake.
4) If you're not using the cream cheese frosting right away it's better to refrigerate it. If you need to soften it to be able to decorate easily, remove from the fridge for a while before using it. I recommend making the frosting right before using it as the texture will be perfect.
5) Keep this cake refrigerated if cream cheese is used. Otherwise store it at room temp covered with plastic wrap to avoid it from drying out.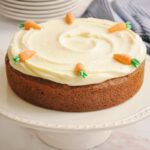 Print Recipe
The Best Carrot Cake with Cream Cheese Frosting
This carrot cake is extremely moist and delicious. It has the right sweetness and goes perfectly with the delicate cream cheese frosting. Also fondant carrots give this cake the cutest touch!
For round 9 inch/24 cm cake pan.
Ingredients
Batter:
220

g

Granulated sugar

180

g

Vegetable Oil 180g

2

Eggs

100

g

Applesauce

2

tsp

Vanilla extract

300

g

All purpose flour

1 ½

tsp

Baking powder

1 ½

tsp

Baking soda

1

tsp

Cinnamon

¼

tsp

Ground Cloves

¼

tsp

Nutmeg

80

g

Chopped walnuts

300

g

Grated carrot
Cream cheese frosting:
100

g

Unsalted Butter

160

g

Cream cheese

350

g

Icing sugar

1

tsp

Vanilla extract
Instructions
On a stand mixer with a paddle attachment or by hand, beat the eggs, sugar, oil, vanilla and applesauce until combined.

Sift the flour, baking powder, baking soda and spices and add to the mixture. Continue mixing until the flour is almost fully combined and then fold in the grated carrot and walnuts.

Pour over a cake pan greased and lined with parchment paper on the bottom. Bake in a preheated oven at 175°C or 350°F for 45-50 minutes, or until a toothpick inserted in the center comes out clean.

Remove from the oven and wait 10 minutes before unmolding. Wait for it to cool completely to decorate with cream cheese icing and serve.
Cream cheese frosting:
Beat the soft butter with the cream cheese until it becomes smooth and creamy. For this, use a mixer with a paddle attachment.

Sift the icing sugar and add it to the mixture on low speed so that the sugar doesn't fly everywhere. Continue beating at medium speed until it looks pale and creamy.

Add the vanilla extract and mix well.

Store in the fridge wrapped in plastic and mix again lightly before using.