This Halloween season, I want to share with you these spooky, easy-to-make chocolate cupcakes decorated with an easy American buttercream. They are moist and super chocolatey! I've been making these Halloween decorations for years, and I'll walk you step by step through the process. Happy Halloween Baking!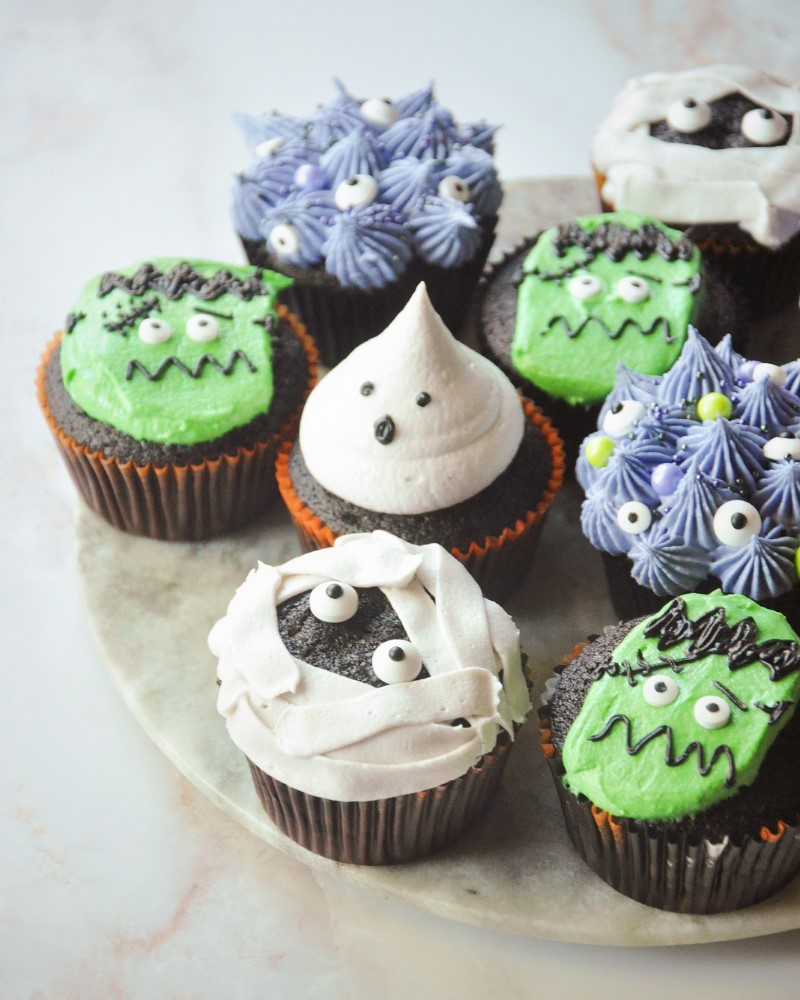 If you're looking for more cupcakes or muffin recipes, don't miss out on my Fluffy Lemon Blueberry Muffins, these Super Cute Daisy Cupcakes, and my Pumpkin Cupcakes with Brown Sugar Meringue!
How to make chocolate Halloween cupcakes?
Follow these steps to make chocolate Halloween cupcakes:
Mix the batter by combining the dry and the wet ingredients. Bake the cupcakes and let them cool.
Make the buttercream by creaming the butter and the icing sugar together.
Color the buttercream and decorate as shown below.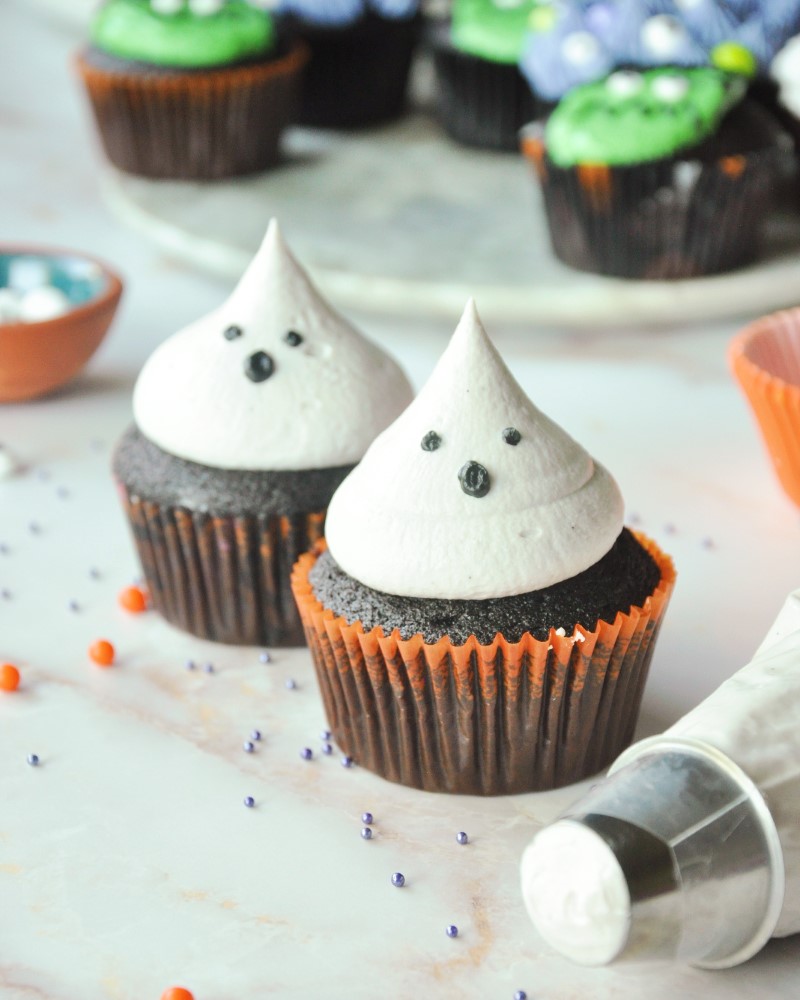 Decorations
I picked four of the most popular Halloween cupcake decorations. You can make them all, just one, or mix and match as you prefer. According to difficulty, this would be the order from easiest to most difficult decorations: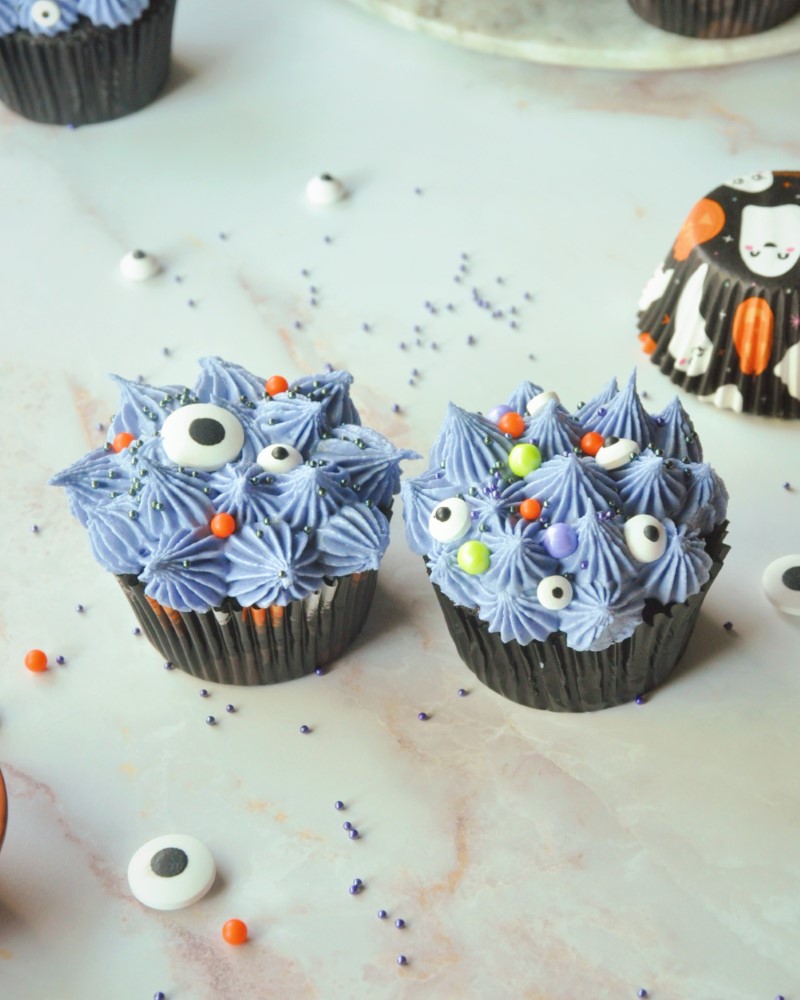 Violet Monster: By making simple peaks with the star tip, this cupcake is the simplest. Add edible eyes and sprinkles to decorate your monster. You will need a large piping bag, and a Wilton 6B tip (or any star tip), violet food color, edible eyes, and sprinkles.
Mummy: It takes a little more practice since you must use the piping bag to create ribbons on the cupcake. You will need a large piping bag, a ribbon tip (Wilton 105 or Ateco 45), a tip adapter, and edible eyes.
Ghosts: Although this is a simple decoration, it takes more control over the piping bag to create a smooth and high dollop. You can do some testing before starting. I recommend pressing on the base and gently lifting while using less pressure. You will need a large piping bag with a large round tip (1A Wilton, 809 Ateco, or the largest one you can get), a medium or small piping bag, and black food color for the faces.
Frankenstein: Simply spread a little buttercream straight on the cupcake to make the face. Add the details with black buttercream. You need good piping bag control to make the zigzag lines, but I encourage you to try it, as it doesn't have to be perfect! You will need black and green food color, a small spatula, a medium or small piping bag without a tip, and edible eyes.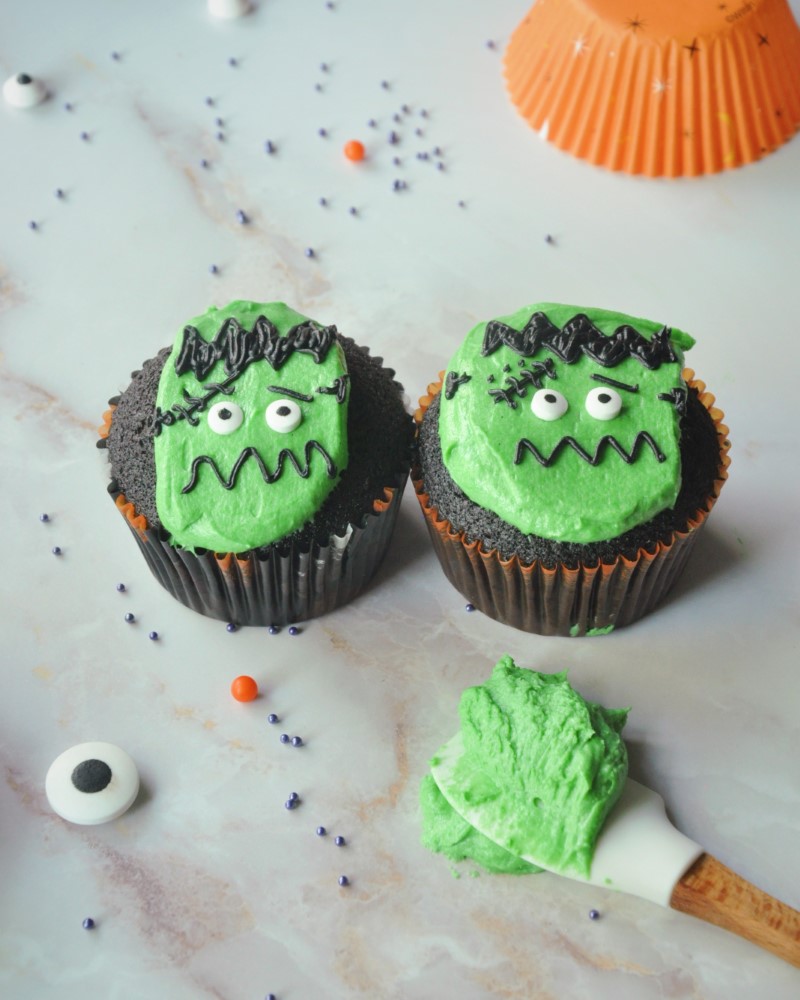 How to make Halloween edible eyes?
If you can't get edible eyes at the store, use white chocolate chips! Just use them upside down, and draw the center of the eye with black buttercream. You could also use melted dark chocolate for the dots.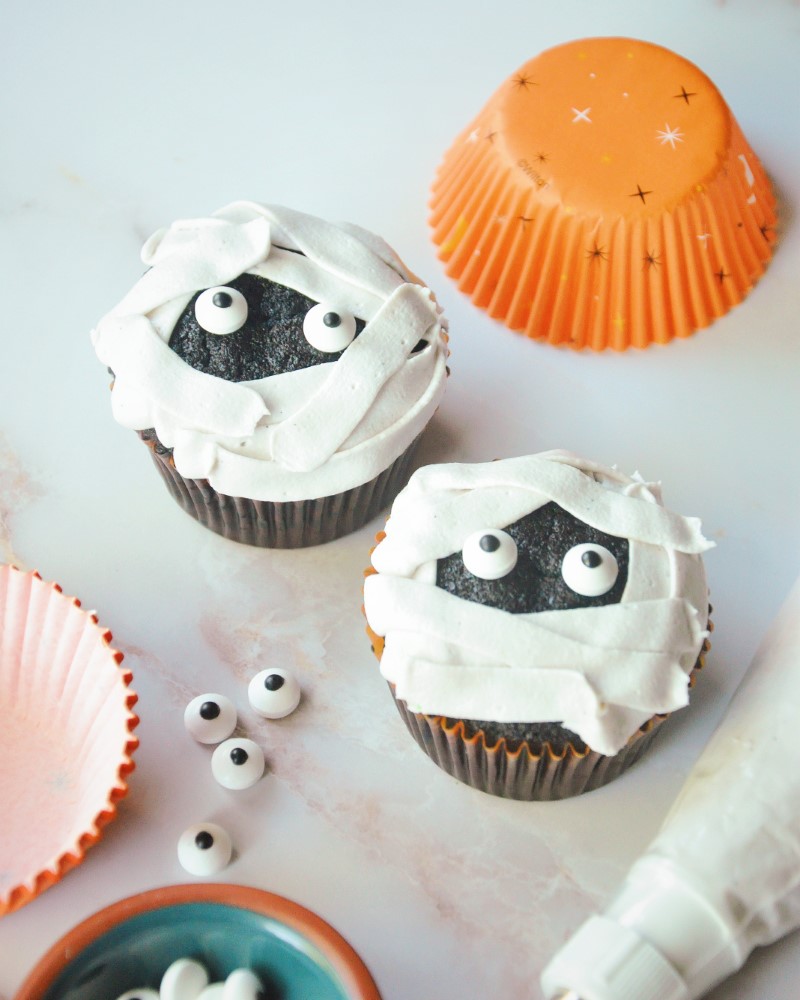 Chocolate Halloween cupcakes conservation
Store the cupcakes in an airtight container for up to a week in the fridge. Remove two hours before serving. Both cupcakes and buttercream can be frozen for up to 3 months.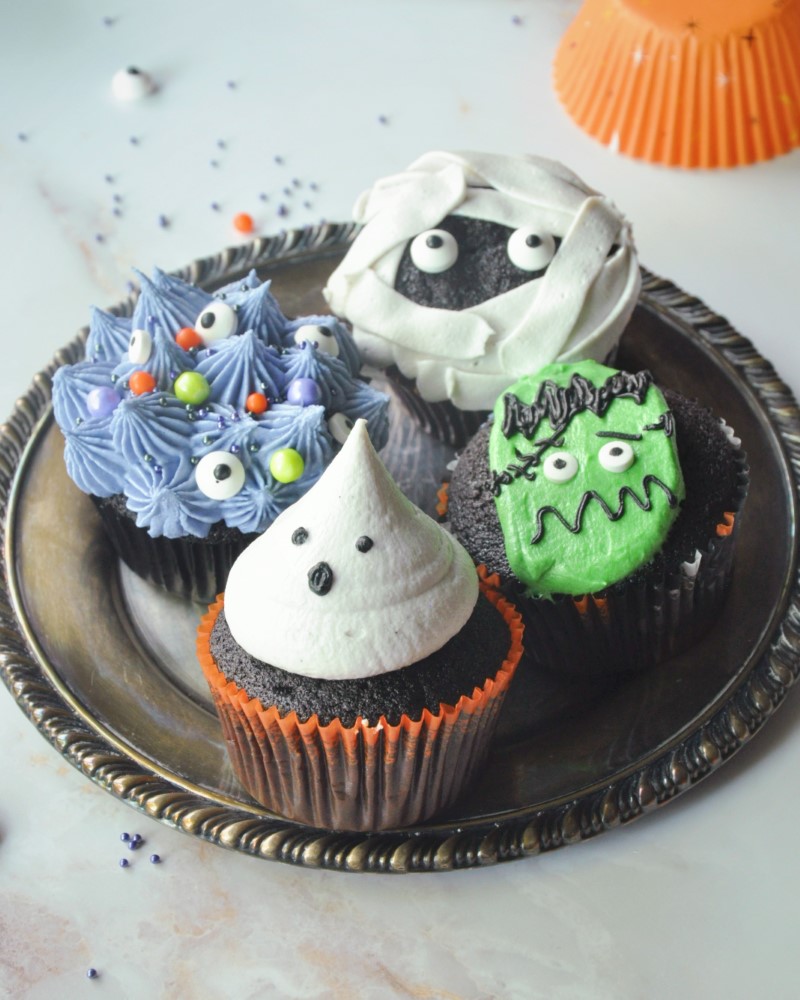 Chocolate Halloween Cupcakes: Four Decorations
These Halloween cupcakes are moist, chocolatey, and delicious. I'll show you step-by-step how to make the batter, the buttercream, and four spooky decorations!
Equipment
3 large/ medium piping bags

1 small piping bag

1 star tip (Wilton 6B or similar)

1 ribbon tip and adapter (Wilton 105 or Ateco 45)

1 large round tip (1A Wilton, 809 Ateco, or larger)
Ingredients
For the cupcakes
140

g

All purpose flour

1

tsp

Baking powder

1

tsp

Baking soda

1

pinch

Salt

20

g

Cocoa powder

120

g

Granulated Sugar

1

Egg

140

ml

Vegetable oil

70

ml

Buttermilk

60

ml

Boiling water

1

tbsp

Vanilla extract

2

tbsp

Instant coffee
For the decorations
1

batch of American buttercream

see recipe below

Green food color

Violet food color

Black food color

Cocoa powder

1 or 2 teaspoons

Edible eyes

Halloween sprinkles

green, orange, purple
Instructions
Preheat the oven to 350°F (180°C). Line a cupcake tray with paper cups.

Sift the flour with baking powder, baking soda, salt, and cocoa powder in a large bowl. Add the sugar and chocolate chips and combine with a hand whisk.

Dissolve the instant coffee with the boiling water.

Add the egg, oil, buttermilk, vanilla extract, and the coffee. Mix everything until you get a smooth batter.

Pour the mixture into the cupcake paper cups, filling each one ¾ full. You can use an ice cream scoop or a pitcher.

Bake in a preheated oven at 350°F (180ºC) for 20-25 minutes, until a toothpick inserted into it comes out clean. Let cool.

While the cupcakes are baking, make the buttercream (see recipe below) and set aside at room temperature.

Violet monster decoration: Dye some violet buttercream with the violet food color. Place in a piping bag with a star tip (Wilton 6B or similar). Decorate by making blobs from the outside to the inside of the cupcake.

Garnish with edible eyes and sprinkles.

Mummy decoration: Stick the edible eyes on the center of the cupcake with a dot of buttercream.

Place the uncolored buttercream in a piping bag with an adapter and a ribbon tip (Wilton 105 or Ateco 45). Set your piping tip parallel to the cupcake. Draw lines with the buttercream from side to side, lifting your hand as you draw the ribbons. Cover all the sides of the cupcake around the eyes.

Frankenstein decoration: Color some green buttercream. Place a small spoonful of buttercream in the center of the cupcake and spread it up and down so that it looks like a long face.

Color a little black buttercream as shown in the recipe below. Place it in a small piping bag, and cut a small tip. Decorate the hair and mouth by making zigzags with black buttercream. Add eyebrows and edible eyes.

Ghost decoration: Place the uncolored buttercream in a large piping bag with a large round tip (Wilton A1, Ateco 809, or a larger one). Place the tip vertically on the cupcake. Press and lift slowly to create a large dollop.

Place black buttercream in a small piping bag and cut a small tip. Use it to make small and long circles for the eyes and mouth of the ghost.
American Buttercream
This American buttercream is silky, smooth, and easy to work with. It keeps its shape perfectly after decorating. It's everyone's first choice for decorating cupcakes.
Ingredients
300

g

Soft unsalted butter

450

g

Icing sugar

1

tbsp

Vanilla paste or extract

40

ml

Heavy cream or whole milk
Instructions
Beat the soft butter for about 4 minutes until it looks pale, fluffy, and creamy. Use a stand mixer with a paddle attachment or a handheld mixer.

Sift the icing sugar and add it to the butter. Pulse the mixer a couple of times until most of the sugar is combined. Continue beating on medium speed until combined.

Add the vanilla paste or extract. Continue beating for about 5 more minutes on medium speed. Add the cream or milk and finish beating until integrated. The buttercream must look fluffy and creamy.

If your buttercream doesn't look silky and smooth, remove ½ a cup of buttercream and microwave it for about 15-20 seconds until almost melted. Pour over the rest of the buttercream and mix with a spatula. Repeat the process if you'd like an even silkier buttercream.

To dye the buttercream, scoop it into small bowls with the amount you'll need. Add gel or paste coloring gradually and mix until you reach the tone you're looking for.

To dye black buttercream add one or two teaspoons of cocoa powder for every ½ cup of buttercream, and mix well. This will help the buttercream get to a darker color faster without having to use tons of food coloring. After the cocoa powder, add black food color until you get black or dark gray buttercream.

Store at room temperature until use. Or store in the refrigerator, well covered, for a week or in the freezer for a month.