These fluffy lemon blueberry muffins are moist and delicious. They are a classic treat in bakeries around the world. It's one of everyone's favorites to pair with a cup of coffee in the afternoon and also to have as a dreamy breakfast.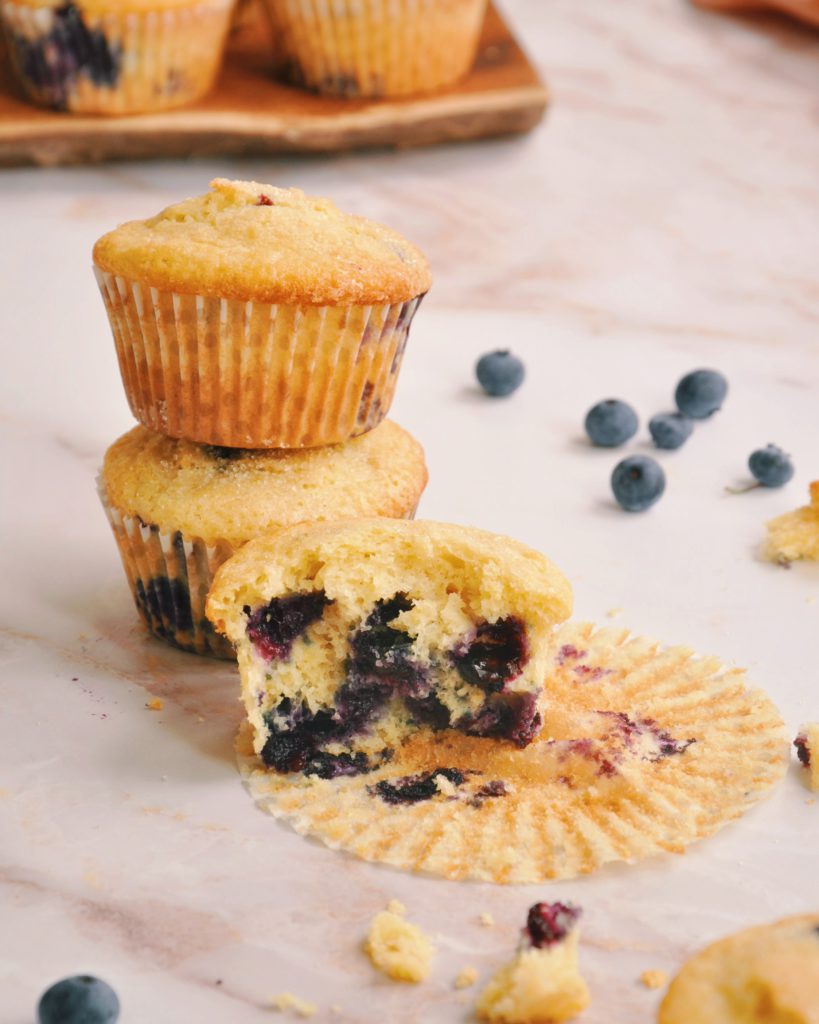 It's no coincidence that blueberry is one of the most popular choices of fruit to add to cake batters, like muffins, cakes and loaves. It's not only delish but it also retains its shape inside cakes beautifully, and at the same time when you take a bite, they feel soft, tender and full of flavor.
I was amazed by the texture I found on these muffins when I first tried them. The extremely fluffy and spongy crumb, the right sweetness, the acidity of the blueberry and the flavor of the lemon, all come together as a treat worthy of the Gods. Seriously, it is very tasty and I recommend you try it when you get the chance!
How do you make fluffy blueberry lemon muffins?
This is one of the reasons why I love this recipe. It is extremely quick and easy to prepare and we don't need any special equipment.
Substitution for buttermilk
The purpose of buttermilk is to make the cake moist, and it helps to keep it that way for longer.
If there's no buttermilk where you live, or if you ran out of it, it can easily be substituted. Instead of buttermilk, use milk (the same amount as what the recipe asks for) and mix it with the lemon juice before mixing with the rest of the ingredients. Let rest for a couple of minutes and it's ready to go.
Mix the batter
The mixing is as simple as combining all the liquid ingredients together, and then folding in the dry ingredients.
First, by hand, with a hand whisk, mix together the eggs, buttermilk, lemon juice, melted butter, vanilla extract and lemon zest.
On the other hand, sift the dry ingredients together: flour, baking soda, baking powder and salt. Then add the sugar and the dry ingredients to the liquid mixture and combine with a spatula or wooden spoon. We must mix only to combine. Finally, add the blueberries and finish mixing.
Bake the muffins
For baking the muffins, use cupcake tins lined with paper cups. This mixture is quite thick, so it's easy to fill the molds with two spoons or with an ice cream scoop. Fill up each cup to a little more than ¾ full (it is a little more than what we normally do, but in this recipe, the mix won't spill).
I decided to coat the muffins with a little sugar to give them a crisp touch and add a little sweetness. I recommend this step as it gives them a very interesting extra something!
Preheat the oven to 190°C or 375°F. The high temperature is recommended in muffins, since the tops tend to grow much taller at higher temperatures. Bake for about 18-20 minutes, until a knife inserted in the center comes out clean.
Let cool for 5 minutes and unmold. Finish cooling and serve at room temperature or just a little warm.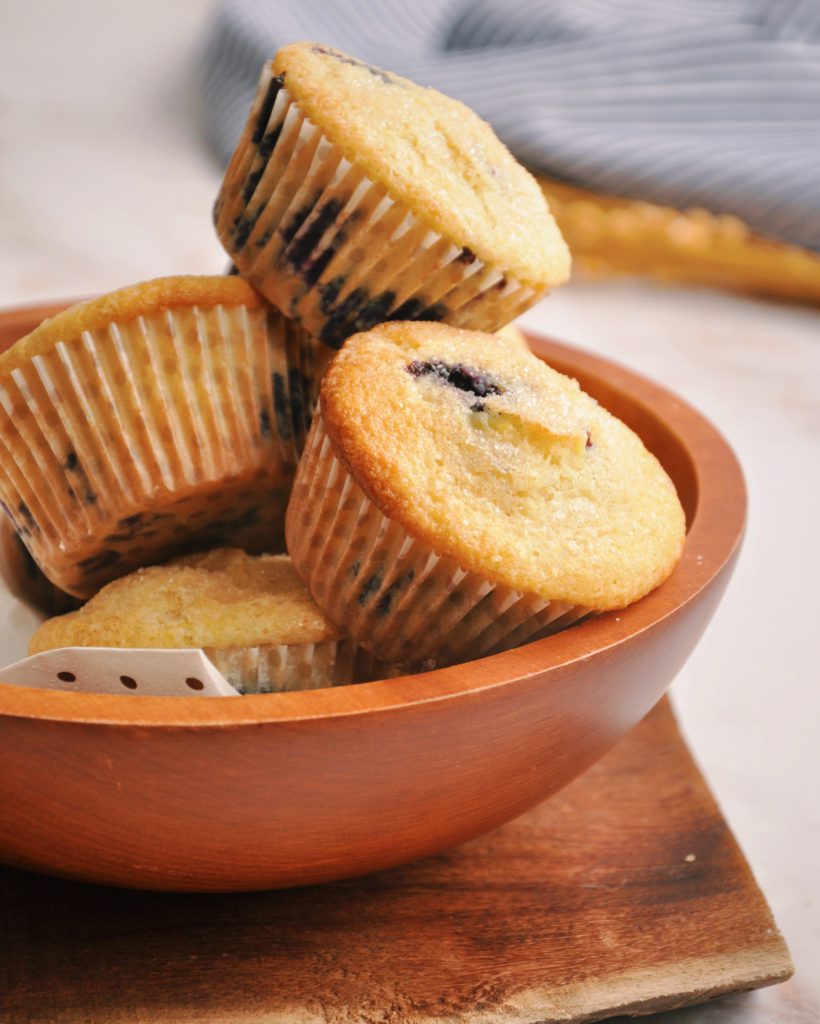 Baker's tips
1) You can change the blueberries for other berries, such as raspberries, strawberries or blackberries. You can also change the juice and zest of another citrus, such as oranges or mandarin oranges.
2) To give the muffins a more intense lemon aroma, mix the zest with the sugar before starting the recipe, rubbing it between your fingers until all the sugar is impregnated with the lemon essential oils. Then add the sugar to the mixture as the recipe calls.
3) Same as in most preparations, it is preferable to use eggs at room temperature. This will help the ingredients to emulsify in a perfect way.
4) This batter can also be made a day in advance and stored at the refrigerator before baking. In fact, the cold from the fridge can help the muffins grow higher and prettier during baking.
5) Store at room temperature in an airtight container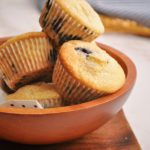 Print Recipe
Fluffy Lemon blueberry Muffins
This lemon blueberry muffins balance perfectly sweet and tart and they have an extremely moist and fluffy crumb. It's the best breakfast or snack for any time of the day.
Ingredients
100

g

Buttermilk

Juice of 1 lemon

40ml

80

g

Unsalted butter

melted

2

Eggs at room temperature

2

tsp

Vanilla extract

Zest of 1 and ½ lemon

260

g

All purpose flour

160

g

Granulated sugar

2

tsp

Baking powder

1

tsp

Baking soda

¼

tsp

Salt

1

Cup

Blueberries

200g
Instructions
In a big bowl beat the eggs, buttermilk, lemon juice, melted butter, vanilla and lemon zest until they are completely combined. It's a good idea to mix by hand with a hand whisk.

Sift the flour, baking powder, baking soda and salt and add to the liquid mixture along with the sugar. Mix everything with a rubber spatula or wooden spoon, until just combined. Add in the blueberries and mix.

Fill the cupcake liners just over ¾ full. Sprinkle each muffin generously with white sugar.

Bake in a preheated oven at 190 °C or 375°F for 18-20 minutes, until a toothpick inserted in the middle comes out clean.

Remove from the molds and let cool down.