What are Pepas cookies?
Quince paste thumbprint cookies, also known as "Pepas" in Argentina, can be found in every Argentine bakery. Quince pepas are one of the most popular treats to pair with a round of "mates" in the afternoon.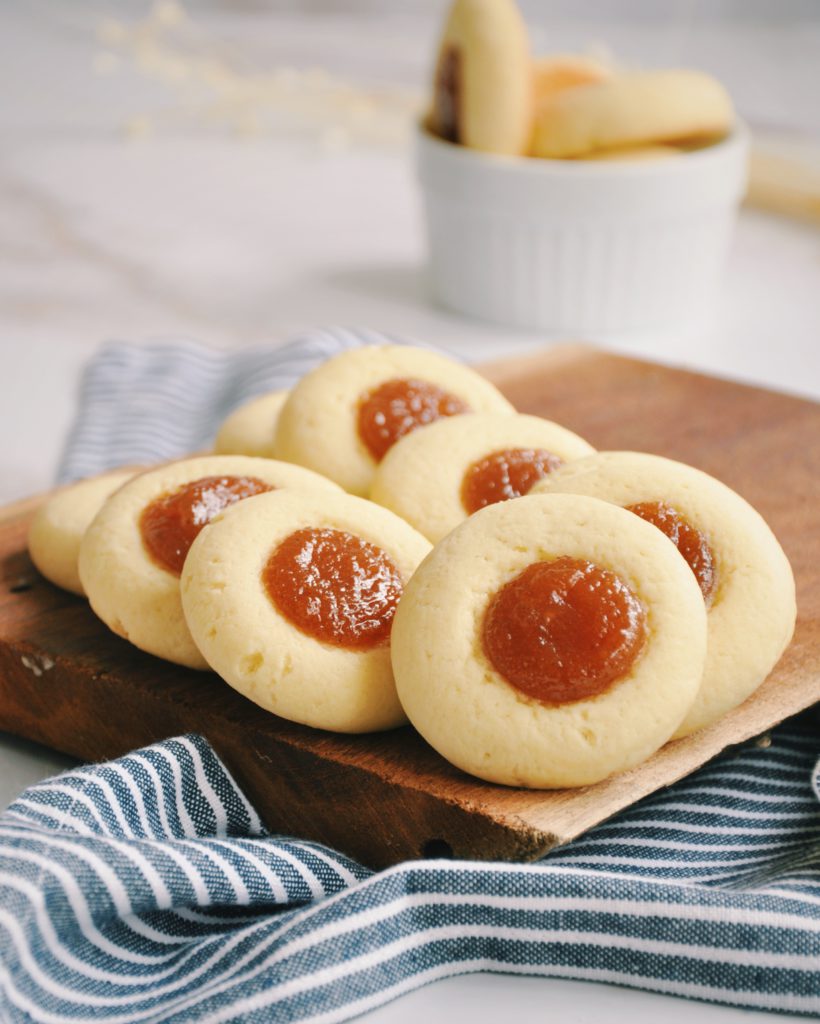 Traditionally Pepas are small lemon or vanilla thumbrint cookies that have a quince paste filling. There are many new flavor versions, such as such as sweet potato jam, dulce de leche and chocolate, but they are usually made with the same cookie dough.
The dough is similar to a sugar cookie dough. Not that crispy, leaning more on the soft side, light and crumbly. It is like a tasty cookie cushion where a heart of quince paste rests. Lovely, right?
Originally, pepas are made from a log of dough, which is cut into slices and placed like cookies on a baking sheet. However, I prefer the cookie ball version, where we scoop the dough and make balls with our hands. This way the cookies come out neater. Another way is by rolling the dough and cutting with a cookie cutter.
We place the filling before baking, which helps the upper layer of quince paste to be cooked but without altering the rest of the paste. And the oven also helps the flavors blend and settle. I invite you to try my original pepas version and later I will keep on publishing other of my favorite versions.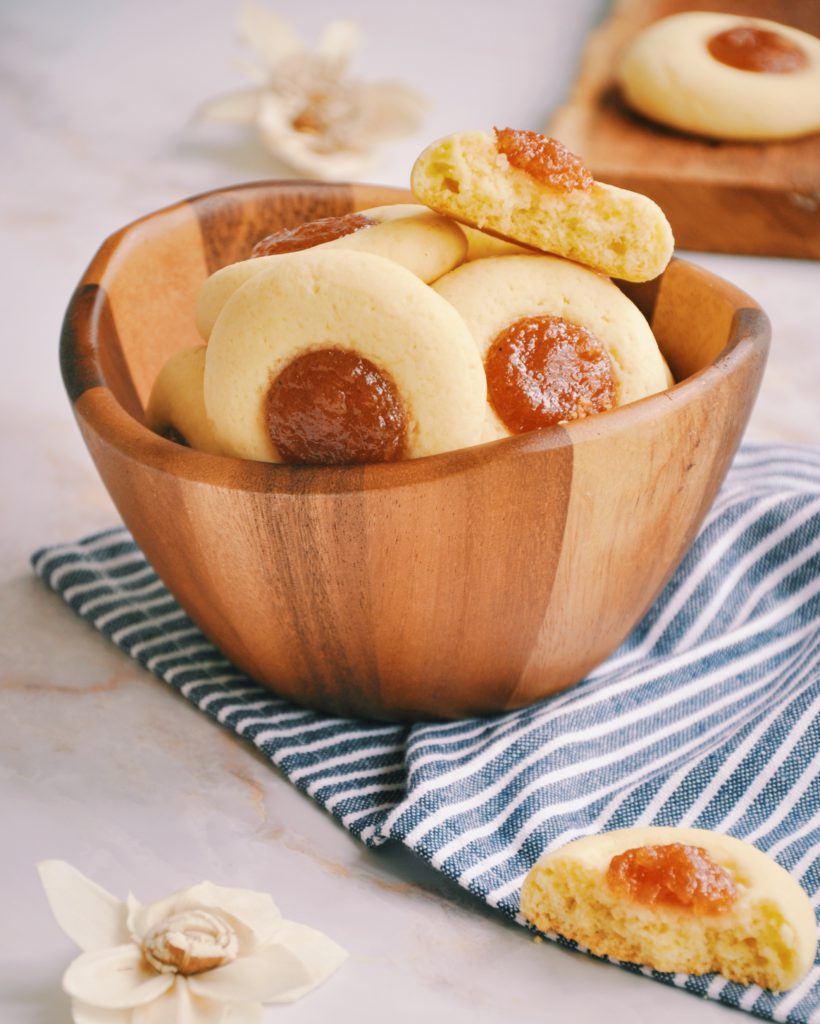 Baker's tips
1) The same dough can be used for other types of Pepas: both dulce de leche and sweet potato pepas are baked with the filling. The chocolate ones should be baked with a little hole in the dough and filled out once cold, after baking.
2) Lemon zest is a classic flavoring for these cookies, but it can be substituted for orange or the citrus of your choice. You can definitely switch to vanilla extract as well.
3) In addition to the cookie ball technique, you can also roll out the dough and cut each cookie with a round cookie cutter. Another way could be to roll a log with the dough and cut it into slices. This technique is used a lot in bakeries since it's the fastest way to get it done. On the other hand, making individual balls with your hands takes longer but has a neater finish.
4) If the quince paste you're using is already soft, you can skip the step of softening with water, the idea is to get the consistency of a thick jam to be able to place the filling neatly in the center. For this step we use a piping bag or a couple of teaspoons.
5) It is important to bake only until the bases are golden brown, since pepas are supposed to be pale and soft and not crisp.
6) Keep the cookies in an airtight container at room temperature.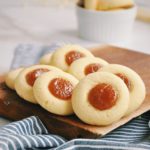 Print Recipe
Pepas cookies
Ingredients
100

g

Unsalted Butter

75

g

Granulated Sugar

1

Egg

Zest of 1 lemon

200

g

All Purpose Flour

5

g

Baking powder

150

g

Quince paste
Instructions
Beat the soft butter together with the sugar until light and fluffy. You can do this either with an electric mixer with a paddle attachment or with a hand whisk.

Beat in the lemon zest and the egg. Scrape the edges of the bowl and continue to mix.

Sift the flour with the baking powder and add to the mixture. Beat on low speed until completely combined.

Scoop the dough and roll balls with your hands. Place them separately on a tray lined with parchment paper. Press each cookie lightly with the palms of your hands. Make a small hole in the center with your finger or the tip of a small rolling pin or wooden spoon.

For the filling, cut the quince paste into cubes and place them in a saucepan with 2 tablespoons of water. Bring to low heat and mash with a fork until forming a softer paste, like a thick jam.

Fill the cookies with the quince paste.

Bake in a preheated oven at 180 ° C for 10-12 minutes, or until the bases of the cookies are just golden brown. Let cool before serving.