This Moist Chocolate Bundt Cake with Ganache Drizzle is everything you're looking for in a chocolate cake. It's super moist and has a deep chocolate flavor without being oversweet. This cake has a tight crumb but also feels soft and fluffy when we eat it. The chocolate ganache drip gives that something that makes it extra decadent and fancy. Add this recipe to your baking notes cause I'm sure you'll want to make it more than once!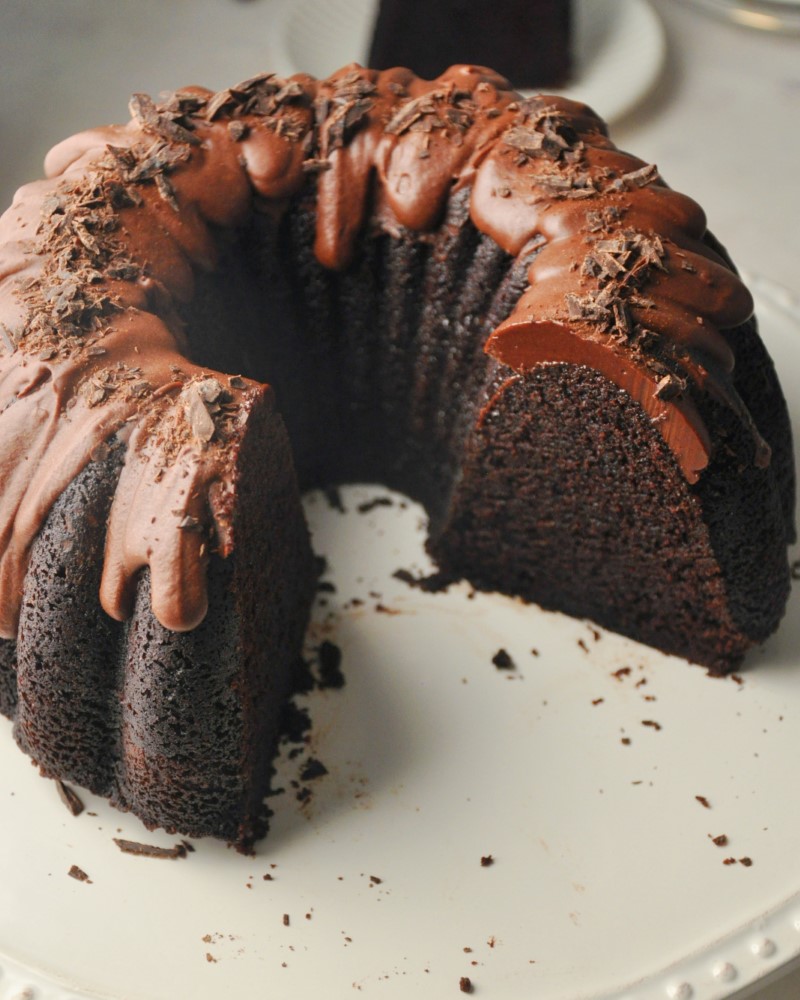 How to make a Moist Chocolate Bundt Cake with Ganache Drizzle?
These are the steps we need to follow to make this recipe:
Mix the dry ingredients with the sugar
Add the wet ingredients (except the coffee) and combine
Add the coffee and combine
Pour batter into the mold and bake
Make a ganache by heating the cream and mixing it with the chocolate
Decorate the cake once cold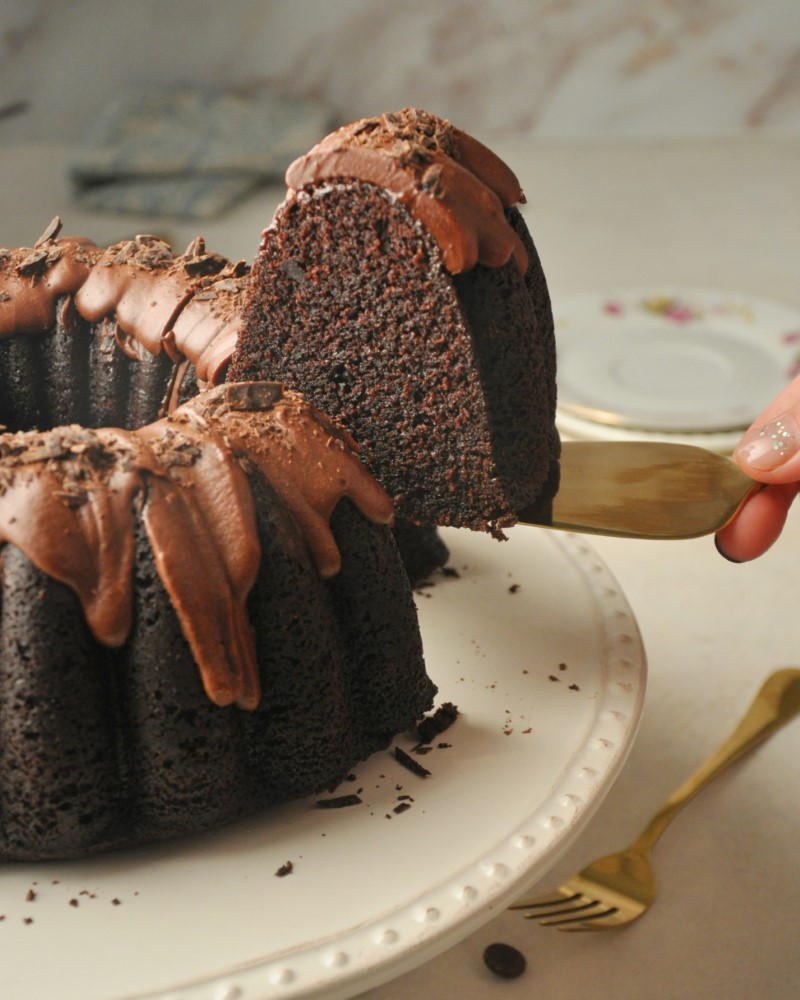 What makes this Chocolate Bundt Cake so good?
For me, a great chocolate bundt cake needs a tight crumb that doesn't fall apart when we cut it, but it has to be soft and fluffy at the same time. Let alone it has to be moist and have a deep chocolate flavor! These are the elements that make this cake so good:
Buttermilk: Provides moisture and helps the cake in keeping it for longer.
Good quality cocoa powder: It's a game-changer for most chocolate recipes. The dark color and the intensity of the chocolate flavor rely on the quality of the cocoa powder we're using.
Muffin mixing method: There are many ways of mixing a cake batter. For this recipe, I used the "blending" or "muffin" method, which means combining the dry and wet ingredients in one bowl. This way, we're not adding extra air to the batter. The result is a firm cake with a tight crumb. We get a cake with a good structure without sacrificing flavor or texture.
Butter: The fat content we usually add to bundt cakes is oil or butter. For this cake, I wanted to use butter to add that nice buttery flavor that usually enhances the chocolate. If we used oil instead of butter, we would get a super moist cake, but we might lose flavorwise.
Hot coffee: Hot coffee helps create a great texture and intensifies the chocolate flavor. Hot liquid helps the cocoa powder bloom and develop its full flavor. It also helps the rest of the ingredients to emulsify, creating a smooth batter without any lumps.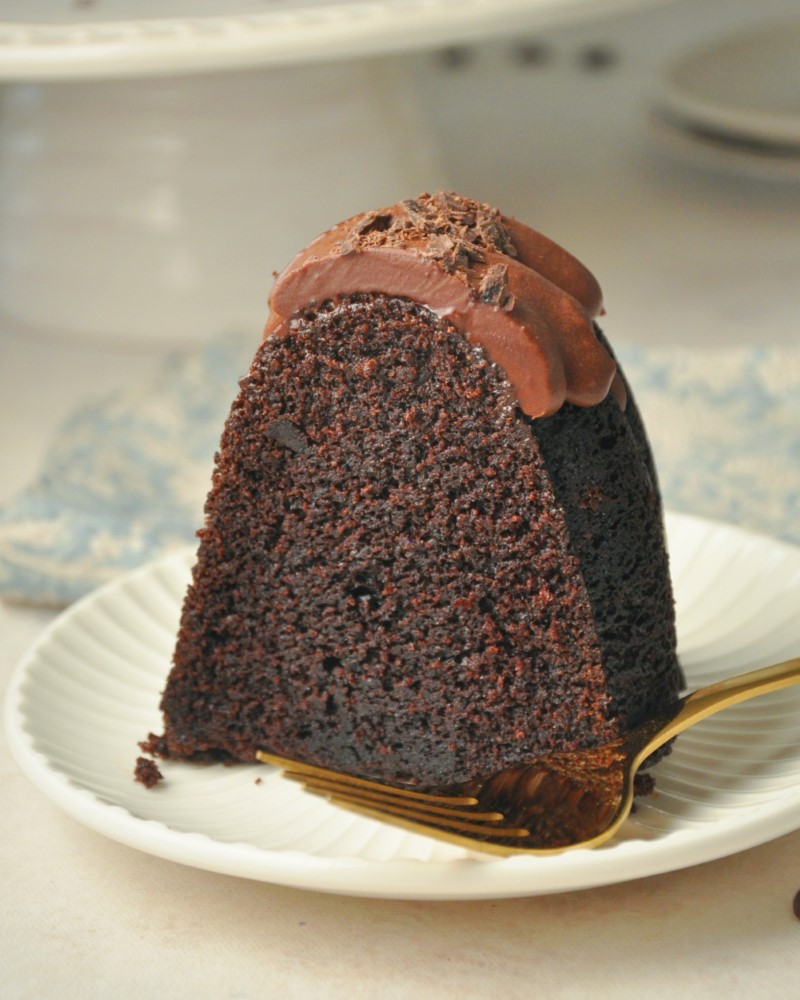 Make your buttermilk
I usually make my buttermilk at home since I don't need it frequently enough to buy it. To make it, use the same amount of whole milk instead of buttermilk, but replace a tablespoon with lemon juice. Stir it and let it sit for 5 minutes.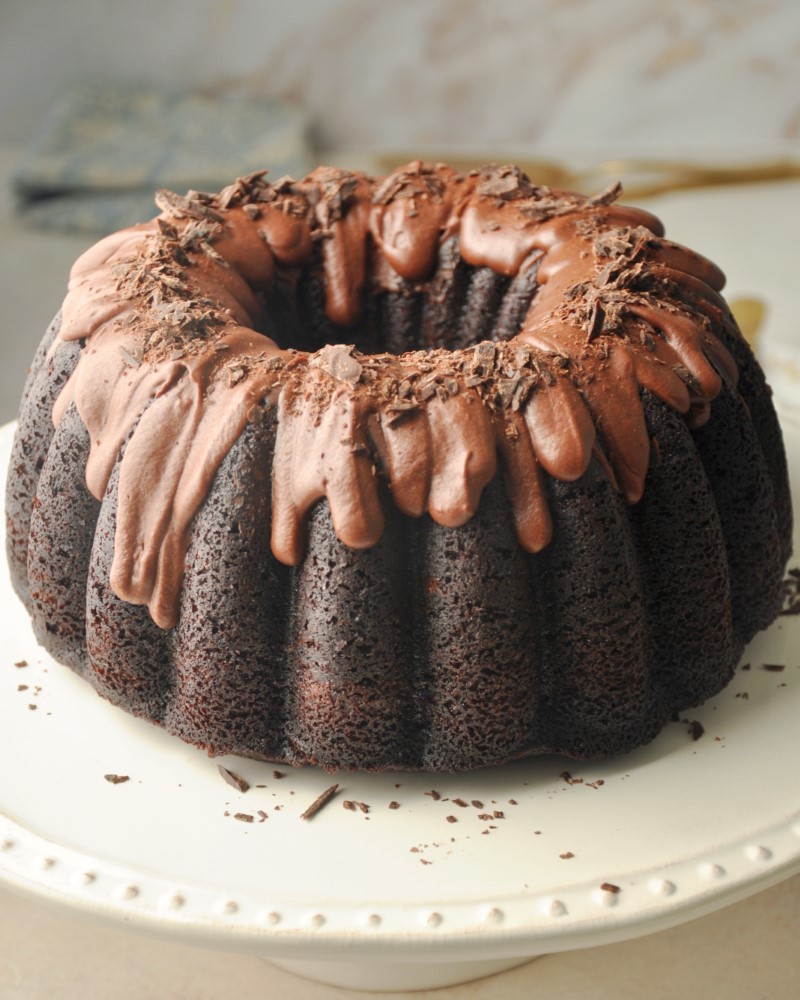 Baker's tips
Use good-quality cocoa powder
As I said before, good cocoa powder is key when making a chocolate cake. I recommend using dark cocoa with red tones, with intense chocolate flavor and aroma. The brands I like the most are Cocoa Barry, Callebaut, Guittard, and Ghirardelli.
Don't overbake the cake!
This chocolate bundt cake is naturally moist due to its composition. But much of this cake's moisture also comes from baking it just right. I recommend testing the cake the first time the recipe calls and then checking every 4 or 5 minutes. If the cake bounces when you touch it, it's ready to come out. You can also insert a toothpick. If it comes out with no crumbs, the cake is done.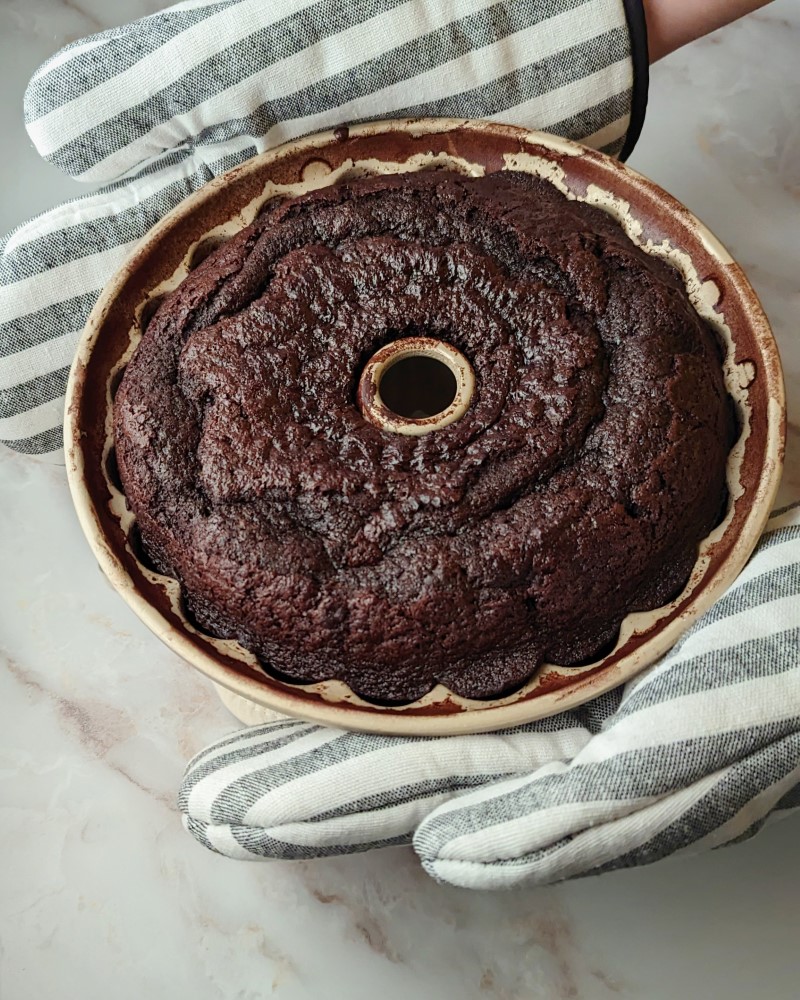 How to unmold a bundt cake?
Bundt molds make our cakes look beautiful, that's for sure. But to unmold them properly, there are a couple of things to consider. First of all, we need to prep our bundt pans. You can use a special baking spray that contains flour that can be purchased at some grocery stores, or a kitchen supply store. Another way is buttering your mold with shortening or soft butter with a pastry brush and flouring on the buttered surface (you can use cocoa powder for the chocolate cake). Whichever way you choose, cover every nook and cranny of the pan, especially if your pan is very intricate.
The other key factor in unmolding is when to do it. It's best to wait 8 to 10 minutes after it's out of the oven to unmold it. If we wait any longer, the cake begins to release steam, which causes it to stick to the mold. It is also not great to unmold it fresh from the oven because we risk breaking it.
When should I ganache the chocolate bundt cake?
When you first make the ganache, it will be a little runny. You must wait a few minutes for it to get to a more stable consistency to drip the cake. Test the thickness by dropping a spoonful of ganache on the edge of the bowl. If a thick drop forms and slowly falls over the sides of the bowl, it is ready to use. Wait until the bundt cake is cold before this step.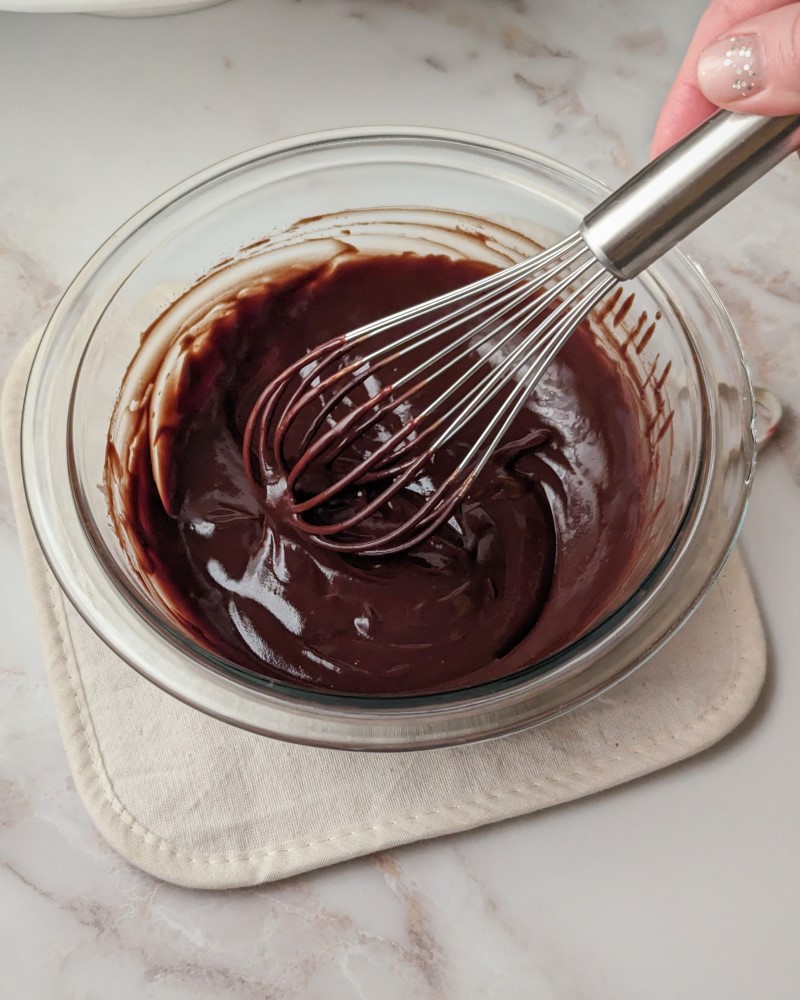 Moist Chocolate Bundt Cake with Ganache Drizzle Conservation
Keep the cake covered with a cake box or a glass dome at room temperature for up to three days, or in the fridge for a week. If you don't cover it with ganache, it can sit out for up to a week.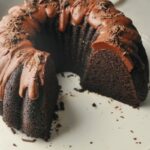 Print Recipe
Moist Chocolate Bundt Cake with Ganache Drizzle
This Chocolate Bundt Cake is firm but has a soft and moist interior. It has a delicious flavor of chocolate and butter. It's super chocolatey without being too sweet. The dark chocolate ganache makes it decadent and delicate. A must-try for chocolate lovers! (Yields one 10 cups bundt pan)
Servings: 12 slices
Ingredients
140 ml buttermilk
250 g All-purpose flour
300 g Granulated sugar
1 tsp Baking soda 6g
¼ tsp Salt
70 g Cocoa powder
3 Eggs
250 g Unsalted butter plus a little extra for the pan
180 ml Boiling water
2 tablespoons Instant coffee 10g
Ganache:
100 g Heavy or whipping cream
100 g Dark chocolate chopped (or small callets)
30 g Chocolate shavings for decoration
Instructions
Preheat the oven to 350°F (180°C). Butter the bundt pan with soft butter and a brush, covering the whole surface. "Flour" the pan with cocoa powder and tap out the excess. You can also use baking spray with flour instead of buttering and flouring the pan.

In a bowl, sift and mix the flour, baking soda, salt, and cocoa powder. Add the sugar and combine with a hand whisk.

Add the eggs and buttermilk to the dry mix and start mixing. Before fully combined, add the melted butter and continue mixing until integrated.

Dissolve the instant coffee with the boiling water (you can also use filtered coffee but make sure it's hot). Add the coffee to the mixture and continue stirring slowly until you get a smooth batter.

Pour the batter into the pan and tap a few times to get rid of bubbles.

Place in the preheated oven and bake for 45-50 minutes. The cake is done when you insert a knife blade or a toothpick, and it comes out clean.

Wait between 8 and 10 minutes to unmold. Cool before decorating.
Ganache:
In a small saucepan, heat the cream on medium heat to a light simmer. Pour the cream over the chopped chocolate (or chocolate callets) and let rest for about 3 minutes. Mix with a hand whisk until combined. If you get some unmelted chocolate bits, you can heat it on a Bain Marie or in the microwave for a few seconds longer.

Wait for it to get a little thicker and pour over the cake with a spoon or with a piping bag. Decorate with chocolate shavings.