Dark chocolate ganache is one of the base preparations in pastry and baking. Ganache is a mixture of whipping cream and dark chocolate that are heated and mixed to form an emulsion. It has a dense consistency, it's smooth, and has an intense chocolate flavor.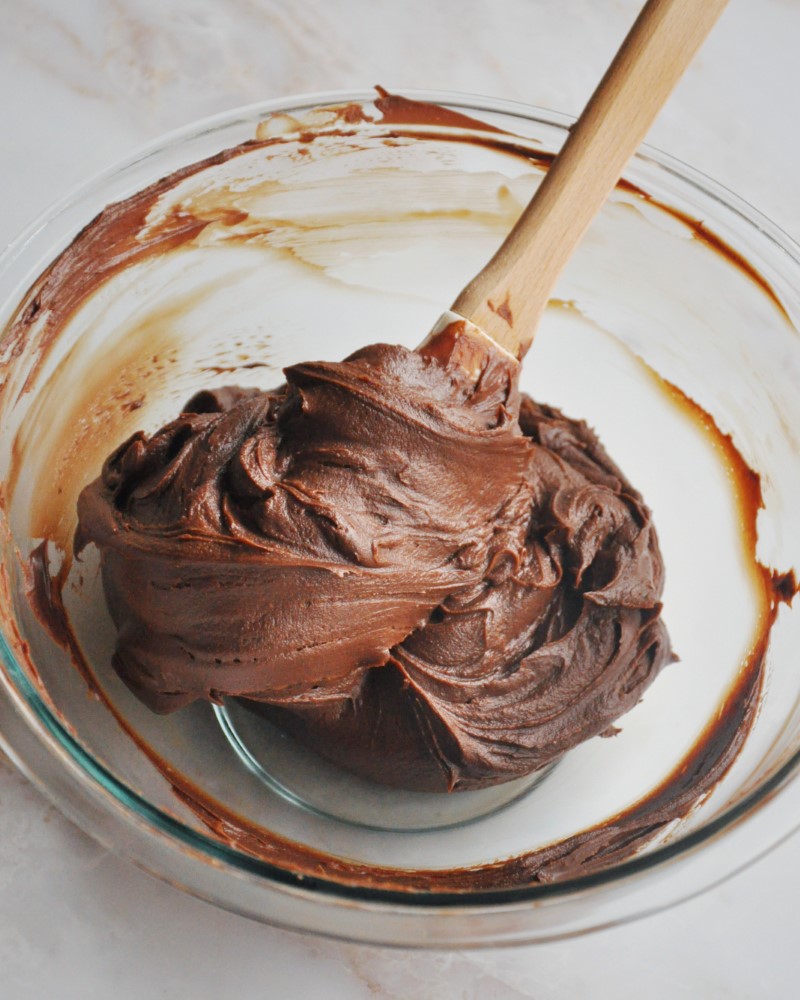 Ganache is extremely versatile since we can use it to glaze, drizzle, fill and decorate a variety of baking products. It also has the benefit of being super easy to make and store, and can be reused many times.
In this post, we are going to explore basic knowledge about ganache made from dark chocolate only, since milk chocolate and white chocolate ganache have their own features.
How to make Dark Chocolate Ganache?
These are roughly the steps we're going to follow to make Dark Chocolate Ganache:
Chop the chocolate and set aside
Heat the whipping cream
Pour the hot cream over the chocolate and combine
Add the butter and combine
Let cool or use right away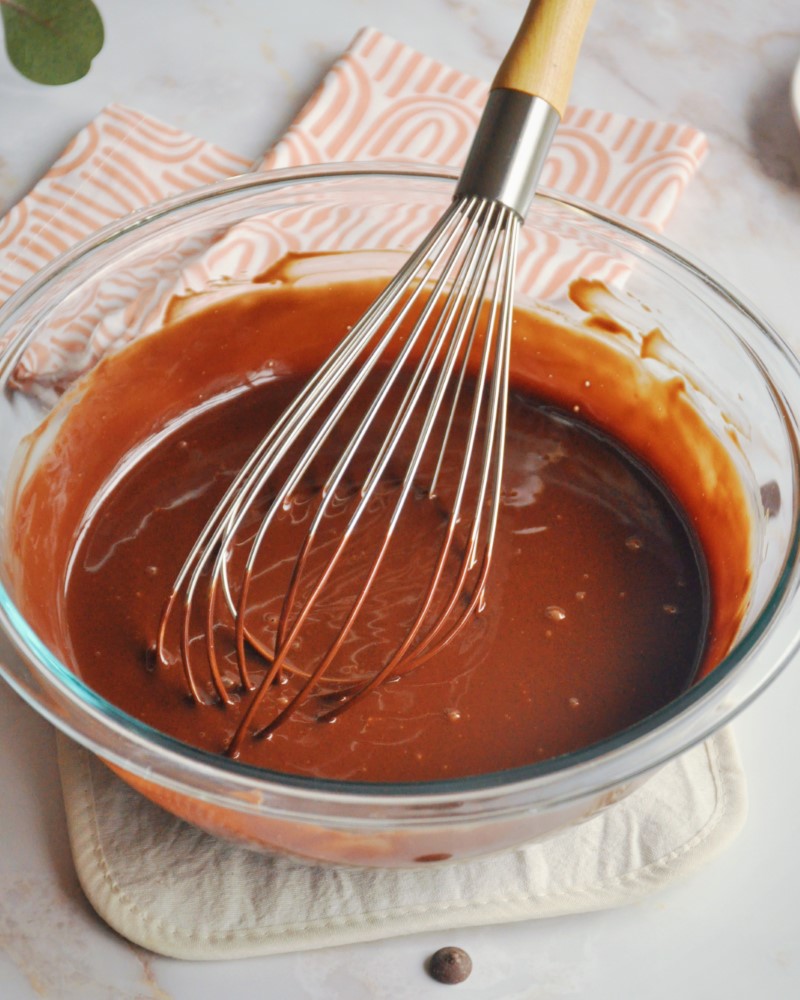 What are the uses of Dark Chocolate Ganache?
There are countless uses for ganache, here are some examples:
Glazing and making a drip over cakes and other baking products
Decoration of cakes and cupcakes
Filling for cakes and other pastry products
Chocolate truffles
Cake masking for fondant cakes
Chocolate sauce for desserts
Chocolate fondue
Whipped ganache
What is whipped ganache?
Whipped ganache is a regular ganache that has been cooled and whipped until getting a light and fluffy texture. It could be described as a thick mousse. To prepare whipped ganache, let the ganache cool to room temperature and whip with an electric mixer until it becomes light and smooth. This is an excellent alternative to buttercream, since it has almost the same spread consistency but tastes 100 times better.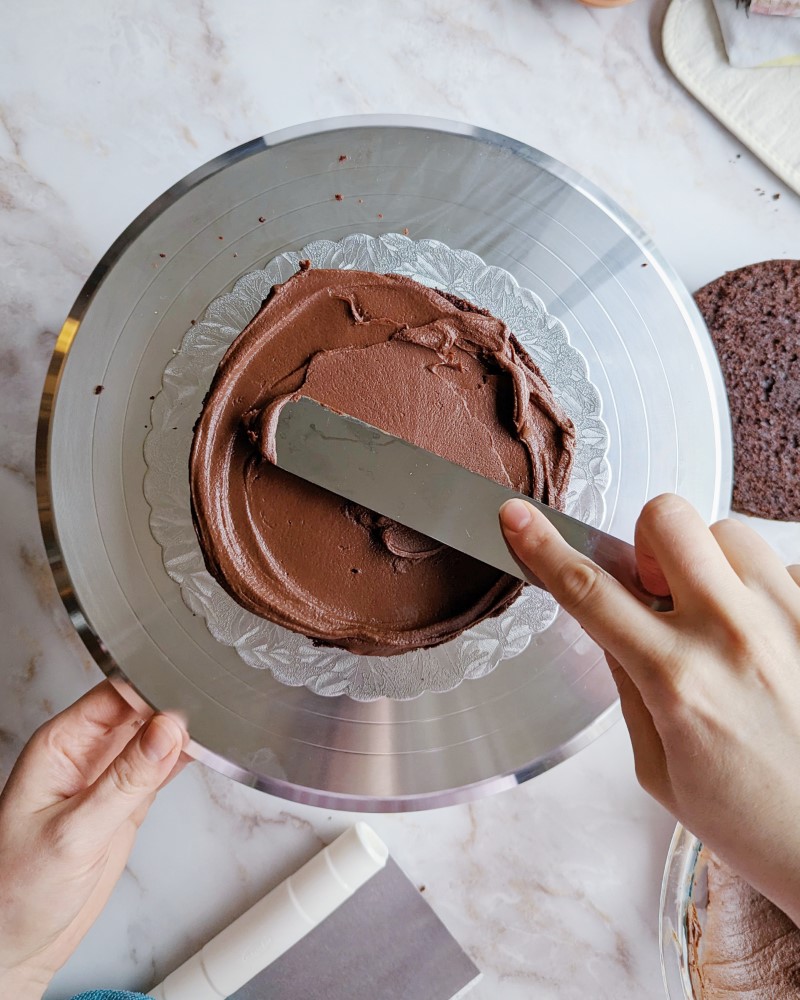 Types of ganache based on consistency
When we make the ganache, it shifts from a liquid state to a solid state when it cools. The firmness of ganache when cooled can vary depending on the chocolate-cream ratio. This quick guide will help you decide how to make your ganache according to your needs.
Thin consistency ganache: Good for a thin glaze, dessert sauce, and fondue. Also good for light consistency whipped ganache. The ratio for this is 1:2, meaning 1 part chocolate and 2 parts cream.
Medium consistency ganache: Good for cake filling and decorating, decorating with a piping bag, thicker glaze, and dripping on cakes. Also good for Whipped Ganache with a firm consistency. The ratio for this is 1:1, meaning 1 part chocolate and 1 part cream. It's the most common kind of ganache and the one we use in this recipe.
Firm consistency ganache: Good for chocolate truffles, and masking for fondant cakes. The ratio for this is 2:1, meaning 2 parts chocolate and 1 part cream.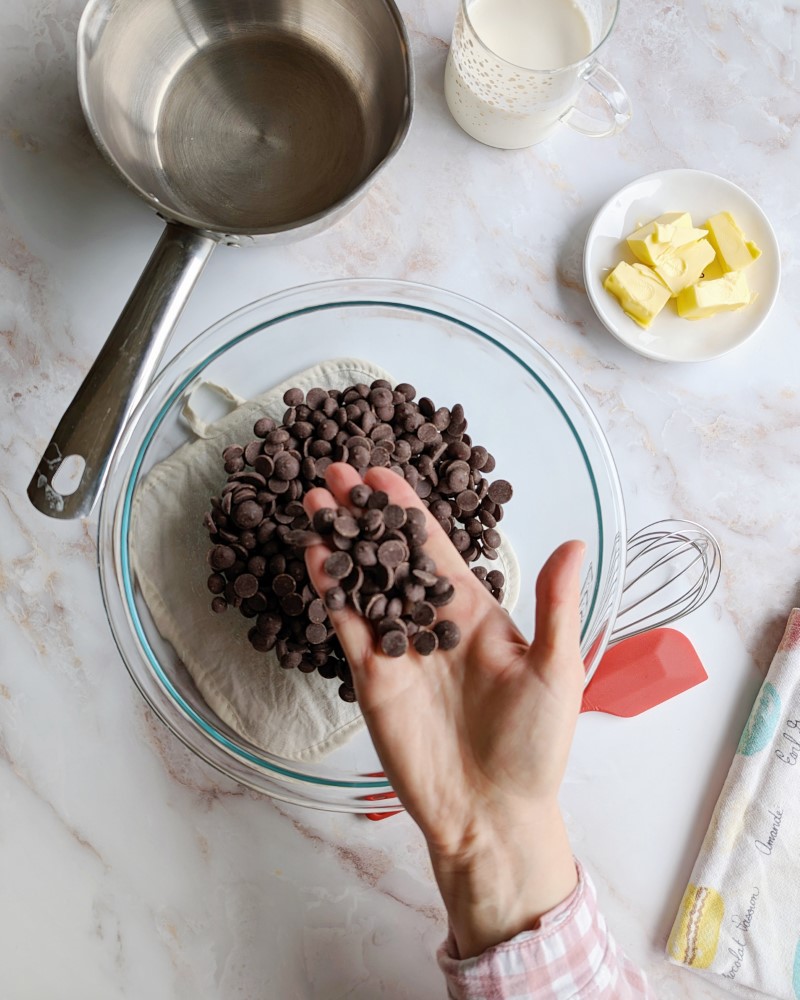 Baker's Tips
What chocolate should we use for Dark Chocolate Ganache?
Ideally, we use dark chocolate with 40% to 60% of cocoa solids. Avoid using chocolate coating or compound or chocolate chips when making ganache.
How to cool or heat Ganache?
When making ganache, we ideally let cool at room temperature until it reaches the desired consistency. This can take several hours so it's a good idea to work ahead. It can also be chilled in the fridge, mixing occasionally. We have to be careful when stirring the ganache because over-mixing can cause splitting. If the ganache is too firm, it can be microwaved in 5-10 second intervals, mixing in between, until getting a good consistency.
make Ganache in the microwave
To make the ganache in the microwave, chop the chocolate finely and place it in a glass bowl together with the cream. Microwave and heat in 20 seconds intervals, stirring with a whisk or a spatula until completely melted and combined. Be careful not to overheat.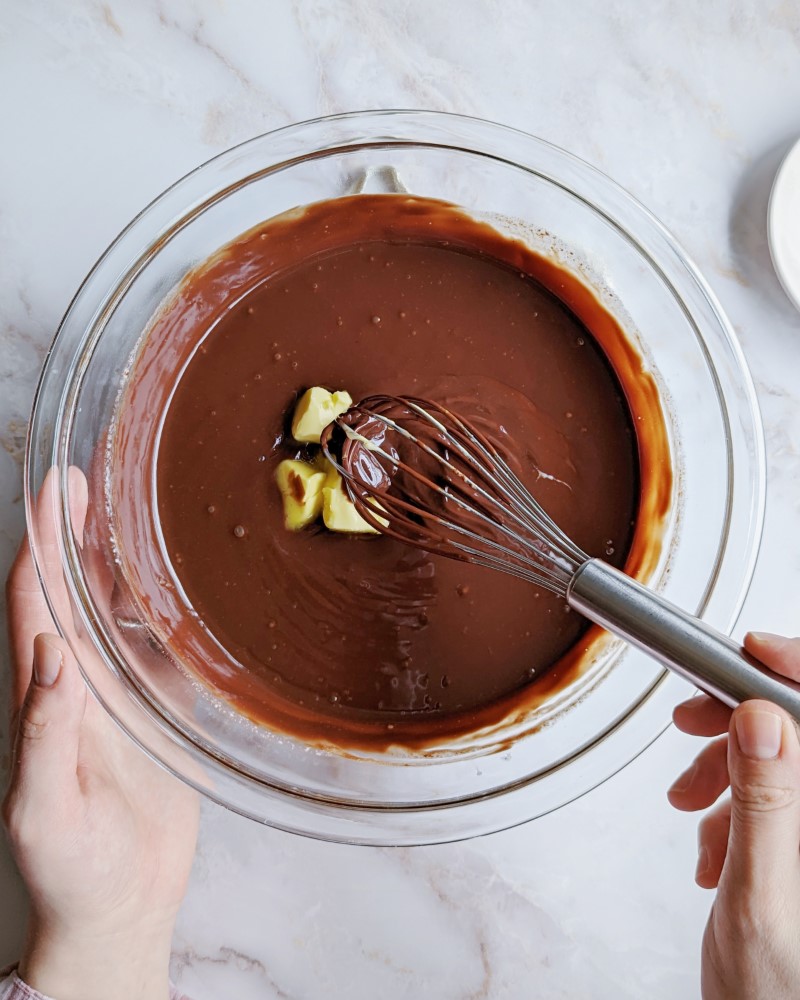 Adding butter to the ganache
Sometimes ganache recipes call for butter. The use of butter is optional but beneficial since it gives shine and silkiness to the ganache.
Conservation of Dark Chocolate Ganache
Keep dark chocolate ganache in the fridge for up to a week covered with plastic wrap. It can also be frozen for up to 3 months. If you are working constantly with the ganache (for instance when you use it for both filling and masking), it can be kept outside of the fridge for a day or two, in cold weather. In hot weather, you may keep it outside for up to 6 hours.
Print Recipe
Dark Chocolate Ganache: Quick Guide and Recipe
Dark chocolate ganache is rich, dense, and has an intense chocolate flavor. It is one of the most used and versatile preparations in pastry and baking. It can be used as a frosting, chocolate sauce, filling, and decoration for cakes, truffles, and much more.
Servings:
1
medium batch (good for filling and decorating a small 6-inch cake)
Ingredients
350

g

Dark chocolate 40% to 60%

chopped

350

g

Whipping cream

or double cream

40

g

Unsalted butter

room temperature
Instructions
Chop the chocolate thinly and place it in a glass bowl or other heat-resistant bowl. If you're using small callets, there's no need for chopping. Set aside.

Place the cream in a pot and bring it to a simmer, but don't let it boil fully. Pour the cream over the chopped chocolate. Let it sit for 2 to 3 minutes.

Combine the cream with the chocolate with a hand whisk or with a silicone spatula, mixing in the center until it comes together.

Add the room-temperature butter and continue mixing until combined.

Let cool at room temperature, covered with plastic wrap, until it reaches the desired consistency. It can be placed in the fridge to cool faster but it's better to cool it at room temperature to avoid overmixing.

To soften, microwave for a few seconds and mix with a spatula. Use it for glazing, dripping, or drizzling in its liquid state or to fill, decorate, and pipe in its solid state.