This post features affiliate links, meaning we'll earn a small commission if you purchase through these links.
Thumbprint cookies, also known as "pepas" are super popular in Argentina. They are made out of "pasta frolla", which is an Italian shortcrust that's sweet, buttery, soft, and falls apart when you bite into it. A thumbprint hole is made in the middle of the cookie before baking. The most common filling we use is quince paste. This time, I wanted to make another version of these cookies and I filled them with dulce de leche, for those who have a sweet tooth or a weakness for dulce de leche. You can see my recipe for quince paste thumbprint cookies here.
When making these dulce de leche cookies, some bakers prefer to add the dulce de leche after baking. I like to fill them out before baking. That way, when they come out of the oven, the dulce de leche remains soft and smooth and blends perfectly with the cookie dough.+
Where can I get dulce de leche?
I normally buy dulce de leche for my recipes instead of making it at home. It saves time and the results are usually better! I usually order it online, because where I live the good brands are not so easy to find. If you want to do the same, check out these links below (I included only dulce de leche for baking, which is perfect for this recipe):
Don't forget to use my discount code LUCIAPAULA in your first purchase from Pampa Direct to get a 10% discount.
How to make Dulce de Leche Thumbprint Cookies?
These are roughly the steps we're going to follow to make these cookies:
Make the dough
Form balls with the dough, make a thumbprint, and fill it out
Bake and let cool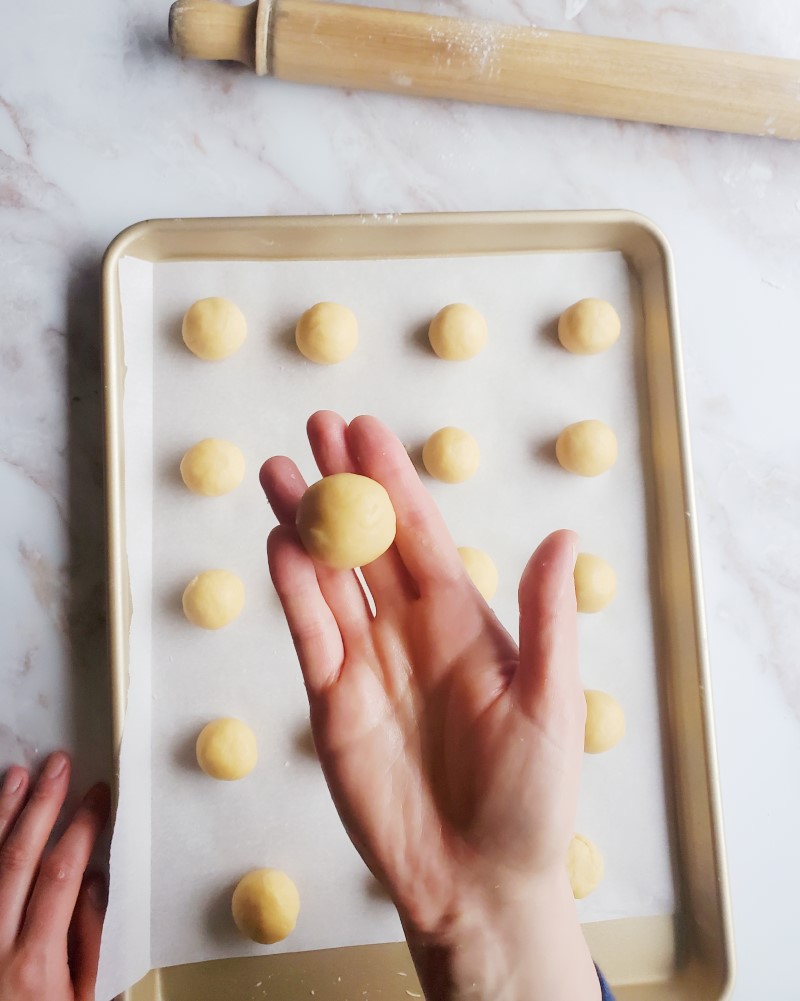 How to cut/ portion the cookies: 3 ways
There are different ways to portion the dough to make cookies. For this recipe, I like to make balls with dough. That way the cookies look round and cute after baking.
Scoop and make balls
For this technique, scoop a tablespoon of the dough and make balls with your hands. Place them on the tray leaving space between them and press lightly so that they expand more easily in the oven.
Make a log with the dough
Another way is to make a log with the dough, wrap it in plastic wrap or parchment paper and close it like a candy. Freeze it for approximately 30 minutes or until it is firm, and cut it into slices. Each of those slices will be a cookie.
Roll and cut
The other usual way is to roll the dough with a rolling pin and cut it with a cookie cutter. Simply roll the dough on a silicone mat or parchment paper and freeze. Cut the cookies once they're frozen, that way they'll be easier to transfer to the baking tray. This method does not apply to all cookie doughs, but it works for this recipe.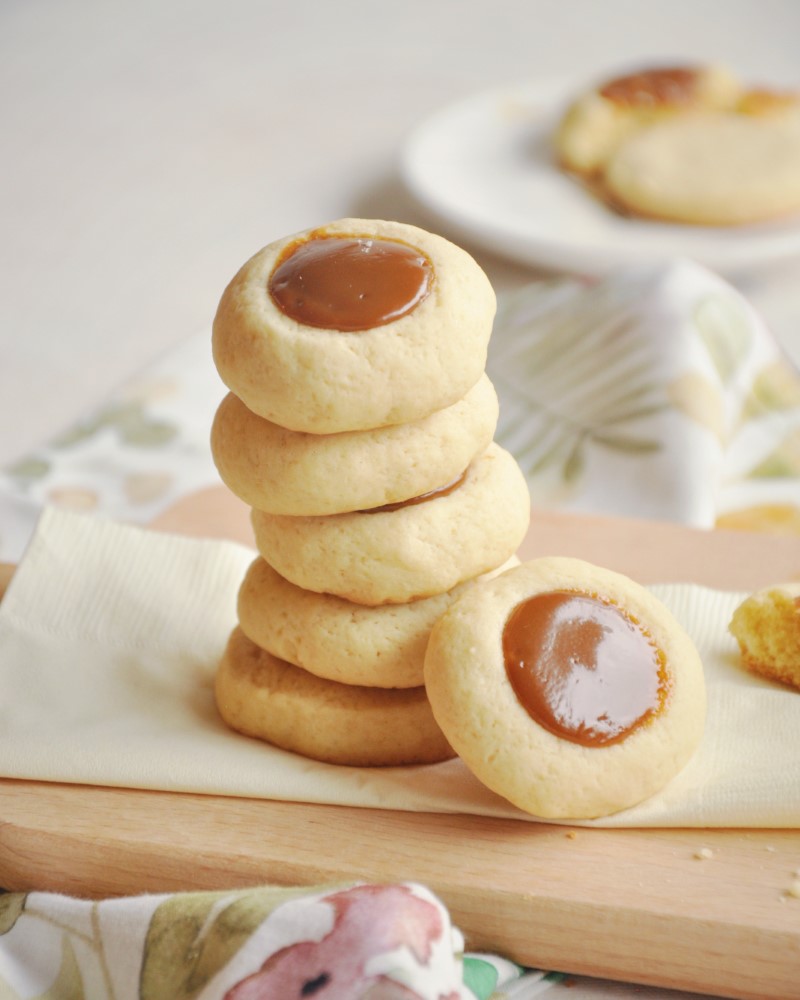 Baker's Tips
Room temperature Ingredients
The butter must be at room temperature and soft to be able to cream it with the sugar. Eggs also need to be at room temperature, that way it's easier to create a homogenous dough.
What kind of dulce de leche should we use?
There are two kinds of dulce de leche in Argentina. Classic dulce de leche, that has a thinner spreadable consistency. And dulce de leche for baking, which has a thicker consistency. I use thicker dulce de leche for these cookies. You can use whatever dulce de leche you can find at the store. But if you make it at home, I'd recommend you make it thicker if possible for this recipe. That way, it doesn't melt too much and create bubbles when baking.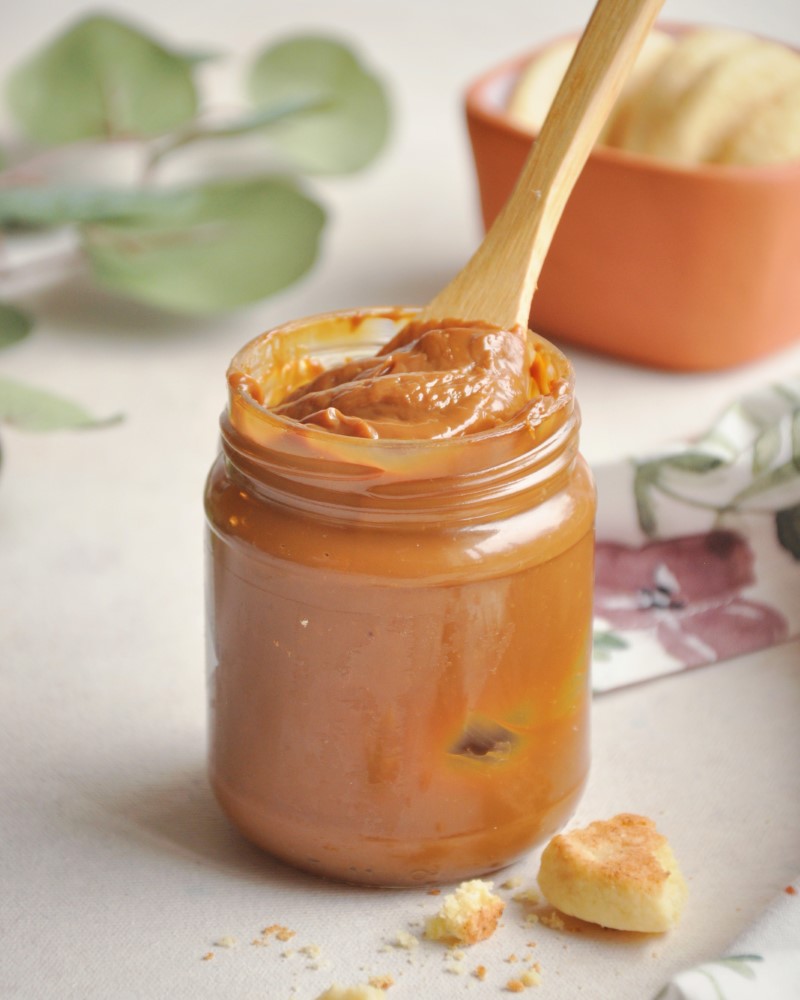 Conservation of Dulce de Leche Thumbprint Cookies
These cookies are good to be kept at room temperature for up to two weeks. However, it is ideal to eat them within the first week while they're still fresh. Always store in an airtight container.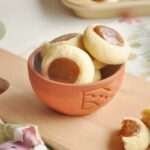 Print Recipe
Dulce de Leche Thumbprint Cookies
Dulce de Leche Thumbprint Cookies are one of the most popular cookies in Argentina. They are sweet and delicious and fall apart in your mouth when you bite into them. And the best, they are very easy and quick to make!
Ingredients
100

g

Unsalted butter

room temperature

75

g

Granulated sugar

1

Egg

1

tsp

Vanilla extract

200

g

All purpose Flour

5

g

Baking powder

150- 200

g

Thick dulce de leche
Instructions
Beat the room-temperature butter together with the sugar until light and creamy.

Add the vanilla extract and the egg and mix well.

Sift the flour with the baking powder and add to the mixture. Mix until fully combined.

With a small ice cream scoop, scoop out the cookie dough and form balls. They should weigh approximately 25g each. Place them separately on a tray lined with parchment paper.

Press lightly with the palm of your hands so that they spread more. Make a thumbprint with your finger or with the tip of a small rolling pin or wooden spoon.

For the filling, place the dulce de leche in a piping bag with a round tip.

Fill the cookies with dulce de leche (6g to 10g for each cookie).

Bake in a preheated oven at 350°F (180°C) for 10-12 minutes, or until the bottoms of the cookies are barely golden. Let cool before serving.