This cocoa powder-based simple chocolate frosting has a fantastic flavor and a great consistency for decorating cakes and cupcakes.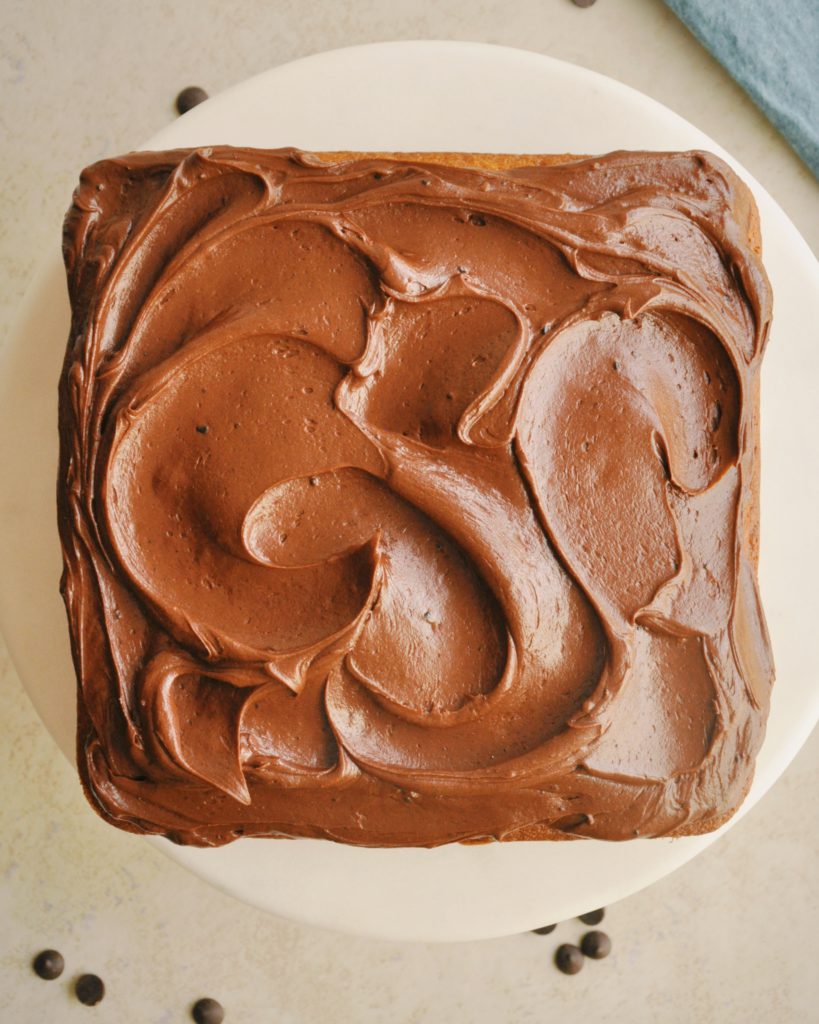 This recipe is simple to make and can be ready in just a few minutes. What I like the most about this chocolate frosting is how easy it is to work with. It can be easily spread with a spatula for cake filling and decorating, and you can also place it into a piping bag to top cupcakes.
I've always been in the search for a chocolate frosting recipe different from buttercream and ganache. What I had in mind was a simple chocolate frosting without the dense texture of ganache, and the excessive sweetness and heaviness of buttercream. While I was out there in the search, I found out there are many types of chocolate frostings, but this one, which is based on milk, cocoa, and icing sugar turned out to be one of my favorites.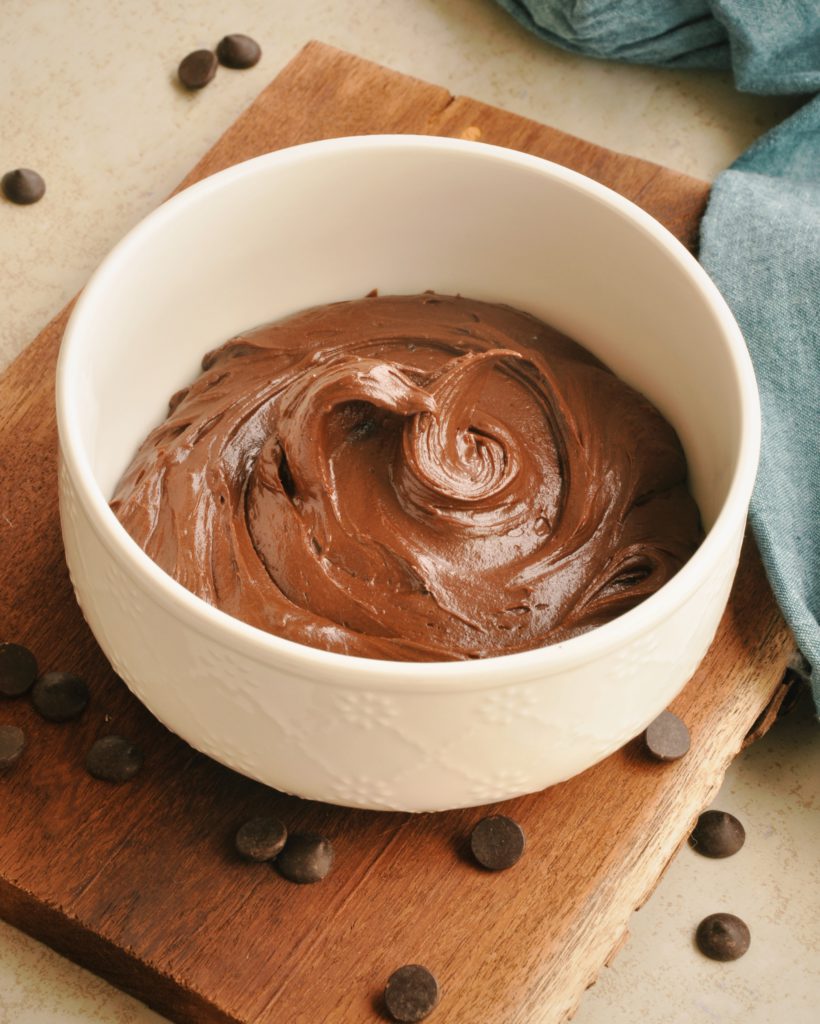 Why is this frosting different from ganache and buttercream?
This frosting is much lighter than a ganache in both flavor and consistency. To make a ganache, we melt together and mix whipping cream and chocolate, usually in a 1 to 1 ratio. The result is a thick cream with an intense chocolate flavor, which reminds us to truffles or the filling inside chocolates.
On the other hand, buttercream has a much lighter consistency than ganache. We can definitely notice its spreadable texture when masking a cake. However, buttercream can be pretty heavy when eating because of the high butter percentage in it. And it's also quite sweet, making it a less desirable candidate for certain cakes and other sweet treats.
What's great about this chocolate frosting is that it's more balanced since the cocoa powder helps reduce the sweetness added by the icing sugar.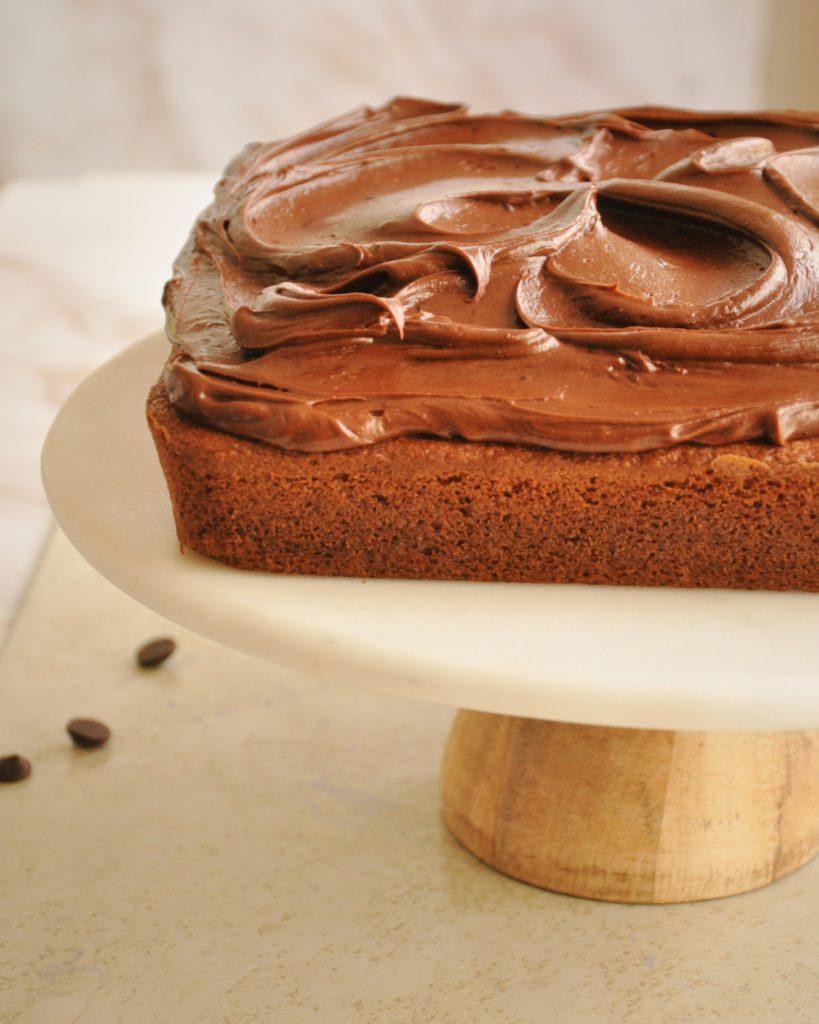 Baker's tips:
1) Sift the cocoa powder and icing sugar. This frosting has a liquid base, which tends to be hard to combine with dry ingredients. Sifting both cocoa powder and icing sugar will ensure you a smooth, lump-free texture from the start.
2) If the milk mixture is still lumpy (even after sifting the cocoa powder), it can be strained directly into the mixing bowl, just before adding the icing sugar.
3) After the final mix, the frosting might still be a little runny. If you'd rather have a thicker consistency, you can chill the frosting for 10- 15 minutes in the fridge and beat once again. You can even add more chilling time until the consistency feels right.
4) In the case you'd like an extra sturdy consistency, feel free to add some extra icing sugar little by little and beating between each addition.
5) It is ideal to use this frosting right away once made. However, if you prefer to make in advance, it can be stored in the fridge covered in plastic wrap. Just keep in mind you should warm it up and beat again before using it.
6) Use this frosting to fill and decorate cakes. It can also be used with a piping bag for final decorations.
7) This frosting is OK to keep unrefrigerated, but if you used it to build a layered cake, I'd recommend you keep it in the fridge to help it keep the cake nice and firm. It's safe to take out of the fridge a couple of hours before serving.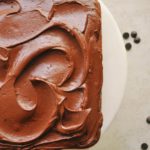 Print Recipe
Simple Chocolate Frosting (with cocoa powder)
Smooth, chocolatey and delicious. This cocoa powder-based chocolate frosting has great flavor and consistency and it's ideal for decorating cakes and cupcakes. With simple ingredients you'll be able to decorate your baked goods in just a few minutes!
Ingredients
100

g

Unsalted butter

80

ml

Whole milk

40

g

Cocoa powder

300

g

Icing sugar

60

g

Semisweet chocolate

chopped or chips
Instructions
In a small bowl, sift the cocoa powder. Set aside.

In a saucepan, place the milk and butter. Bring to medium heat. When the butter melts, add the cocoa powder and mix with a whisk.

Once the cocoa is fully combined, turn off the heat and pour the mixture into the bowl of the stand mixer. Let rest until it reaches room temperature.

Sift the icing sugar. In the mixer with the paddle attachment (or with the whisk attachment if you are using an electric hand mixer), beat the liquid mixture with the powdered sugar. Add the icing sugar little by little, while beating at a low speed.

Melt the chopped chocolate or the chocolate chips in the microwave in 30 seconds intervals. You can also use a double boiler. Once all the icing sugar is combined, add the melted chocolate and mix well.

Continue mixing until the frosting becomes creamy and spreadable.

If the frosting looks a little liquid, refrigerate it for 10 to 15 minutes. After cooling it down, mix again. Use the frosting right away or store refrigerated, covered in plastic wrap.