This pink lemonade with raspberries is perfect for summer or hot days. It's an elevated version of the classic lemonade as it looks much prettier and more sophisticated. This drink keeps the lemon flavor of the classic lemonade but with the addition of new fragrances: raspberry and grapefruit. It is refreshing, delicate, and has just the right sweetness.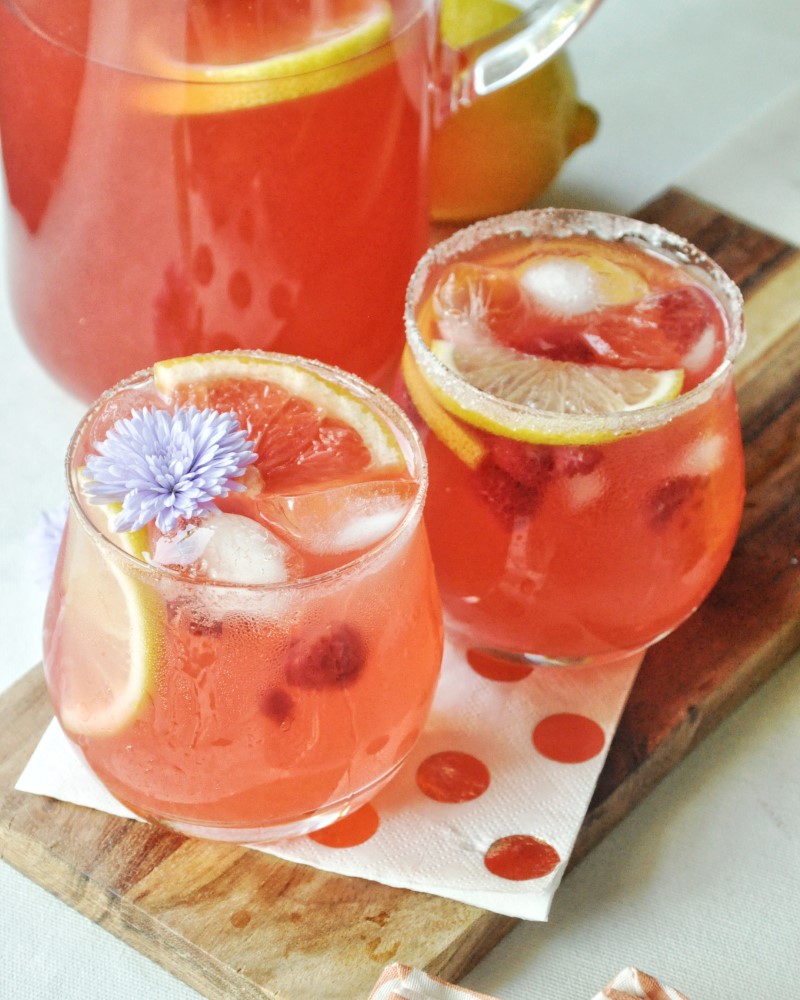 Technically, you can get pink lemonade using artificial colors. But it would be such a waste not to use the natural color in fruits to get that nice, pinky color. Some recipes include cranberry juice. I decided to use raspberries to add an extra flavor, and to make it more accessible since you can't find cranberry juice in every country. On the other hand, I also used grapefruit juice to help create a pinker and less intense red color.
How do you make pink lemonade?
These are the steps to follow to make this drink:
Prepare a syrup with sugar, water, and raspberries.
Add lemon zest, strain the syrup, and cool it down.
Mix the syrup with the lemon juice, water, grapefruit juice, and ice.
Serve with more ice and lemon or grapefruit slices.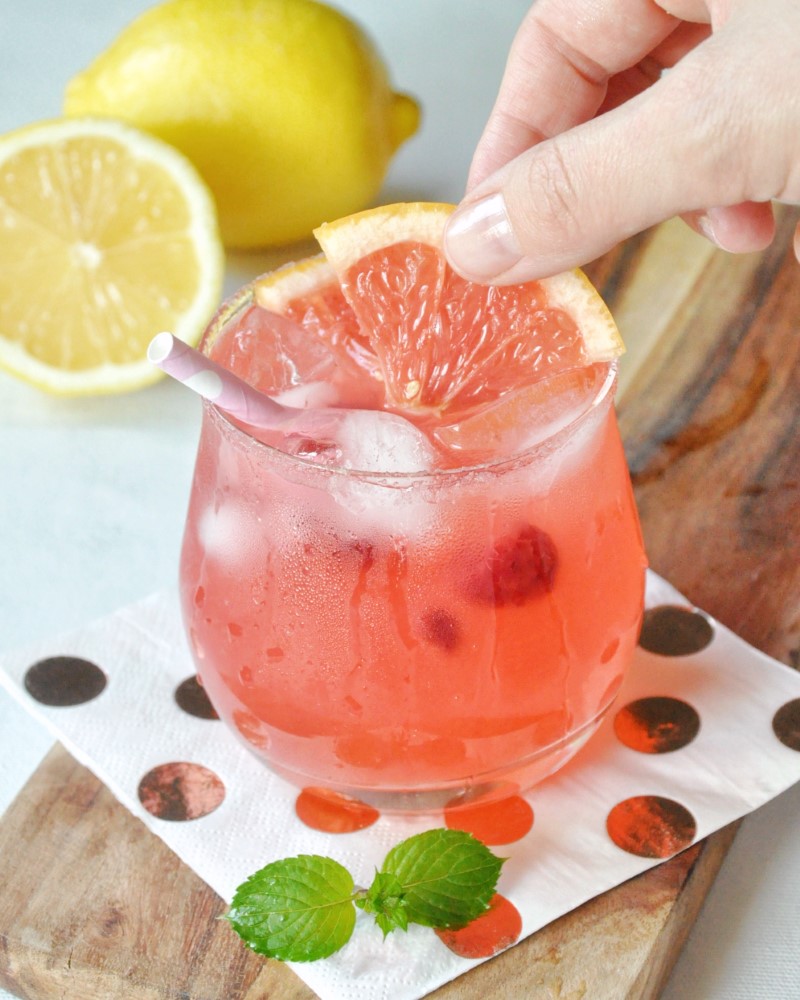 Substitute for raspberries
If you don't like raspberries or can't get them, another similar option is strawberries. You can also use raspberry or strawberry pulp or puree, adding it to the syrup instead of the whole fruit. If you use pulps with sugar, reduce the sugar in the syrup.
How to make the lemonade more pink and less red?
Raspberries and strawberries tend to give a reddish color and not quite as pink. To make it a pinker color, you can add more grapefruit juice. Grapefruit juice adds opacity and a whiter shade of pink to the lemonade. I recommend adding it little by little and testing it since the grapefruit flavor is strong and can overshadow the lemon.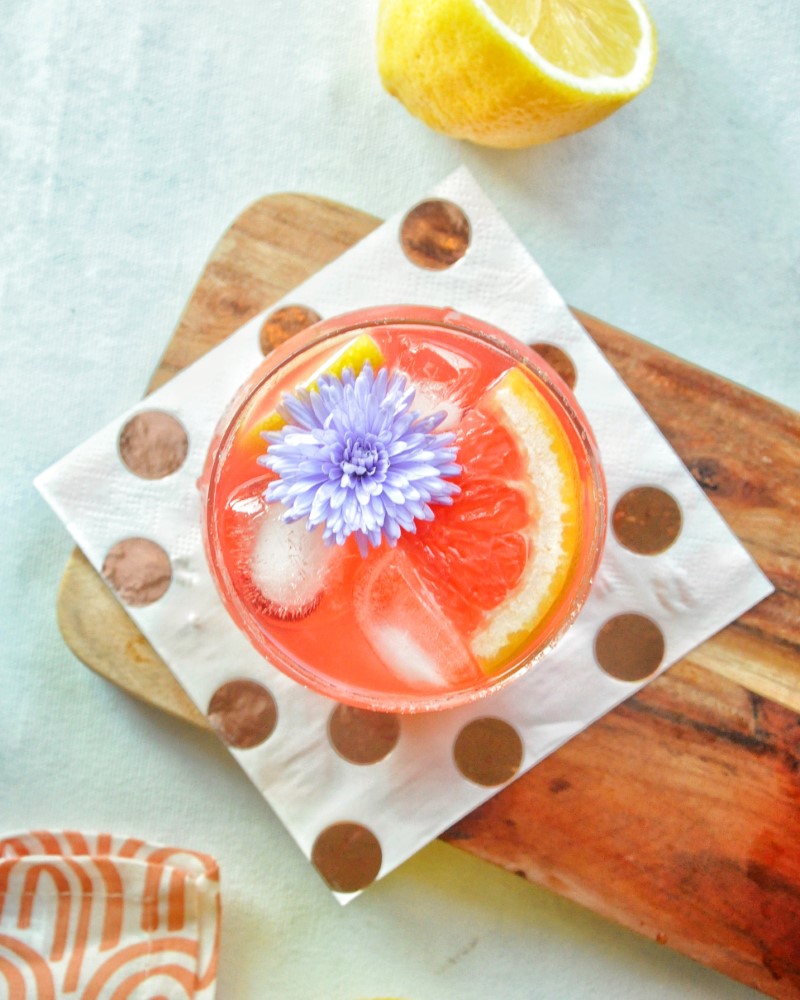 How to prepare lemonade in advance?
If you want to make a big batch of lemonade or want to work in advance, I recommend preparing a lemonade base. For this, mix the strained syrup with the lemon and grapefruit juice and store it in the fridge. When serving, mix the lemonade base with the water and ice. That way, you can have the lemonade ready in a few steps without using space in your fridge with jugs of lemonade.
You can double or triple the recipe. For the lemonade, mix 500ml of lemonade base with 600ml of water and plenty of ice.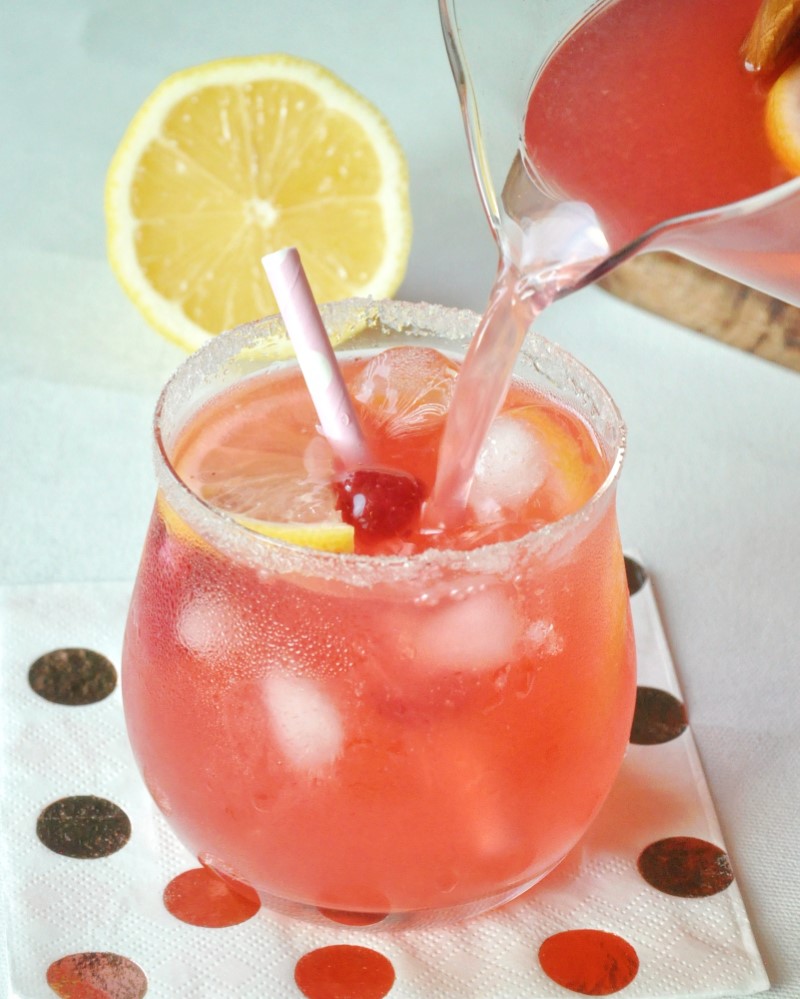 Can I make pink lemonade without sugar?
Yes, you can! Replace the sugar in the lemonade with the sweetener of your choice.
Brown sugar, muscovado sugar, or coconut sugar: replace it with the same amount and follow the same procedure.
Honey or agave, use 75% of the sugar weight. So, instead of 160g of sugar, add 120g of honey or agave. Follow the same procedure.
Stevia or sweeteners: Make the "syrup" with just the fruit and water and then sweeten, to taste, until it is as sweet as jam.
Pink lemonade conservation
Store the lemonade in a covered pitcher or bottle with a lid on, in the fridge. Consume within 5 days. If you make the syrup ahead of time, you can leave it in the fridge for up to two weeks.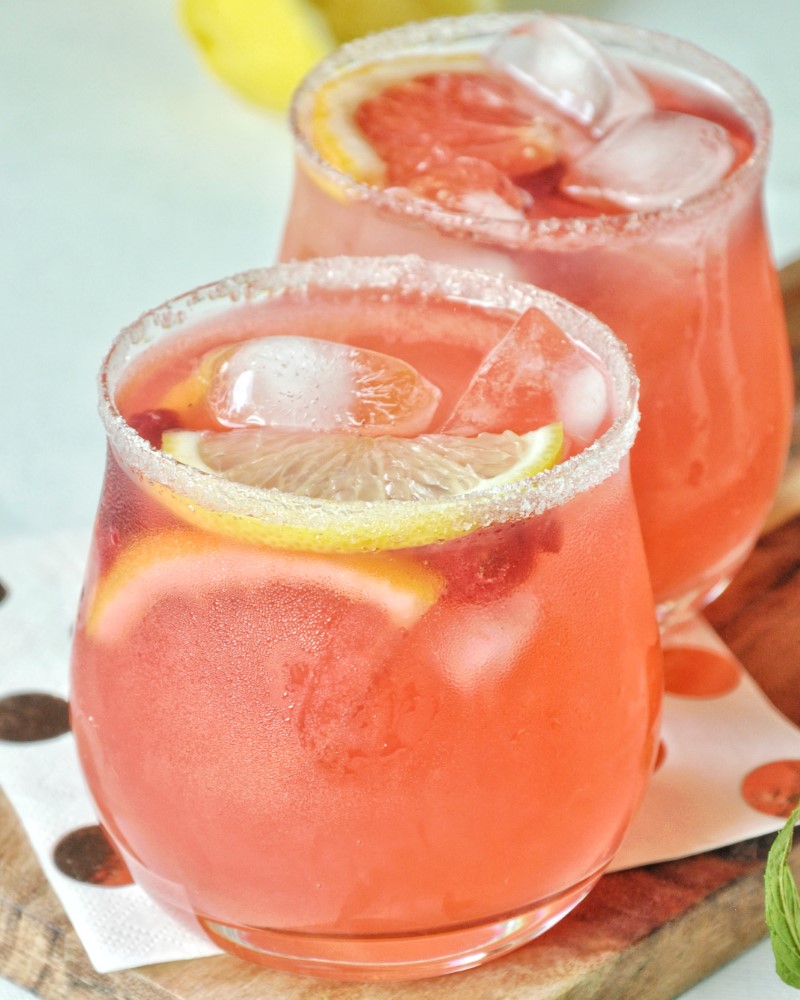 Baker's Tips
Use frozen fruit
When making the syrup, it's better to use frozen raspberries or strawberries since these tend to release more liquid and soften more quickly. You can use fresh fruits, but try to freeze them before using them.
Use fresh lemons
The best lemonades are made with fresh lemon juice. Bottled lemon juice can work out just fine in other recipes, but for lemonade, it is important to use freshly squeezed lemons to avoid artificial flavors.
Garnish each glass
To make your lemonade glasses extra pretty when serving, decorate the edges with white sugar. Fill them with plenty of ice and arrange lemon and grapefruit slices between them. You can also add more frozen raspberries and edible flowers.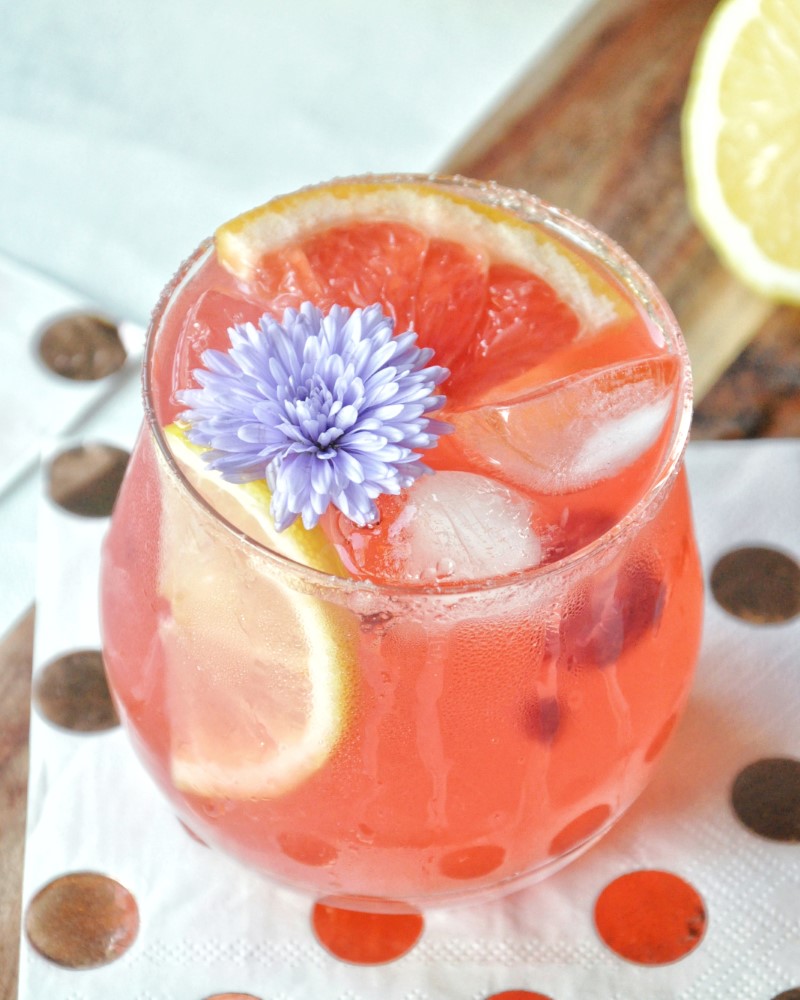 Pink Lemonade with Raspberries
This lemonade is sweet and refreshing, with just the right acidity, and has a great flavor given by the raspberries and grapefruit juice. It is the best way to elevate this classic drink to treat your guests.
Ingredients
Syrup
200

ml

Water

160

g

Sugar

24

g

Frozen raspberries

12 raspberries

Zest of ½ lemon
Lemonade
80

ml

Fresh lemon juice

600

ml

Cold water

50

ml

Grapefruit juice

Plenty of ice
Garnish
Lemon slices

Grapefruit slices

Sugar for the glasses

Edible flowers

Frozen raspberries
Instructions
In a saucepan place the water, sugar, and raspberries. Heat up in medium until it starts to boil. Lower the heat to a minimum and let the raspberries cook for 2 to 3 minutes until soft.

Remove from the heat, add the lemon zest, mix, and let rest for 5 to 10 minutes.

Strain the syrup through a fine strainer, pressing down with a spatula to let some of the fruit pulp pass through. Let cool in the fridge. (See notes for making a lemonade base.)

Once the syrup is cold, add the lemon juice, water, and grapefruit juice. Test flavor and sweetness. You can add more water, sugar, or grapefruit juice to taste. Add plenty of ice.

To garnish the glass, wet the rim with lemon and let sit on sugar to create a sugary rim. Serve the lemonade with ice, lemon or grapefruit slices, more raspberries, and an edible flower.
Notes
To make a lemonade base, mix the syrup with the lemon and grapefruit juice and leave in the fridge until serving time. For every 500 ml of base, add 600 ml of water and plenty of ice. Mix and serve.