This peaches and cream cake is perfect for serving with coffee, as a dessert, or as a treat for tea time. The vanilla cake is soft, with a tight and delicious crumb. It has peaches inside and as decoration, which makes this cake super fruity, great for summertime, and perfect to enjoy seasonal fruits. This cake has a generous topping of chantilly cream that makes the perfect partner for fresh peaches.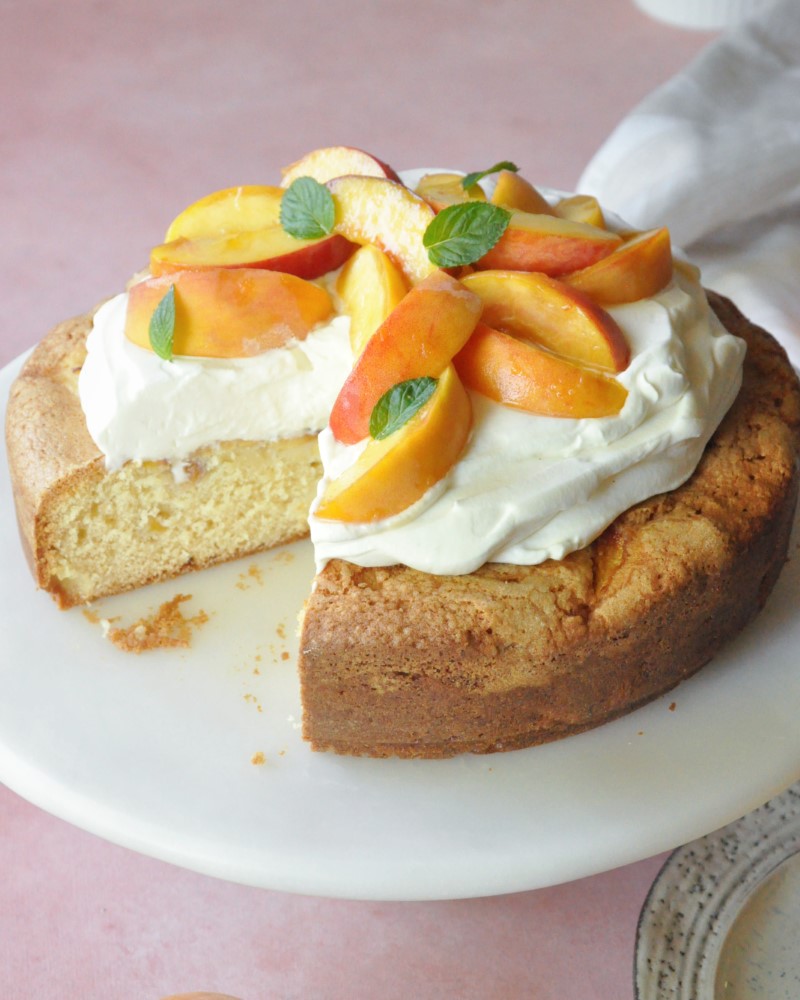 Although this cake is meant to be served with a lot of cream, you could also serve it as it comes out of the oven. I'll show you how to decorate your cake right before baking it, to make it extra pretty, even without the cream topping.
How do you make peaches and cream cake?
These are the steps to follow to make this recipe:
If you don't have buttermilk, make it yourself by mixing milk with lemon juice.
Cream butter and sugar and add the eggs one at a time.
Mix in the dry ingredients and the buttermilk.
Toss the peach cubes with flour and add to the batter.
Bake and let cool.
Make the chantilly cream. Use it to top the cake with more peaches.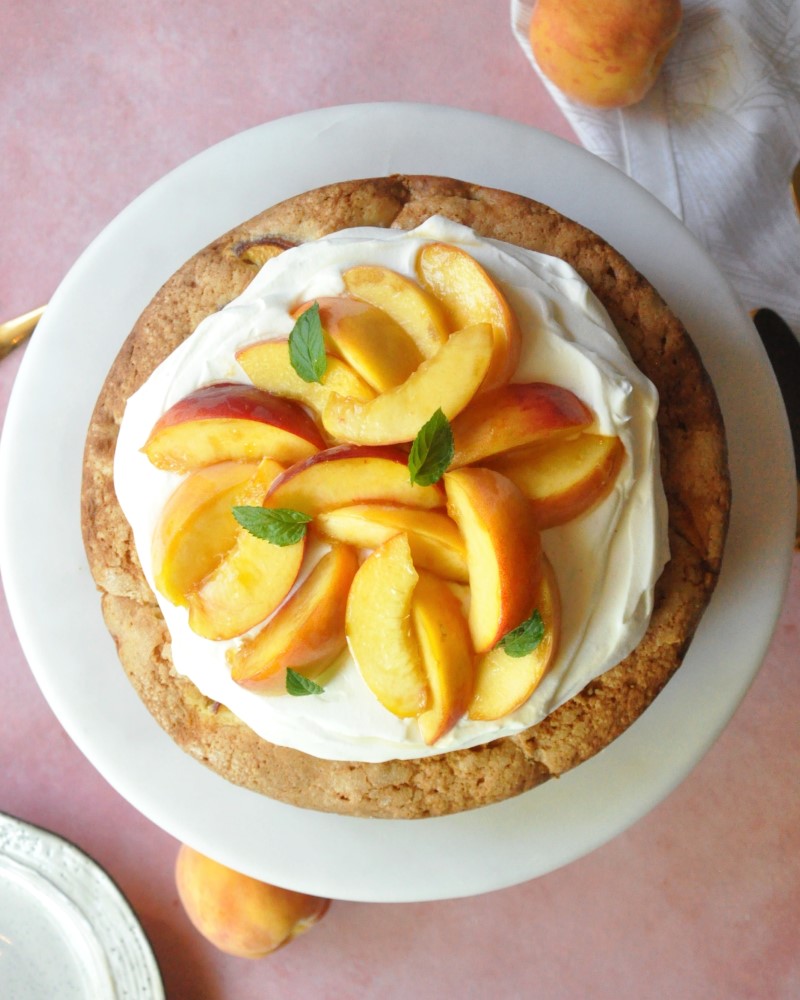 Can canned peaches be used for this recipe?
Absolutely! Canned peaches are a great option for this cake, especially if peaches are not in season. Both for the inside of the cake and for decoration, I recommend drying them super well with a paper towel to avoid them to release any juices into the cake.
Can other fruits be used for this cake?
The best thing about this cake is that you can use any stone fruit to make it: plums, nectarines, apricots, or cherries. Apples and pears always go well in this type of cake, too.
Can I add dulce de leche to the peaches and cream cake?
It's a great idea to pair cream and peaches with dulce de leche. Simply spread a thin layer beneath the cream. Dulce de leche will make the cake look and taste more like a dessert and less like a coffee cake.
How do you store peaches and cream cake?
The peaches and cream cake should be kept in the refrigerator for up to 5 days as it contains cream. Put the cake in a cake box or cover it with plastic wrap to prevent it from drying out. If you don't add cream to the cake, store it at room temperature for up to 5 days, well covered.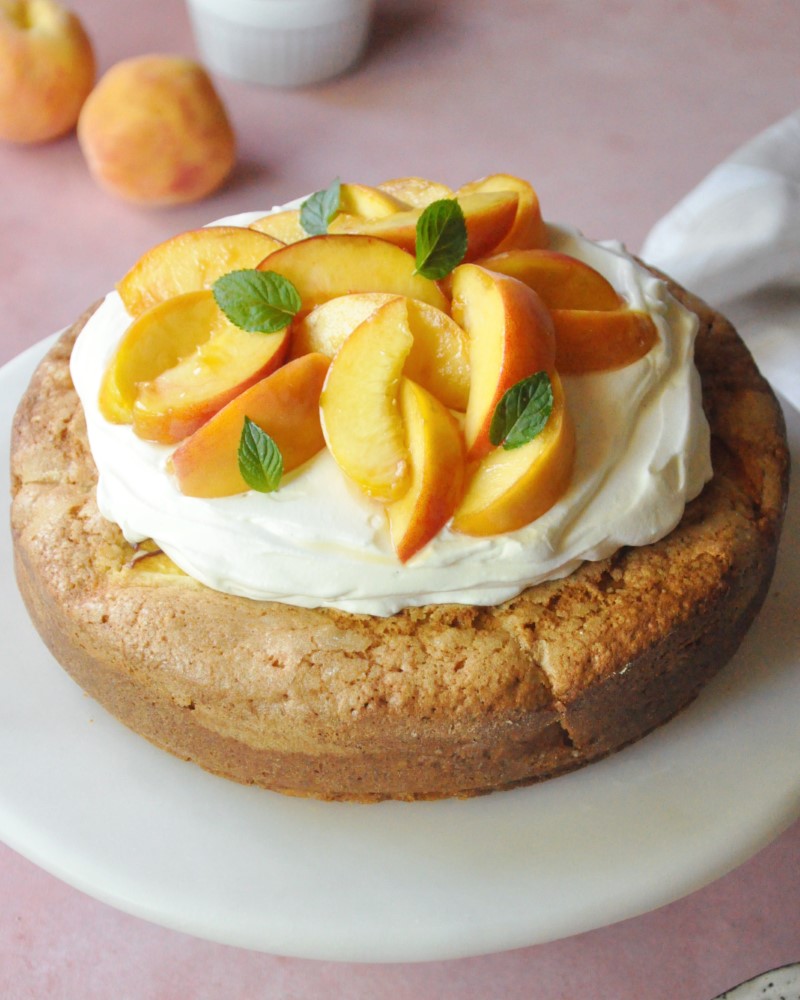 Baker's tips
Butter and flour the cake pan well
Some pieces of fruit will tend to go to the bottom of the cake during baking. We must be careful to butter and flour the base and edges of the mold well so that the fruit does not stick to it.
Cover the cake in the oven for the last few minutes
This cake can take up to 1 hour and 20 minutes to bake. I recommend covering the cake loosely in the oven with tin foil after 1 hour of baking to prevent it from getting too dark. Another option is to place an empty tray on the upper rack of the oven.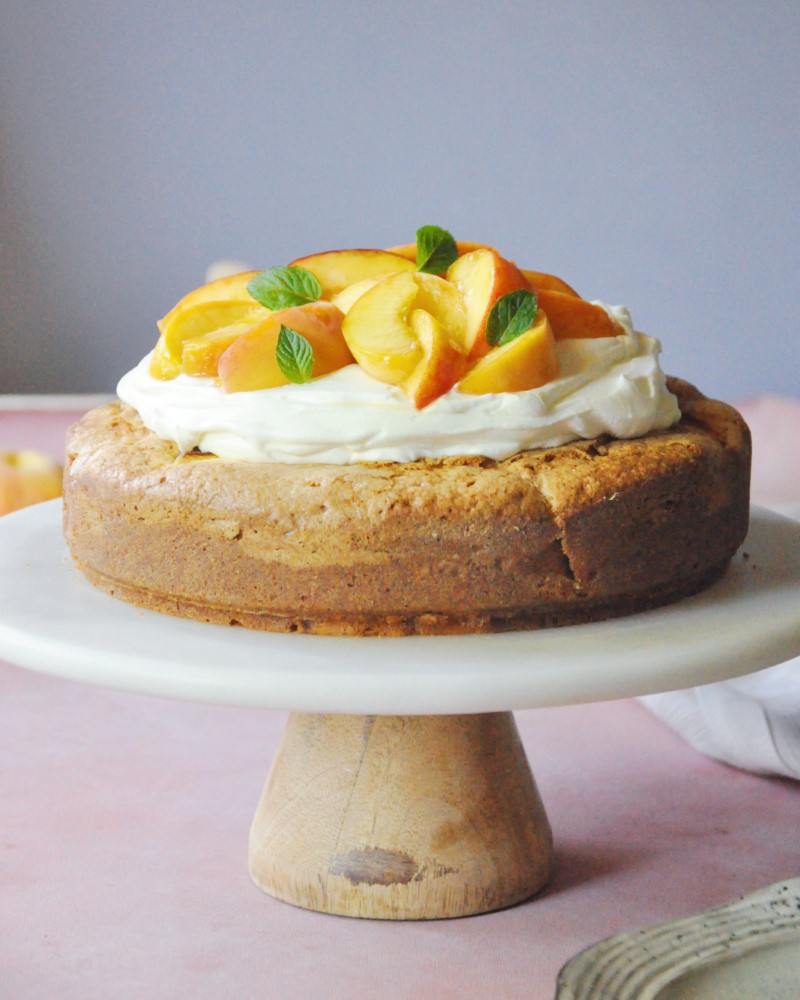 Let the cake cool before topping with cream
You might be tempted to decorate the cake while it's still hot or warm. But if you decorate a cake while it's still warm, the cream will melt and collapse in a matter of seconds. Wait for at least 3 hours before decorating it, when the cake reaches room temperature. If you want to serve it warm, you can do it, but place the cream next to each slice of cake, not on the entire cake.
Brush the peaches with jam
To help peaches maintain their natural shine, brush them with a jam reduction. Mix peach jam (or any clear jam) with a few drops of hot water, until it looks like a sauce, and brush each of the peach slices with it.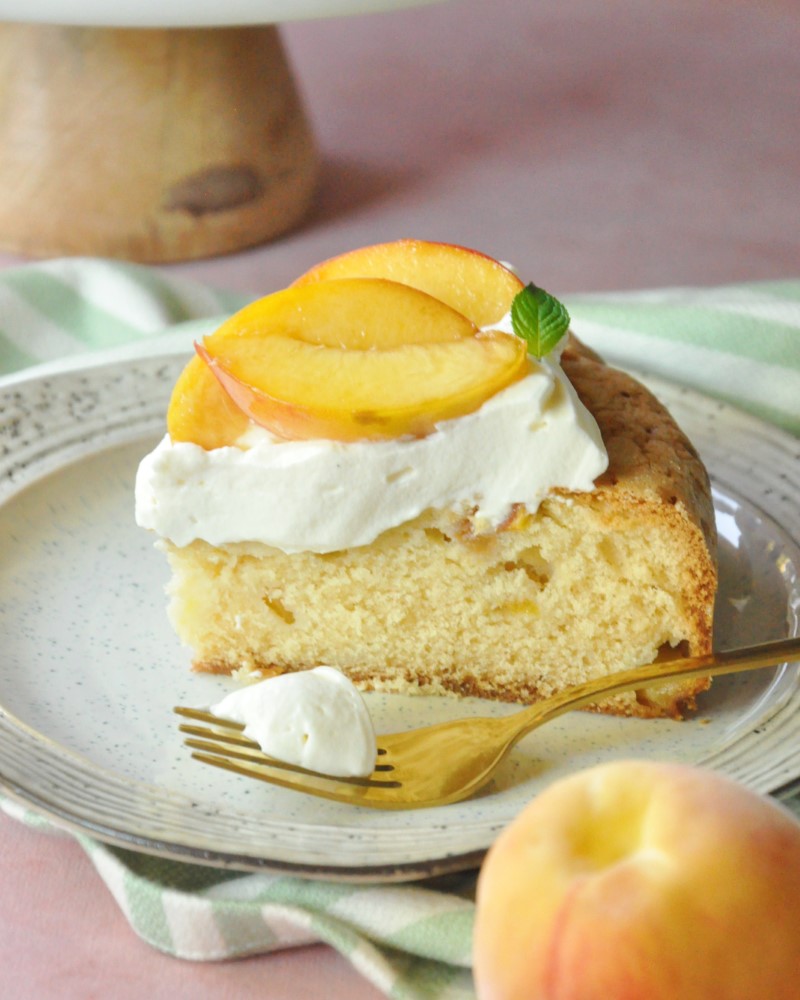 Peaches and Cream Cake
This vanilla peach cake is ideal for summer. It is simple and delicate, it's filled with fruity flavor and it's topped with a crown of chantilly cream and peach slices. It is an exquisite cake. You cannot miss it!
Ingredients
Cake:
180

g

Soft unsalted butter

220

g

Granulated sugar

1

tbsp

Vanilla extract

2

eggs

220

g

flour All-purpose flour

100

ml

Buttermilk

see notes for substitute

2

tsp

Baking powder
Decoration option 1 (without cream)
2

Thinly sliced ​​peaches

20

g

Granulated sugar
Decoration option 2 (with chantilly cream)
2

Peaches

peeled and cut into slices

2

tbsp

Peach jam

2

tsp

Hot water

300

g

whipping cream

35% fat or more

60

g

Icing sugar

1

tbsp

Vanilla extract

1

tbsp

Milk powder

optional

mint leaves
Instructions
Cake
Preheat the oven to 350°F (180°C). Butter and flour a 9-inch cake pan.

In a large bowl, beat the soft butter with the sugar and vanilla extract until light and fluffy. Use a stand mixer with a paddle attachment or an electric handheld mixer.

Add the eggs one at a time, beating well between each addition.

In another bowl, combine flour and baking powder, and mix lightly with a small whisk.

Add half the dry ingredients to the batter and continue mixing until combined.

Add the buttermilk and mix well.

Mix in the rest of the dry ingredients with a spatula until the batter is smooth.

Peel and cut the peaches into small cubes. If they are very juicy, pat them dry with a paper towel. Toss them with the flour and gently add them to the batter with a spatula.

Place the batter in the previously buttered and floured cake pan. Level with the spatula.

Decoration option 1 (without cream): place thinly sliced ​​peaches on the cake and sprinkle with sugar before baking. Decoration option 2 (with cream): bake directly without placing peaches or sugar.

Bake in a preheated oven at 350°F for 1 hour to 1 hour 15 mins. Check with a stick until it comes out clean. If it takes more than an hour, place tin foil on the pan so the surface does not get too toasted. Wait 10 minutes and unmold it to avoid it from sticking to the pan.
Chantilly cream and decoration
Place the cream (which must be cold out of the fridge) with the sugar, powdered milk, and vanilla in the mixer bowl. Beat at medium speed with the whisk attachment, until firm peaks form.

Once the cake is completely cool, place the cream in the center and spread with a spatula.

Mix the jam with the hot water and brush the peach wedges with it. Decorate the cake with them. Top with a few mint leaves and serve immediately or keep refrigerated.
Video
Notes
To make a buttermilk substitution, combine 80 ml whole milk with the juice of ½ a lemon or orange, and set aside for 5 minutes.