These pumpkin cupcakes with brown sugar meringue are the perfect dessert or snack for a fall day. They are super moist, spiced, and flavorful. The taste of brown sugar gives them something special that pairs perfectly with the flavor and texture of the pumpkin cupcake.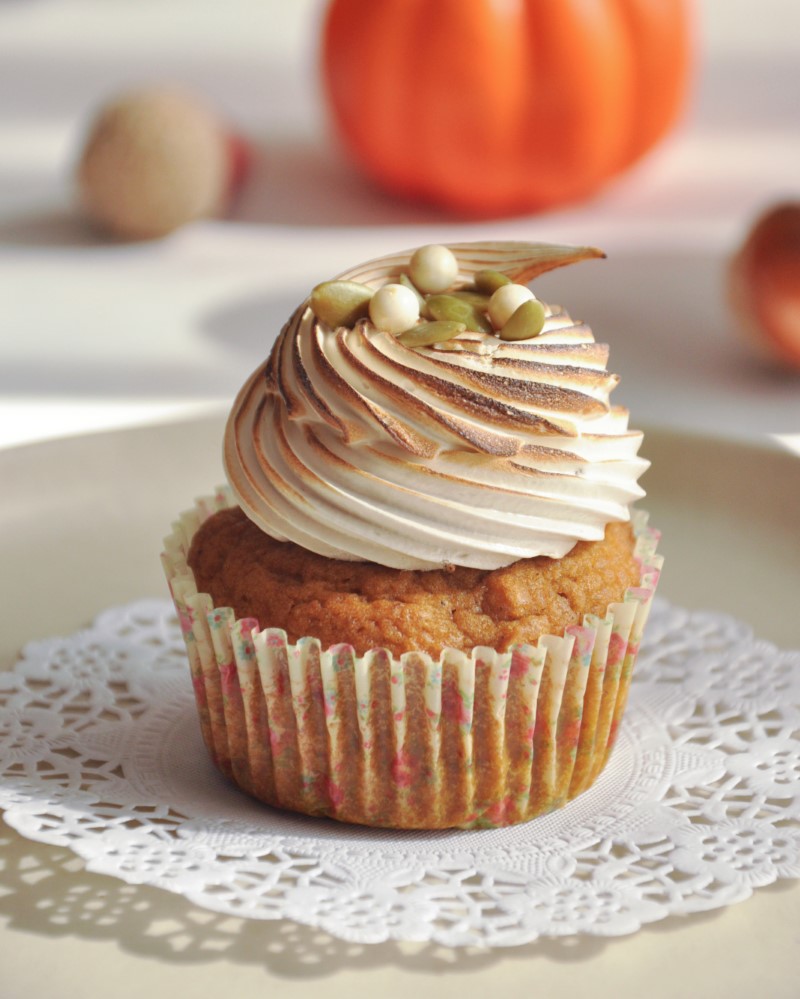 After trying different recipes I was able to come up with these cupcakes that were moist but light, and not dense as pumpkin cakes tend to be. I also decided to try something different with the topping and made a brown sugar swiss meringue that I burned with a torch. I love how delicate it tuned out and I definitely liked it more than the usual cream cheese frosting.
This recipe is super easy to make. For those ones who live in areas where there's no canned pumpkin puree, it's possible to make it at home. (See how to prepare it here).
How to make these Pumpkin Cupcakes?
These are roughly the steps we're going to follow to make these pumpkin cupcakes with brown sugar meringue:
Prepare the pumpkin puree if you can't get the canned one. Let cool.
Mix the liquid ingredients and the sugar in a bowl.
Sift together the dry ingredients and combine them with the liquids.
Bake in the cupcake tins and let cool.
Prepare the meringue by heating the sugar with the egg whites in a bain-marie and mix with a stand mixer until the meringue forms.
Decorate the cupcakes with a piping bag and burn them with a torch.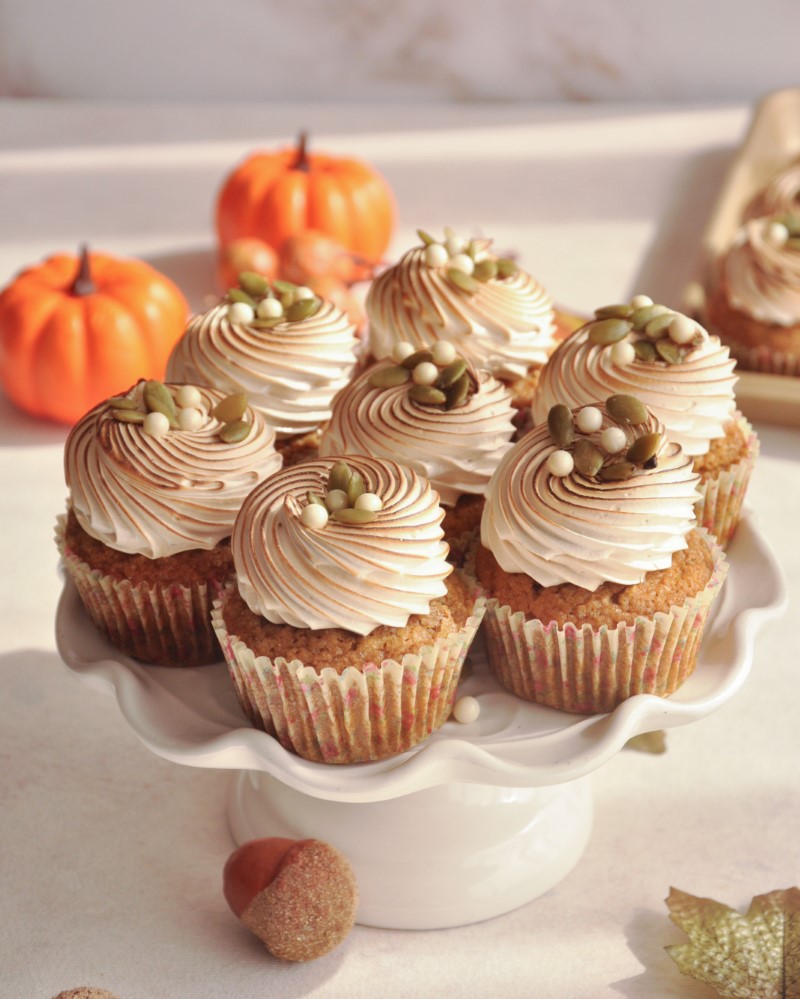 Other ideas to decorate pumpkin cupcakes
Pumpkin cupcakes also go very well with the these toppings:
Cream cheese frosting. You can keep it classic with a touch of vanilla or spice it up with cinnamon or a spice mix.
Classic swiss meringue made with white sugar. Just follow the same recipe but replace brown sugar for white granulated sugar. In this case I recommend burning the meringue for getting that interesting toasted flavor.
Buttercream. Vanilla buttercream works very well with these cupcakes. You can also give it a different flavor by adding cinnamon, dulce de leche or caramel sauce to it.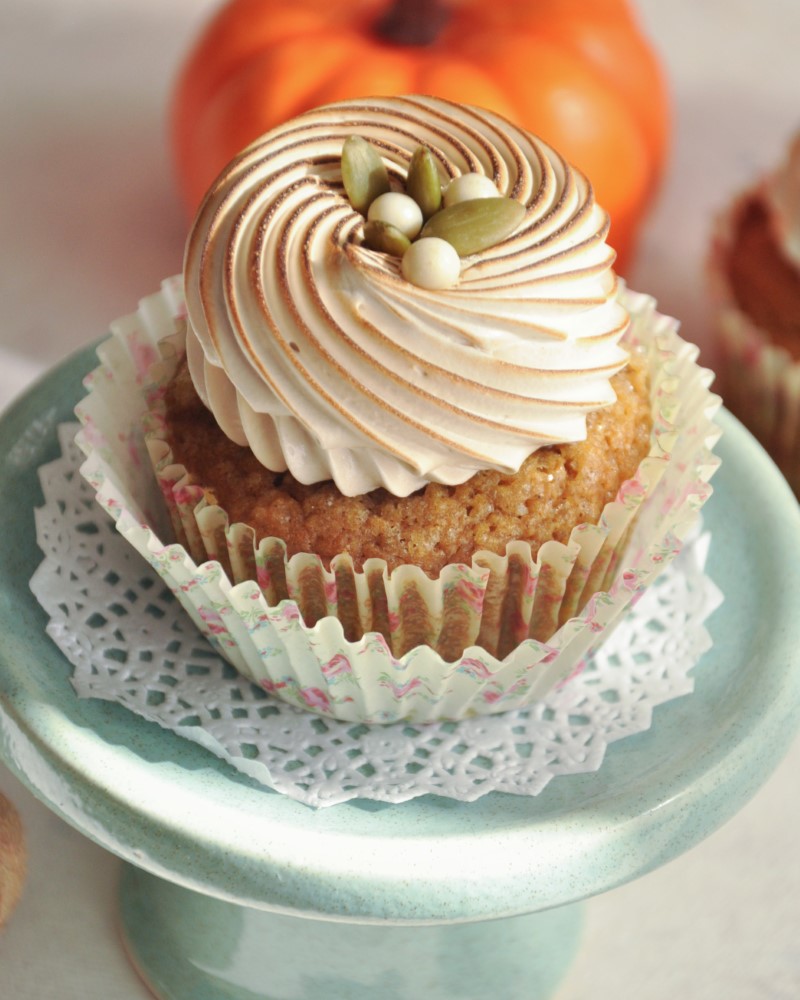 How to make pumpkin puree at home?
To make pumpkin puree at home, cut the pumpkin in half, remove the seeds and strings from the inside and bake at 180°C on a tray for about 45 minutes or until tender. It can also be steamed. Scoop out the tender flesh from the skin into a food processor and make a puree with it. Let cool before making the cupcake batter.
Baker's Tips
Prepare your own spice mix
For this and other fall recipes, I recommend having a spice mix ready to go. The idea is that you can mix it according to your preference and use it to give flavor to all your recipes. My signature spice mix is made of 4 tablespoons of cinnamon, 2 tablespoons of powdered ginger, 1 1/2 teaspoons of nutmeg, and 1 1/2 teaspoons of cloves. Sometimes I like to add a little bit of anise.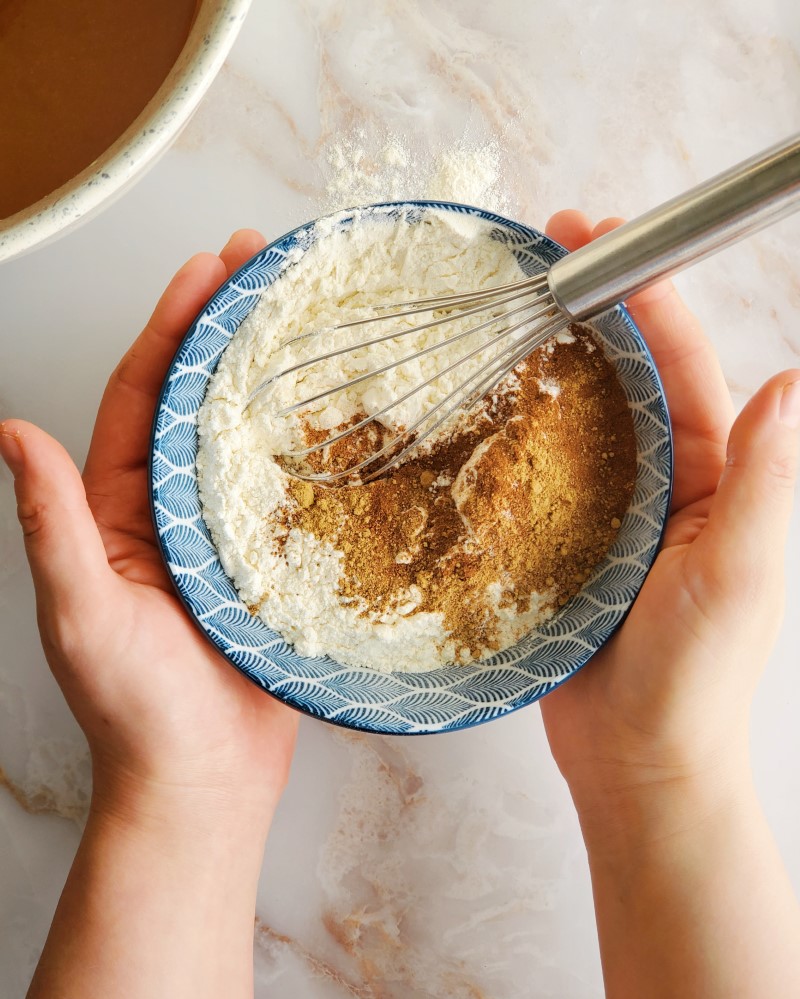 How to store pumpkin cupcakes?
As these cupcakes call for butter instead of oil, they will tend to dry out if left uncovered. For best storage, leave covered in an airtight container at room temperature and serve within 3 days for full freshness. The cupcake can be frozen once baked, but the meringue cannot be frozen.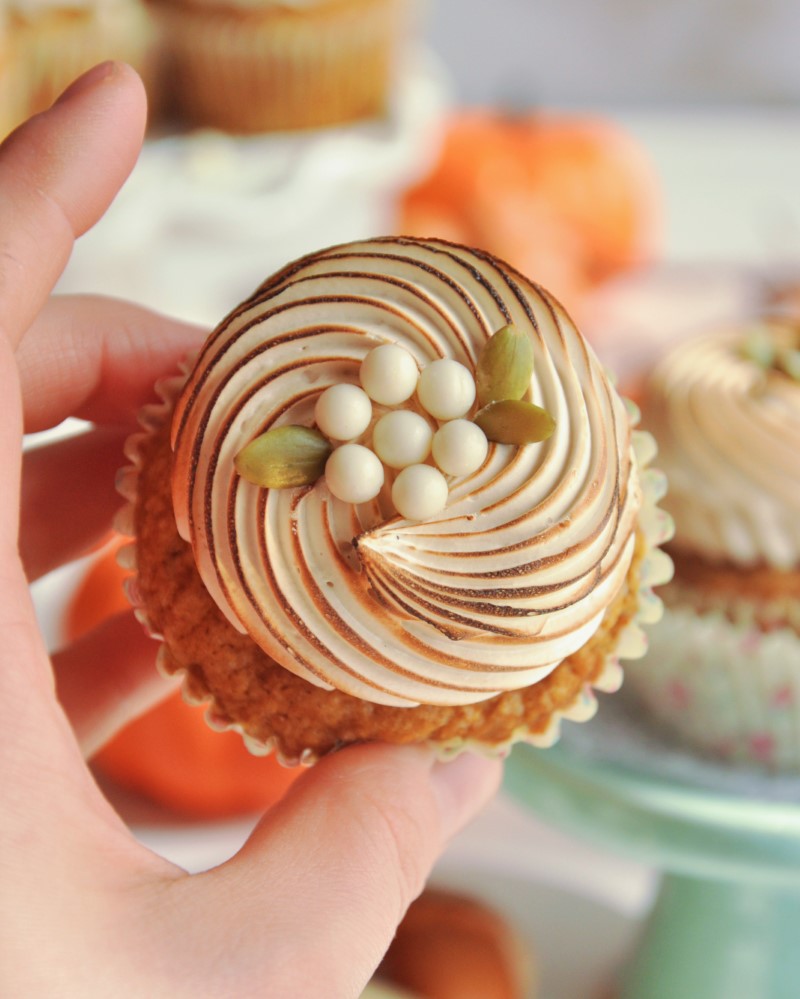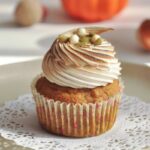 Print Recipe
Pumpkin Cupcakes with Brown Sugar Meringue
These cupcakes are super moist and delicious. The pumpkin, the spice mix and the flavor of the burnt brown sugar meringue make them the best fall treats!
Ingredients
For the cupcakes
120

g

Brown Sugar

100

g

White Sugar

230

g

Melted butter

2

Eggs

400

g

Pumpkin Puree

220

g

All purpose Flour

1

tsp

Baking powder

1

tsp

Baking soda

2

tsp

Cinnamon powder

1

tsp

Ginger

¼

tsp

Nutmeg

¼

tsp

Cloves

1

Pinch

of salt

4

tbsp

White sugar for sprinkling
For the Brown Sugar Meringue
4

egg whites

140g

300

g

Brown Sugar

To decorate

pumpkin seeds and white chocolate pearls
Instructions
For the cupcakes
Preheat the oven to 180°C or 350°F. Line a cupcake tray with paper cups.

In a bowl, place both sugars, eggs, pumpkin puree and melted butter (warm or at room temp) and mix with a hand mixer until combined.

Mix and sift together the dry ingredients. Add them to the liquid mixture and whisk until combined.

Scoop the batter with an ice cream scoop or 2 spoons and fill out the cups to ¾ of their capacity. Sprinkle each cupcake with sugar on top.

Bake in the preheated oven for 18 to 20 minutes or until a toothpick inserted comes out clean. Let cool before decorating.
For the Brown Sugar Meringue
Place the sugar and egg whites in a heat-resistant bowl and place in a bain-marie over medium heat. Make sure that the water does not touch the bottom of the bowl.

Mix constantly with a hand mixer (do not beat, just mix). When the mixture reaches 60°C or 140°F, remove from the heat and transfer to the stand mixer bowl.

Beat at max speed until the mixer bowl reaches room temperature and the meringue is firm and shiny.

Fill a piping bag with the meringue and decorate the cupcakes. I used a star piping tip. Decorate with pumpkin seeds and white chocolate pearls.