Easter is, for sure, my favorite holiday. There's something about bunnies, chocolate, and baking at home that reminds me of my sweet childhood. This year I wanted to combine two of everyone's favorites: chocolate chip cookies and mini eggs!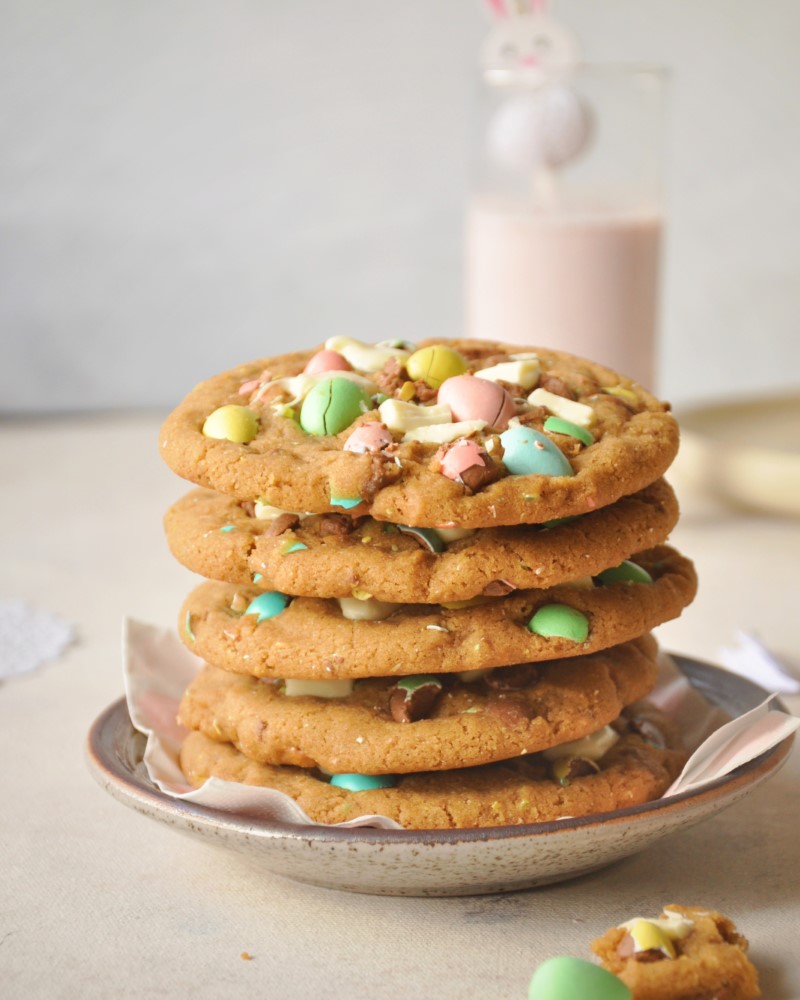 I've worked for a long time on this recipe. It has crispy edges, and it's soft and chewy inside. To make it extra tasty, I browned my butter and made it exclusively with brown sugar, adding depth of flavor and a yummy caramel flavor. I made two versions of these cookies: One of them with mini eggs and white chocolate and another one with chocolate chips and chocolate eggs. You can choose the combination that suits you best!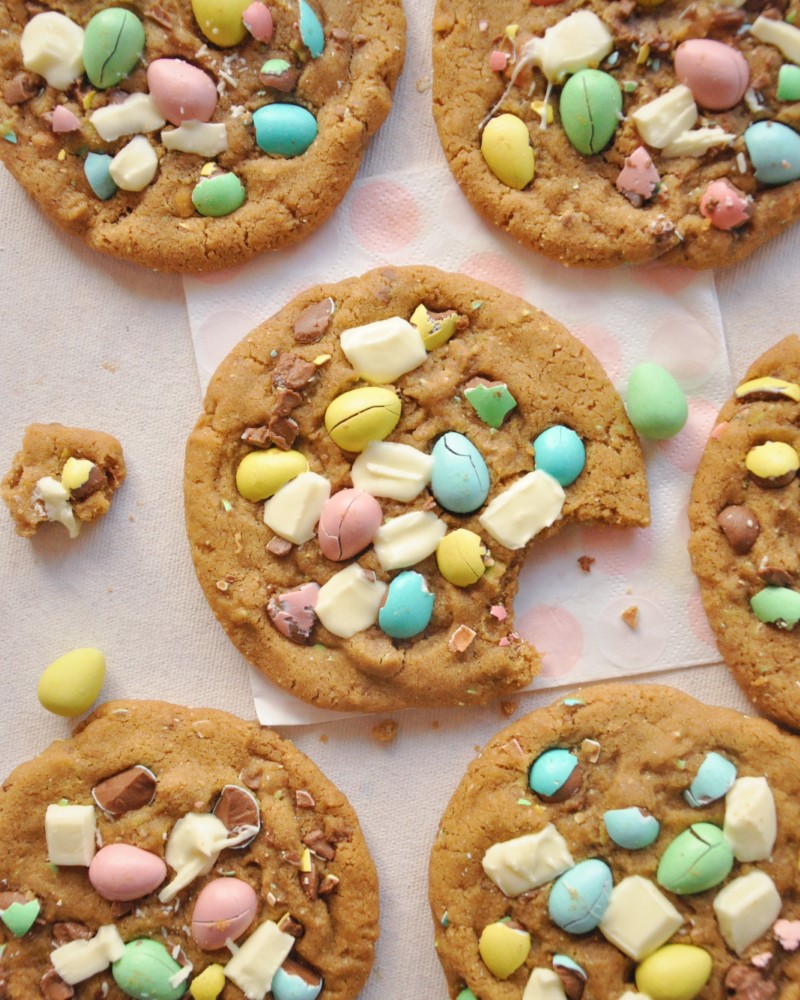 How to make Brown Butter Easter Cookies?
These are roughly the steps you need to follow to make these brown butter easter cookies:
Make the brown butter and let it cool until soft
Beat the butter with the sugar until fluffy. Mix in the egg
Add the dry ingredients and combine
Add the chocolate chips or the chopped mini eggs and form balls with the dough
Bake the cookies and let them cool for a few minutes
Decorate with the chocolate eggs and let cool before serving.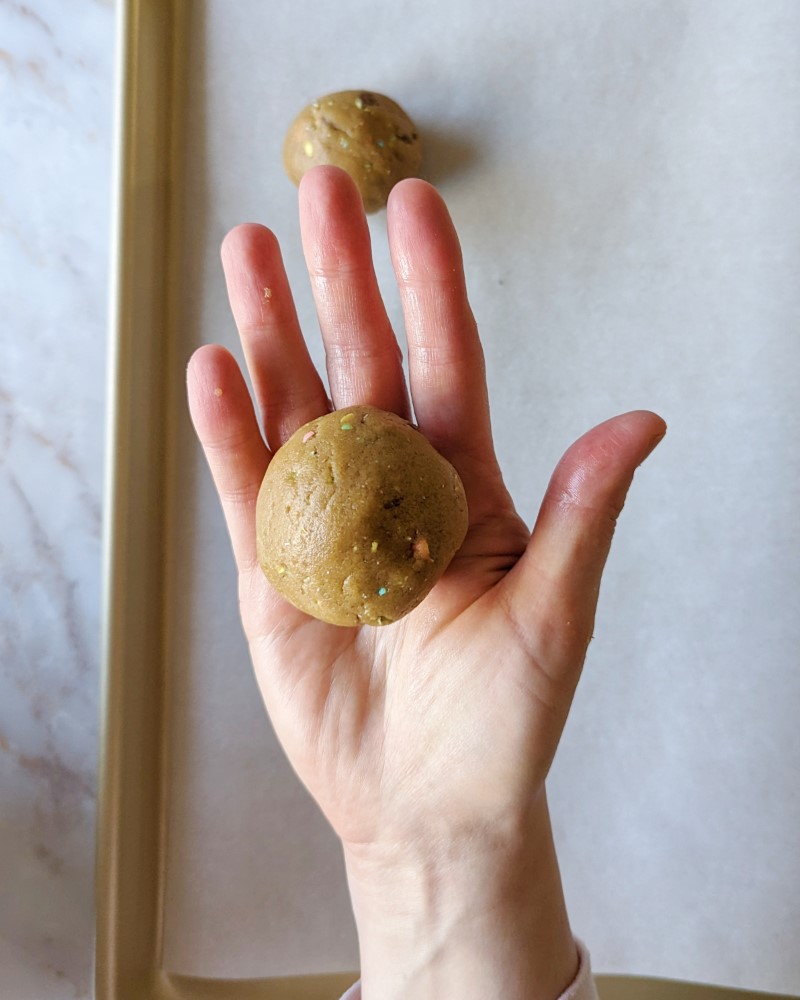 What is brown butter?
Brown butter or "beurre noisette" is butter we cook until the milk solids of the butter turn brown and toasted. The butter will be ready when you notice tiny brown dots on the bottom of the pan, and the butter gets a deep golden color. The aroma is exquisite, similar to toasted nuts. You can use it in the same way as regular butter for different recipes. For this recipe, we are going to use soft brown butter. That means we need to let it cool down after browning.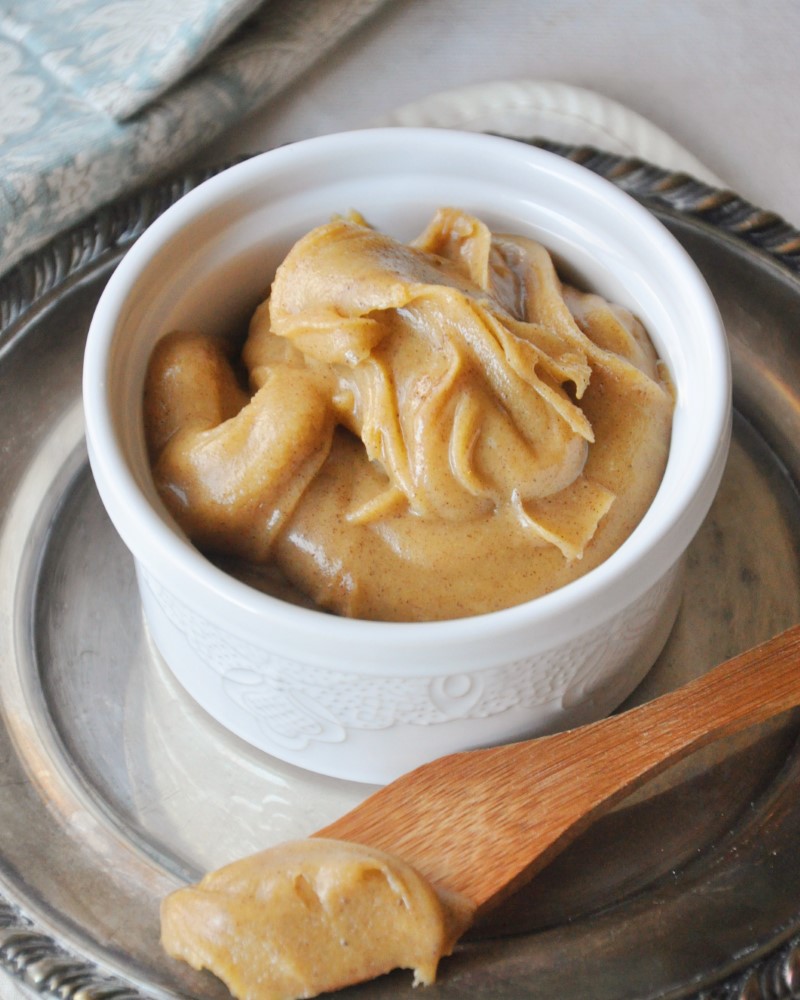 How do you make brown butter?
To make brown butter, cut good-quality butter into cubes, and place them in a large pan or saucepan. Cook over medium-high heat, stirring constantly, with a wooden spoon or silicone spatula. The butter will sound like you're frying something. Then the bubbles will disappear, and foam will form on the surface. You will also notice some brown dots at the bottom of the saucepan. When those solids show up, and the butter is golden brown, remove it from the heat immediately so that it doesn't burn. After that, use it as directed by the recipe: liquid, soft, or cold. In this case, we want it to be solid but soft.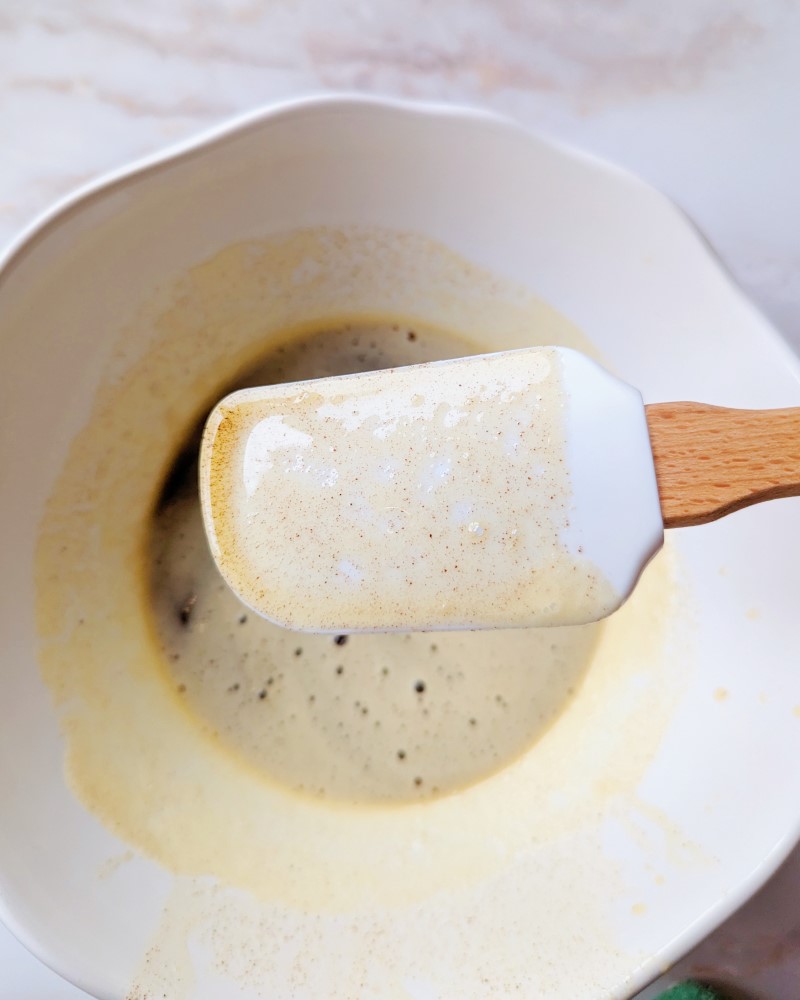 Can I use white sugar instead of brown sugar?
Yes, you can. However, I recommend using brown sugar to achieve that depth of flavor in the cookies. You can also transform white sugar into faux brown sugar by mixing white sugar with one and a half tablespoons of molasses.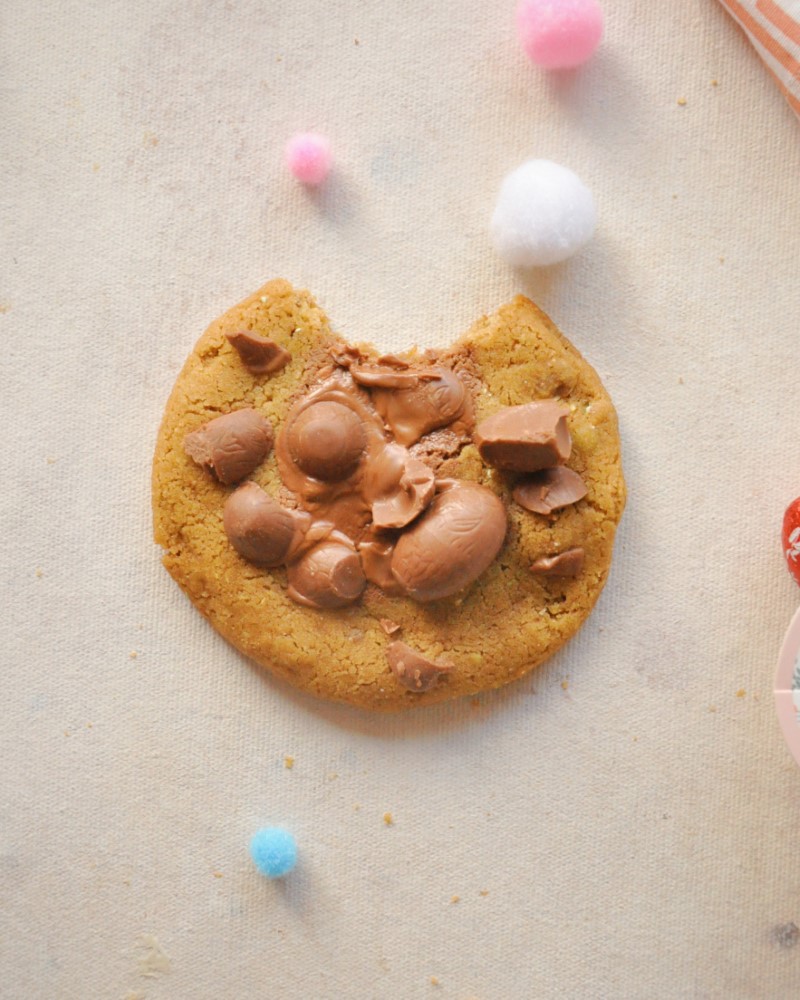 Chocolate and easter eggs combination
With this recipe, you can add chocolate eggs, sugar-coated mini eggs, dark chocolate chips, chopped dark or white chocolate, etc. You can choose the combination you love the most. Just make sure to use the amount called for in the recipe. Also, see below to learn when to add the decoration for the cookies. These are the combinations I used:
Mini eggies and white chocolate: Chopped mini eggs for the batter and whole mini eggs and chopped white chocolate for the tops.
Chocolate chips and chocolate eggs: Dark chocolate chips for the batter and milk chocolate eggs for the tops (whole or cut in half). I recommend using small eggs for this.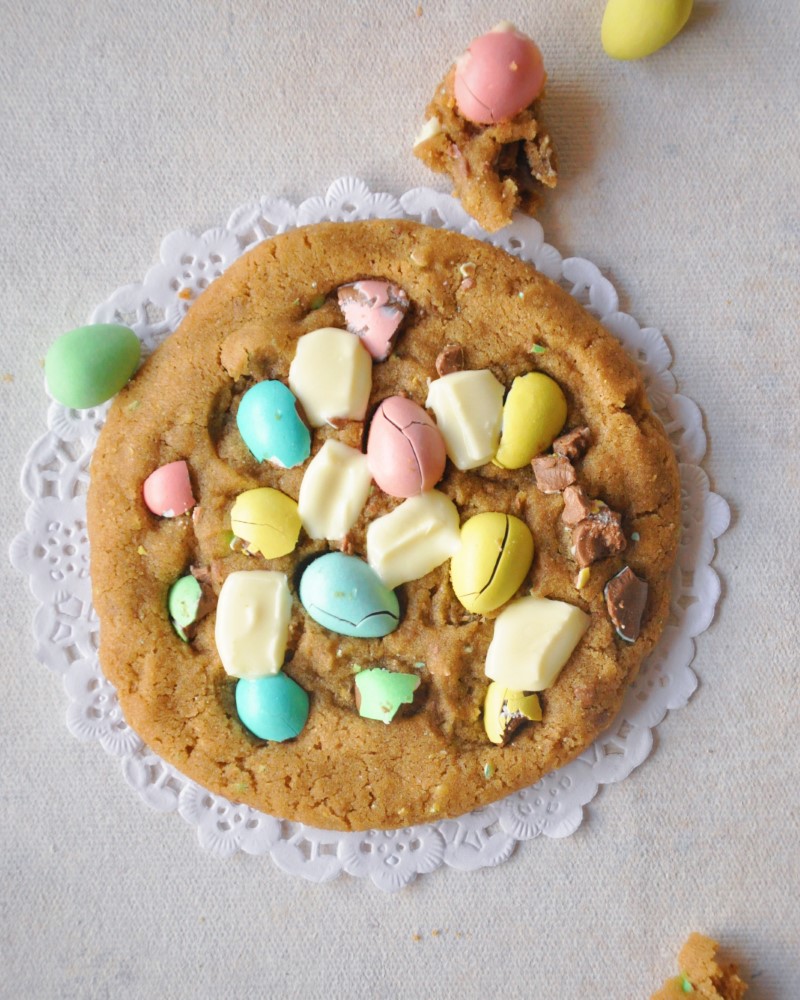 Baker's Tips
How to stiffen up liquid butter?
After browning the butter, it will be liquid and hot. We need to use soft/room-temperature butter. To cool down the browned butter you can make it a day ahead and leave it on the counter, covered with plastic, or in an airtight container. If you prefer to make it the same day, you can make an ice water bath: Place ice water in a big bowl. Place the bowl with the browned butter on the ice bath and mix until it gets to a soft consistency.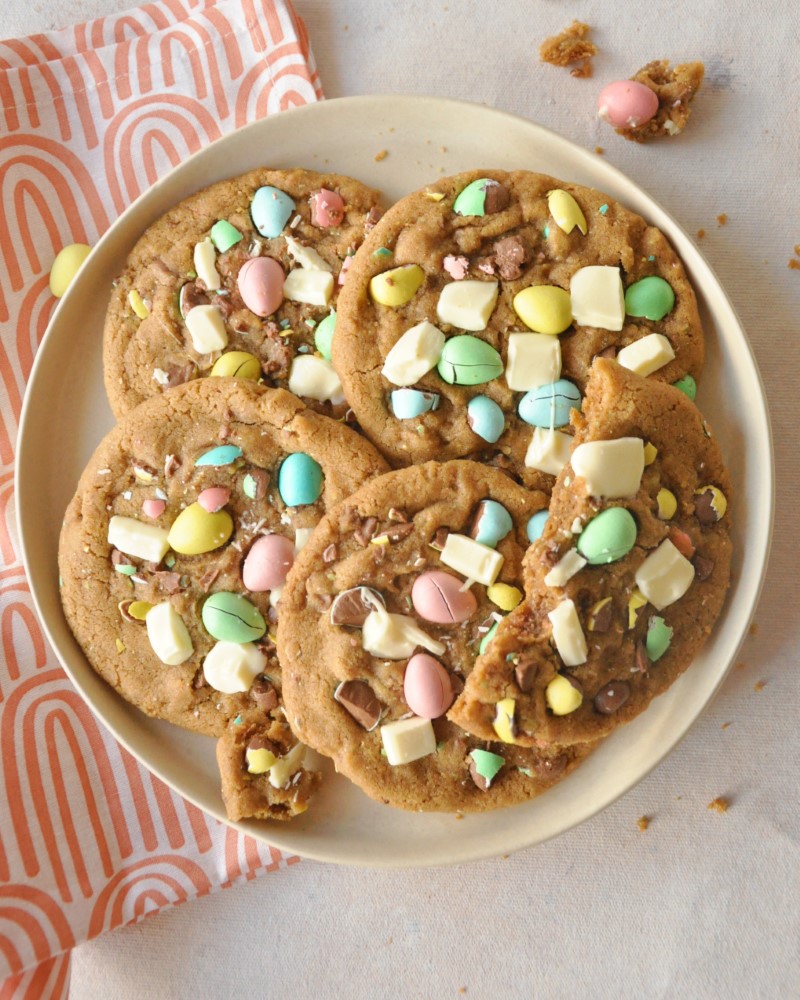 How do i know when the cookies are ready?
Follow the recipe directions for baking time and temperature. The sides of the cookie should be golden brown, but the center should be soft, even if it still looks a little bit raw. That way, when they cool, the cookies will be soft and chewy inside.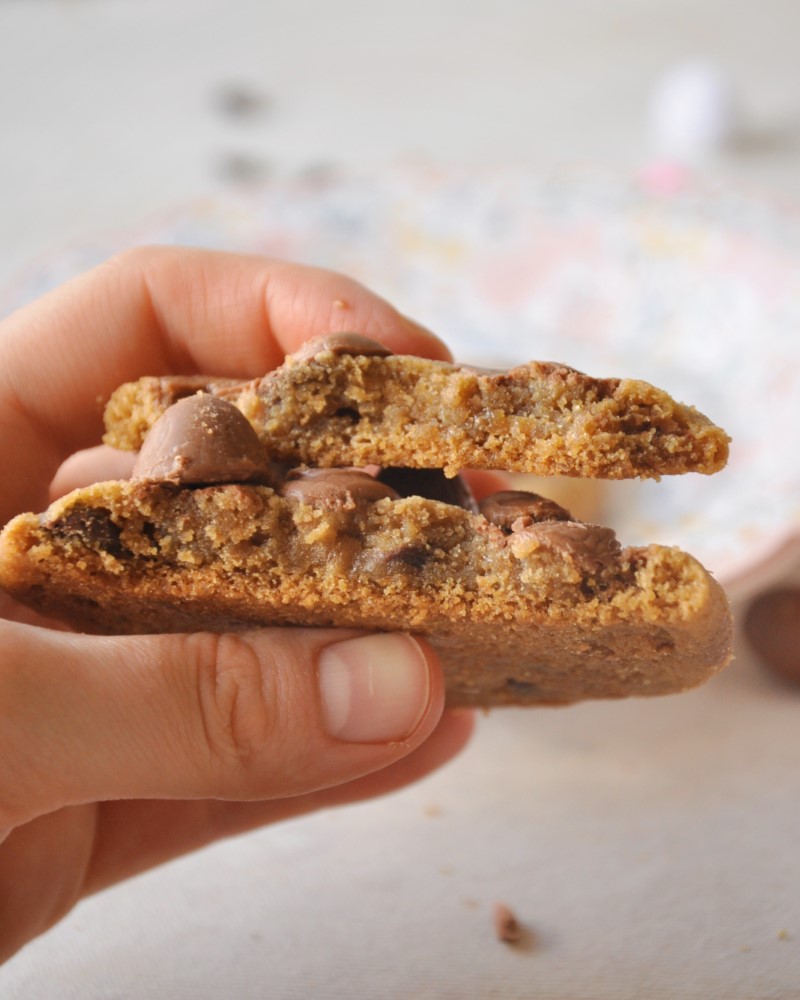 When should I place chocolate decorations on the cookies?
Sugar-coated mini eggs: place them on the cookies before baking.
Chopped chocolate: wait 2 minutes after baking before putting them on. I used white chopped chocolate for the mini eggs cookies.
Chocolate eggs: as we want them to keep their shape, it's better to wait around 8 minutes after baking to put them on. They will melt a little, but you'll still be able to see the eggs. I used milk chocolate eggs, some of them whole, others cut in half or smaller pieces.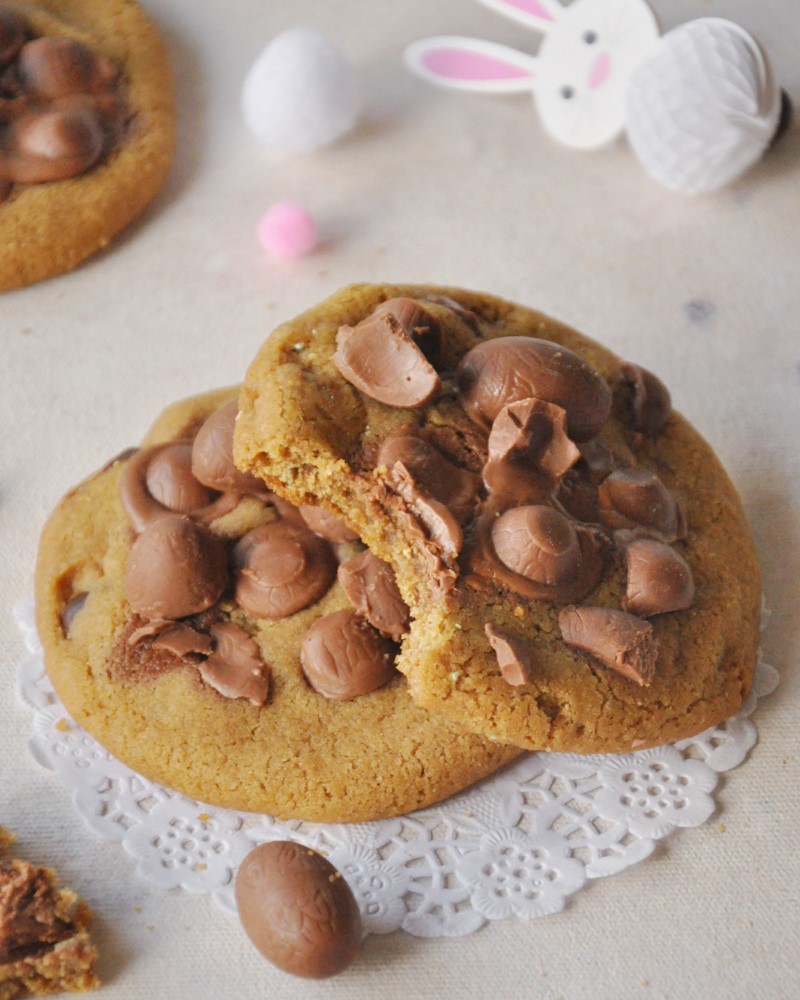 Conservation of Brown Butter Easter Cookies
Store these cookies in an airtight container at room temperature for up to a week. Wrap them individually in plastic if you plan to eat them more than two days after baking. They taste better the same day we bake them!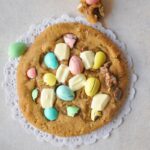 Print Recipe
Brown Butter Easter Cookies
These Brown Butter Easter Cookies are crispy outside and chewy inside. They have a wonderful toasted and caramel flavor thanks to the browned butter and brown sugar in them. Chocolate eggs and sugar-coated mini eggs make these cookies the best treat for this Easter!
Ingredients
200

g

Browned Unsalted Butter

Start with 260 g before browning

250

g

Brown sugar

1

egg

2

tbsp

Vanilla extract

300

g

All-purpose flour

5

g

Baking soda

1tsp

1

pinch

Salt
Option 1:
120

g

Chopped mini eggs

for the batter

120

g

Mini eggs

for decoration

50

g

Chopped white chocolate

for decoration
Option 2:
120

g

Chocolate chips

for the batter

150-180

g

Chocolate eggs

for decoration
Instructions
Brown the butter: Cut into cubes and place in a saucepan. Bring to medium/high heat until foam forms, the butter turns golden and brown dots are visible in the bottom of the saucepan.

Remove from heat and allow to cool overnight. You can also cool it down in an ice water bath, stirring continuously until soft.

Beat the butter with the sugar, until light and fluffy. Use a stand mixer with a paddle attachment or a handheld mixer.

Add the egg and the vanilla extract. Continue mixing until combined.

Add the flour, salt, and baking soda to the batter and continue mixing until combined.

Add the chopped mini eggs or chocolate chips and mix well.

Scoop out the dough using an ice cream scoop and form balls with your hands. Place them on a tray lined with parchment paper, leaving space between them because they expand in the oven. Press each cookie lightly with your hands.

For the mini eggs option, place the mini eggs on the cookies before baking and place the chopped white chocolate 2 minutes after baking.

Bake the cookies in a preheated oven at 350°F (180°C) for 12 minutes or until the edges of the cookies are just golden brown and the centers are soft.

For the chocolate chips/ chocolate eggs option, place the chocolate eggs 8 minutes after baking the cookies. That way they won't melt so much and they'll keep their shape.

Let cool down and serve.