These chocolate-dipped sugar cookies are yummy, crumbly, they melt in your mouth and extremely easy to make. This is for sure my go-to recipe for cut-out sugar cookies. Not only they are delicious, but they are the best option when you want to bake with the kids at home, or when you want to prepare a sweet treat in no time. Also, when heart-shaped, these make great Valentine's cookies for your special someone!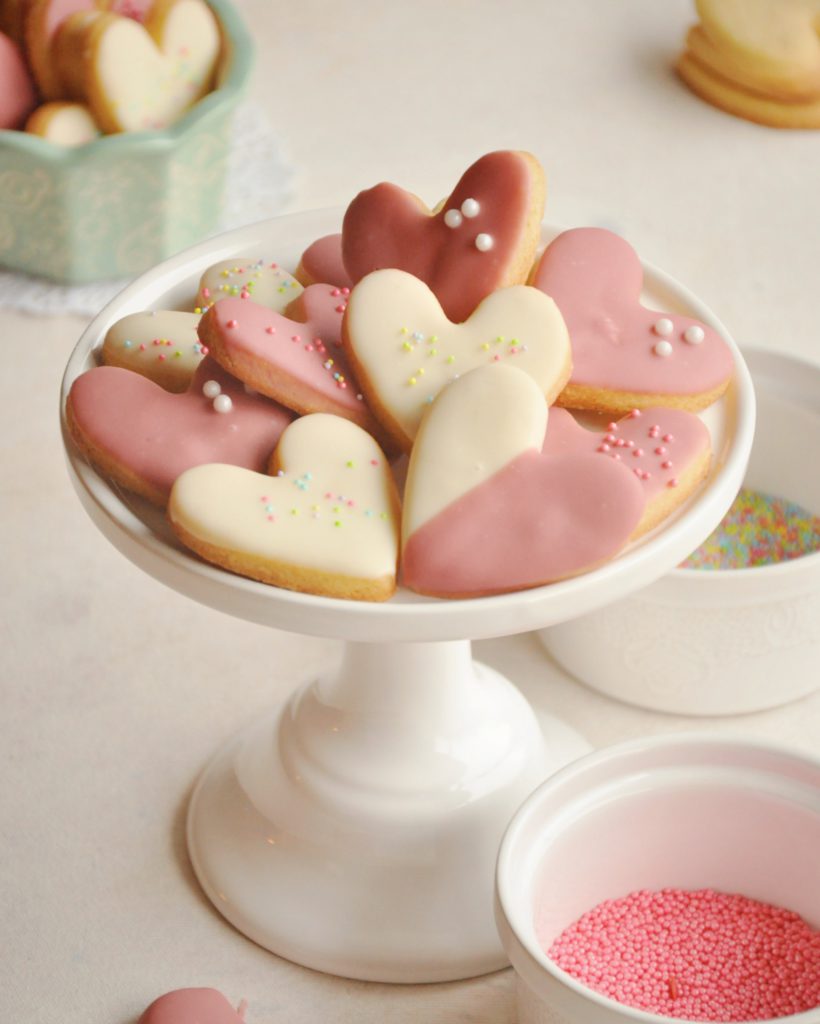 These sugar cookies are usually covered with royal icing. But this time I wanted to give them a less sweet touch, and I decided to finish them with a chocolate dipping. You can use dark or milk chocolate, but I loved how the white and ruby combination turned out.
I enjoy making these (with a heart cookie cutter) for Valentine's Day and place them in little boxes to offer as a gifts. But the same recipe can be used for any celebration.
Why are these cookies the perfect gift?
Not only do they have an amazing flavor and texture. These cookies can also stay fresh for a long time. This can be very useful when giving them away since they can be baked and decorated in advance. Once the chocolate topping is completely dry, store them in boxes, bags, or airtight containers.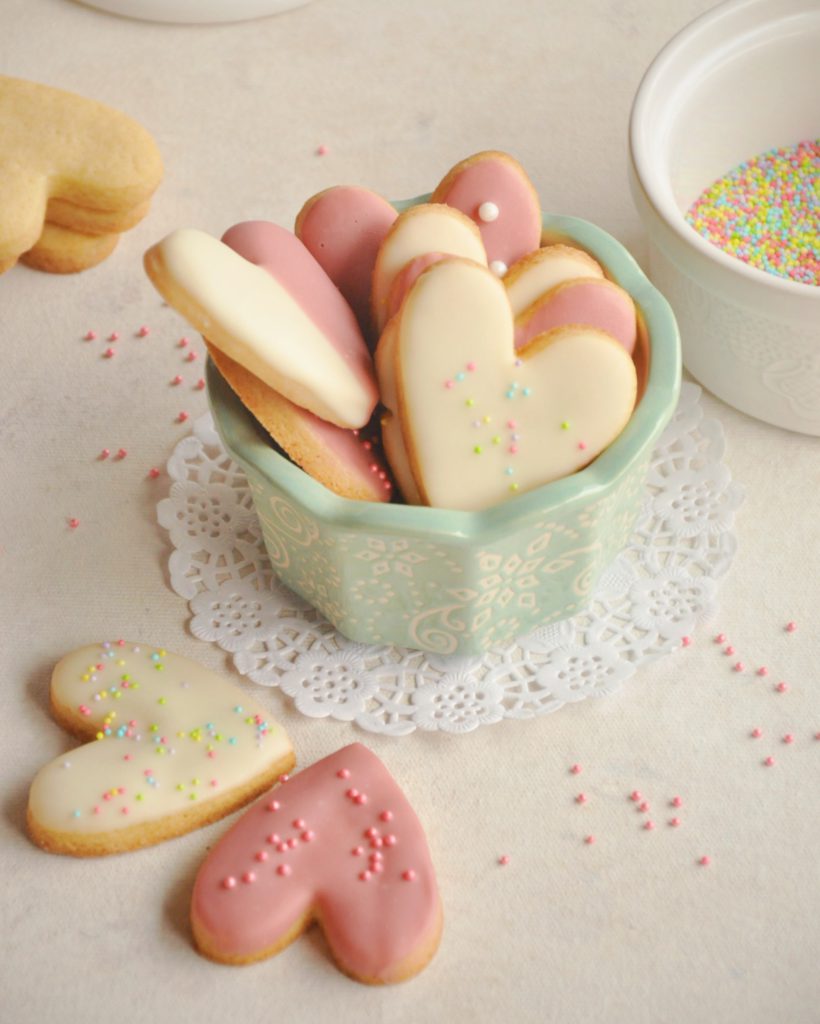 How to decorate these cookies?
These cookies can be enjoyed on their own with a cup of coffee or tea. However, both royal icing and chocolate dipping go perfectly with them.
If you choose to use chocolate to cover them you can choose from the following options:
1) Real chocolate: we normally have to temper it to make it shiny and firm (like bonbons). If you prefer to skip the tempering, the cookies will need to go in the fridge until the chocolate sets. This is not the best option for hot climates as the chocolate can melt once they go back to room temperature. You can use white chocolate, ruby ​​chocolate, milk chocolate, or semisweet chocolate.
2) Chocolate coating/ candy melts: it is the ingredient that looks like chocolate but in theory, it is not. It doesn't have to be tempered to get a firm and shiny look. The downside is that the flavor is not the same as the real chocolate. In my opinion, a good quality coating works perfectly for this recipe.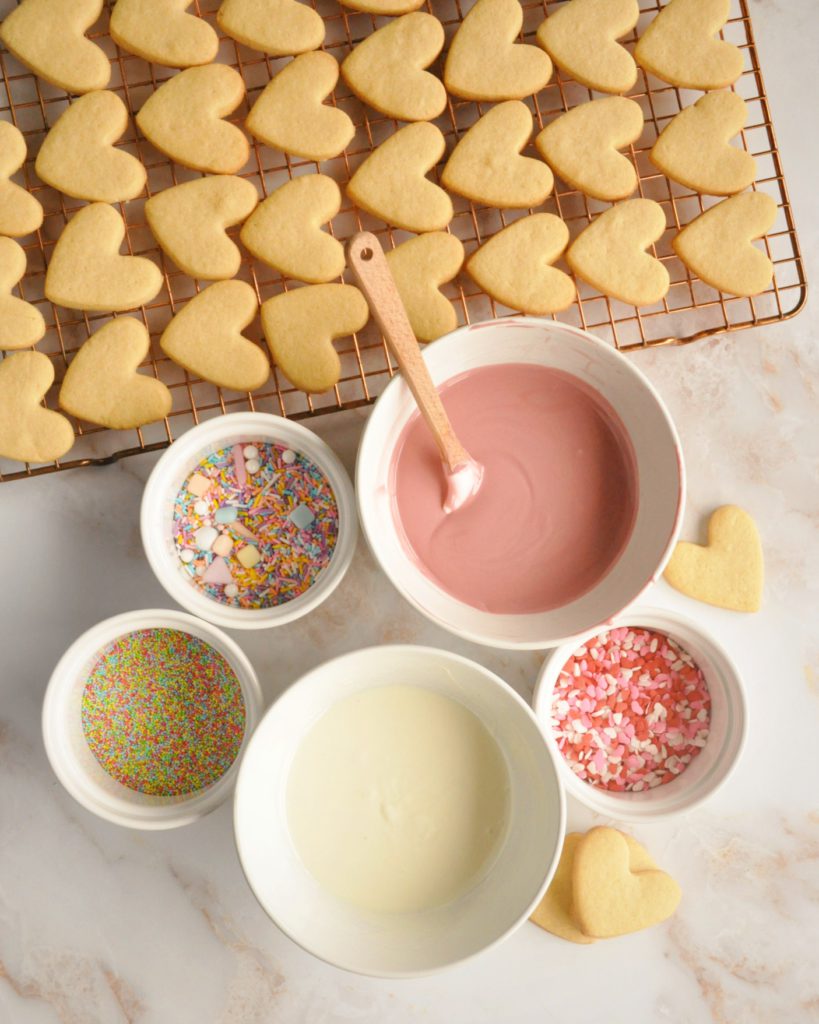 Baker's tips:
1) These cookies can be easily made a week in advance. Just keep in mind to store them in bags or an airtight container once they have completely dried.
2) If you feel like making citrus flavored cookies instead of vanilla, go ahead and swap the vanilla extract for lemon or orange zest (or the citrus of your choice). One to two tablespoons of zest will do the job.
3) I used candy melts to cover the cookies to avoid having to temper the chocolate and they turned out great. You can also use chocolate, in which case it is preferable to temper it.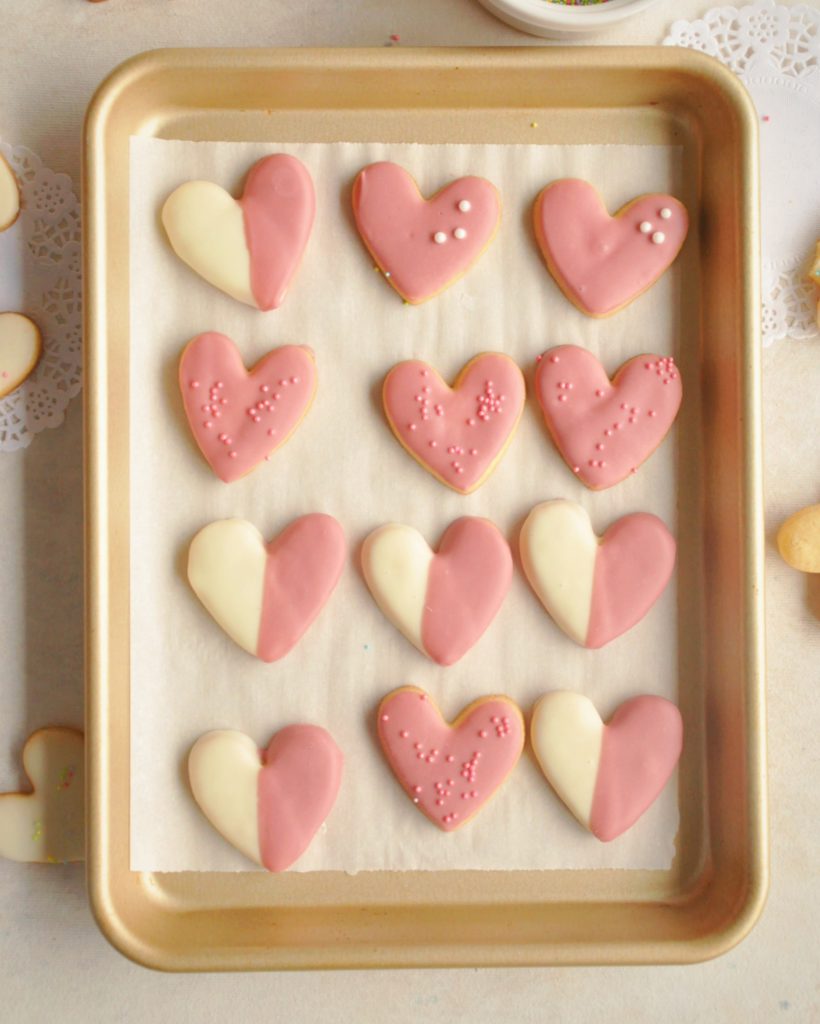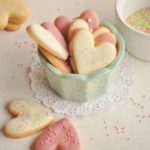 Print Recipe
Sugar Cookies with Ruby and White Chocolate Coating
These vanilla sugar cookies are crumbly, melt in your mouth and pair wonderfully with white chocolate coating! The perfect treat to give away as a gift!
Ingredients
220

g

Unsalted Butter

200

g

Granulated Sugar

1

tsp

vanilla extract

2

Eggs

360

g

All purpose flour

2

tsp

Baking powder

150

g

White chocolate

150

g

Ruby chocolate
Instructions
In a bowl, beat the soft butter with the sugar and vanilla until light and fluffy.

Add the eggs one by one, mixing well after each addition.

Sift the flour together with the baking powder and add to the mixture. Continue mixing until fully combined. Form a dough with your hands.

Wrap the dough in plastic wrap and let cool for 1 hour, until firm.

Remove the plastic wrap and knead lightly. Sprinkle the counter and dough with some flour and roll out the dough to ¼ inch thickness. Cut out the dough with a heart cookie cutter.

Place the cookies apart from each other on a tray lined with parchment paper.

Bake in a preheated oven at 180° C or 350°F for 10-12 minutes, until the bases are just golden brown, but on the top they should look light. Let cool completely.

Melt the chocolate in the microwave for 30 seconds at a time, stirring after each time. Once fully melted, cover one half of the cookie with the white chocolate and let dry on parchment paper. When chocolate is set, dip the other half in ruby chocolate. You can also dip the whole tops of the cookies with either white or ruby chocolate. Add sprinkles while chocolate is still wet.