As a good fan of this ingredient, I am always on the lookout for the perfect peanut butter cookie, whether it's in the bakeries I go to or in my own kitchen, trying over and over.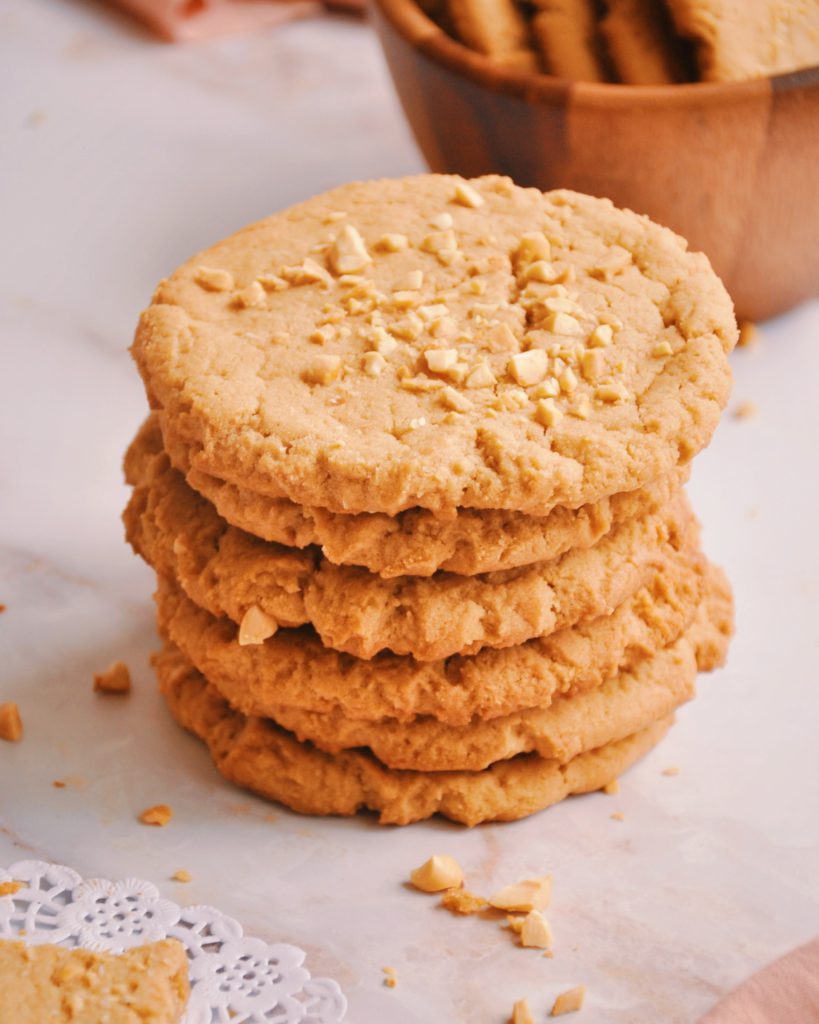 This recipe is one of the best I have tried. It's smooth and gooey in the center, and at the same time it doesn't have that dry texture that some peanut butter cookies have as a result of being made with more flour than it actually needs.
Buttery, smooth and with an intense flavor. For me that's the definition of a good peanut butter cookie.
Although the brown sugar can be replaced by granulated sugar, the brown one helps us gain moisture and gives a very toasted, caramel like flavor. OH YUM.
I included chopped peanuts in the recipe to add a bit of texture but you can definitely omit that if you prefer. Another idea to make them more decadent is to add a good handful of chocolate chips to the batter!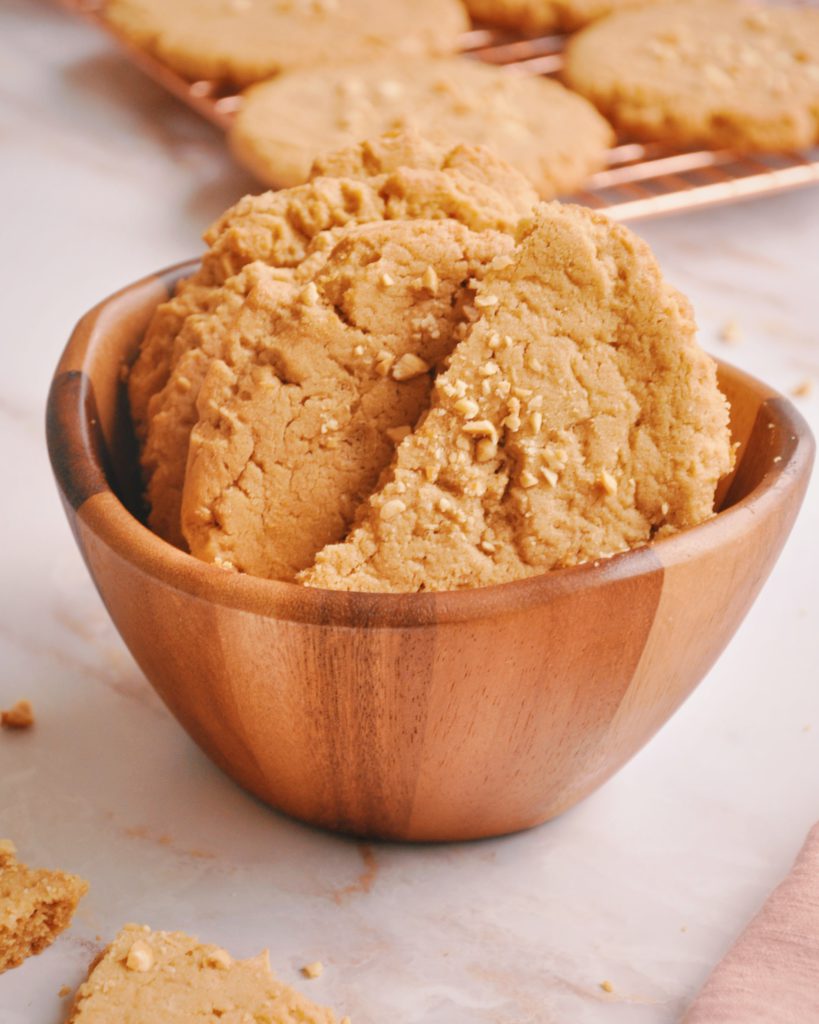 Baker's tips
1) You can replace brown sugar with white granulated sugar. It can also be replaced by muscovado sugar, which will give the cookie a very similar flavor as brown sugar. Just remember that when using muscovado sugar, it is ideal to sift it to avoid lumps in the mix.
2) Remember to use eggs at room temperature, that way the mixture will be more homogeneous and easy to combine.
3) The chopped peanuts give it a lot of texture, but this ingredient can also be omitted to create a softer cookie. Also, instead of chopped peanuts you can go ahead and use chunky peanut butter instead of the smooth one.
4) We can decorate each cookie with a sprinkle of chopped peanuts before baking. Another cute option, especially if we are making small cookies, is to make criss cross fork marks on top of each cookie. If the fork sticks to the cookies, help yourself by dipping the fork in sugar between each mark.
5) I highly recommend doing a test baking with the first cookie, because depending on the size of the cookie, it may take more or less time to bake. For me the ideal result is for the cookie to have a gooey center. That's why I wait until the edges are just a little browned, and remove from the oven even if they seem underbaked in the center, since as they cool down they firm up. If you prefer a crispy cookie (for which this recipe also applies very well), simply leave it in the oven for a few more minutes.
6) Keep these cookies in an airtight container at room temperature.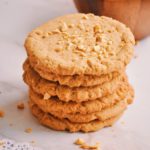 Print Recipe
Smooth and Buttery Peanut Butter Cookies
This peanut butter cookies are smooth, with a buttery taste and a gooey center. It has a deep peanut butter flavor and an amazing texture. A PB lover's favorite!
Ingredients
100

g

Unsalted butter

240

g

Smooth peanut butter

260

g

Brown sugar

1

Egg

2

tsp

Vanilla extract

180

g

All purpose Flour

1

tsp

Baking soda

½

tsp

Salt

½

cup

Unsalted roasted chopped peanuts
Instructions
Whisk the soft butter together with the peanut butter and sugar until it looks light and fluffy.

Add the vanilla and the egg and beat until combined.

Sift the flour with the baking soda and salt and add to the mixture along with the chopped peanuts. Mix until combined.

Scoop the dough, form balls with your hands and press each one slightly. Place on a baking sheet with parchment paper on it, apart from each other as they expand in the oven.

Bake in a preheated oven at 180 ° C or 350°F for 12-15 minutes, until the edges look slightly golden.

You can sprinkle each cookie with some extra chopped peanuts before baking.