Using poppy seeds is a great way to upgrade a lemon recipe to make it more interesting. This lemon poppy seed loaf cake is perfectly sweet and delicate, with a fluffy, sponge cake-like crumb. It's also super moist and light, since we use oil instead of butter, and buttermilk that helps to keep that moisture. The acidity and aroma of lemon combined with the texture of poppy seeds create a unique combination.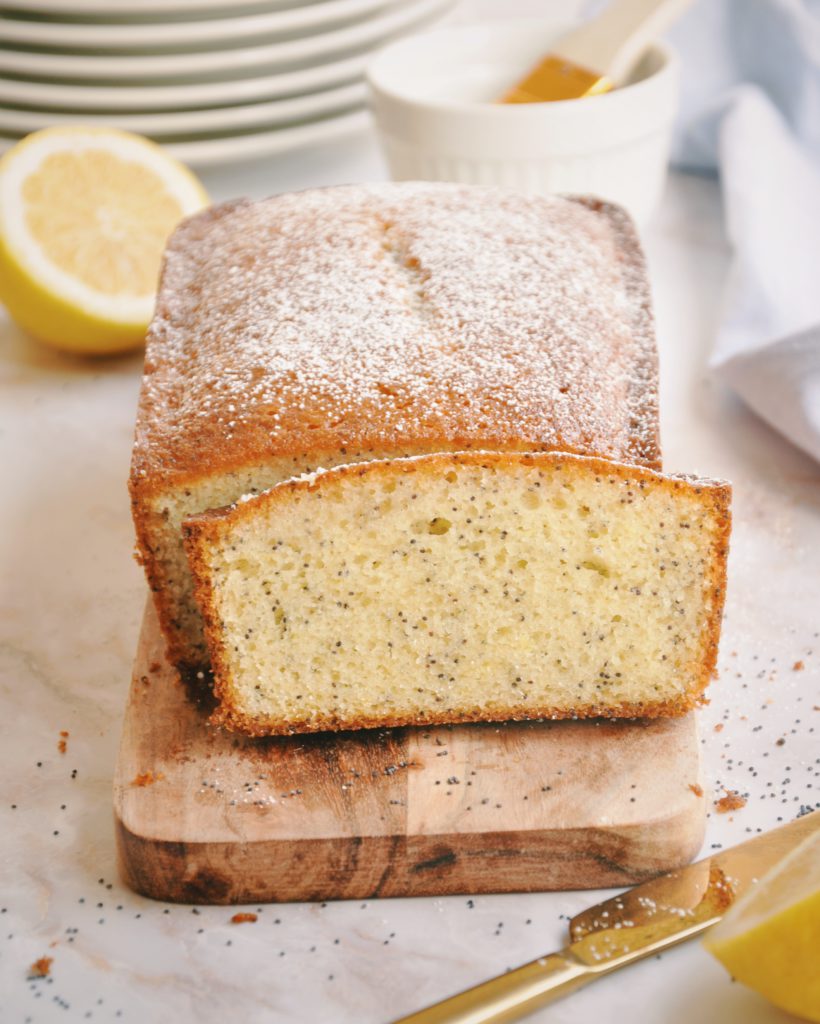 I decided to boost this cake with honey and lemon syrup, which highlights the flavor and also adds a little more sweetness. Even if the syrup is completely optional, I strongly recommend using it on this recipe, as it is a real treat for the senses.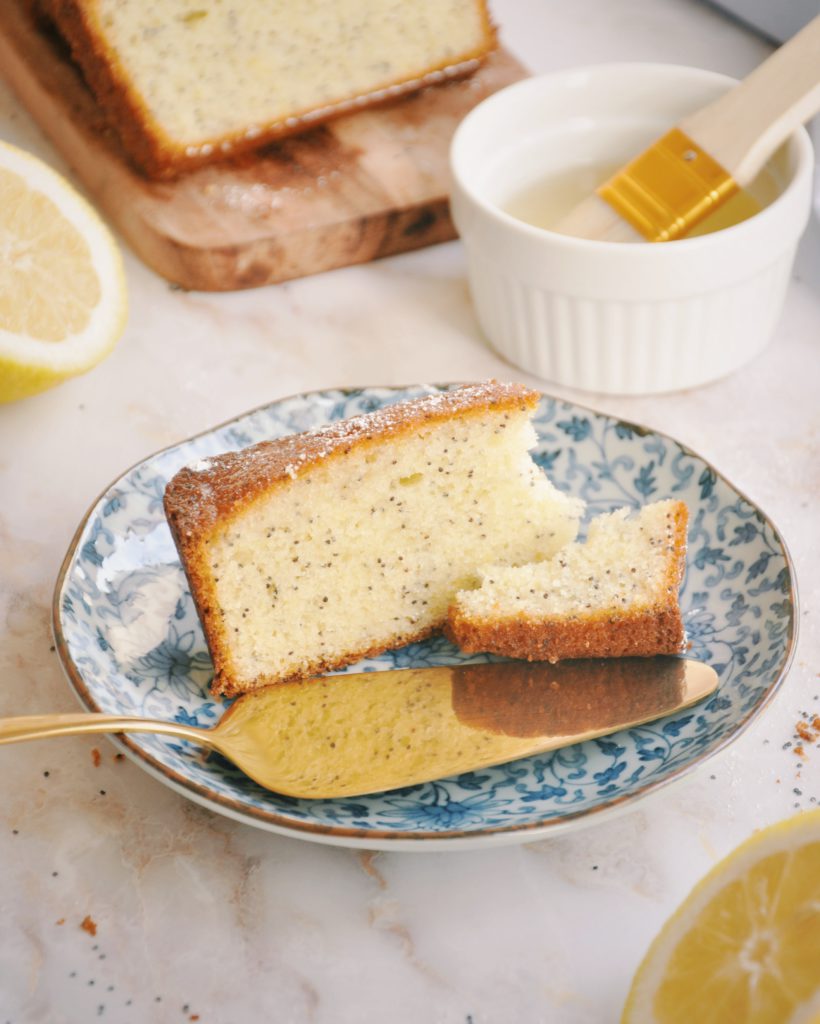 I love a good lemon, orange or mandarin cake. If you're into citrusy cakes like me, you should check out my Super Moist Orange Bundt Cake with Sugar Icing, you're gonna love it!
If you're craving a more fruity option, check out the recipe for my Lemon Blueberry Muffins!
Baker's tips
1) Lemon sugar can be prepared just before using but if it's made the day before, the flavor will be a lot more intense. This scented sugar trick can be used in any citrus scented preparation. I recommend it for sweet yeast breads, such as Rosca de pascuas (Easter sweet bread) or Panettone.
2) The oil can be substituted for melted butter, the texture will be a little firmer and the flavor more intense. The oil helps create a fluffier and moister crumb.
3) I encourage you to try this recipe with olive oil. It is an ingredient that we tend not to be comfortable using (on sweet treats), but actually its flavor is almost unnoticeable after baking.
4) You can definitely add more poppy seeds, just keep in mind that in greater quantity, they can give a bitter taste.
5) The syrup is optional but recommended, it adds a lot of flavor and moisture to the batter. If you prefer, you can remove the lemon juice to create a honey-only syrup that will also taste great!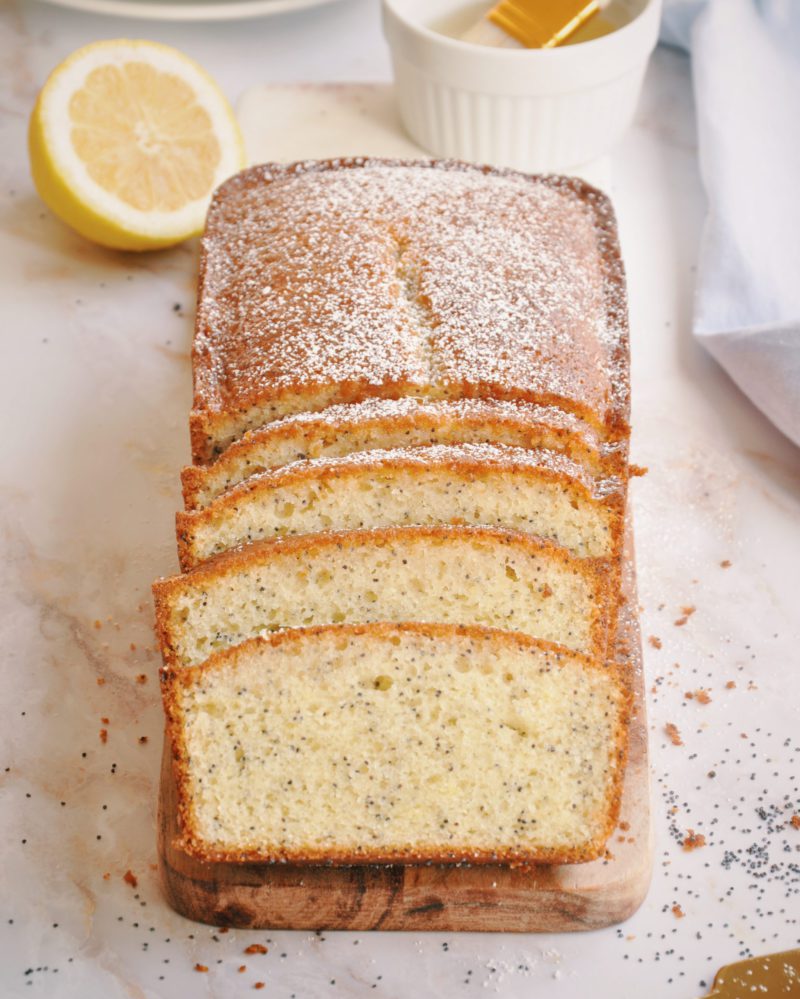 Print Recipe
Moist and Soft Lemon Poppy Seed Loaf Cake
Lemon poppy seed loaf cake is moist, soft and it has the fluffiest crumb. This cake balances the flavor and tartness of the lemon with the sweet lemon honey syrup we add at the end. The poppy seeds give that tasty crunch that makes this cake so special.
Ingredients
For the cake:
100

g

buttermilk

200

g

Granulated Sugar

Zest of 2 lemons

3

eggs

110

Vegetable or olive oil

1

tsp

Vanilla extract

200

g

All purpose Flour

2

tsp

Baking powder

10g

2

tbsp

Poppy seeds

12g
For the syrup (optional but recommended):
80

g

Honey

Juice of 1 ½ lemon

4

tbsp

water
Instructions
In a bowl mix the sugar with the zest and massage them together with the tips of your fingers until the mixture starts to release an intense lemon aroma.

Add the eggs and vanilla and mix with a hand whisk.

Add the oil and mix well until combined.

Sift the flour with the baking powder and salt and add half to the batter. Mix well.

Stir in the buttermilk all at once and combine.

Finally add the rest of the dry ingredients together with the poppy seeds and mix until fully combined.

Pour the batter into a well greased loaf pan and place in a preheated oven at 180 °C or 355 °F for 45-50 minutes, or until a toothpick inserted in the loaf comes out clean.

Remove from the oven and allow to cool for only 5-10 minutes and unmold on a dish.

For the syrup, place all the ingredients in a saucepan, mix and bring to a boil. Remove from heat and let cool. Brush the cake with the syrup once it has been removed from the pan.