This Panettone is extremely moist, fluffy, and delicious. It has a beautiful citrus aroma and contains dry fruits and nuts, which are very characteristic of this dessert. Panettone or "Pan Dulce de Navidad" is one of the most popular treats in many places of South America around Christmas time. In Argentina, it's one of the most beloved traditions that our Italian roots left us.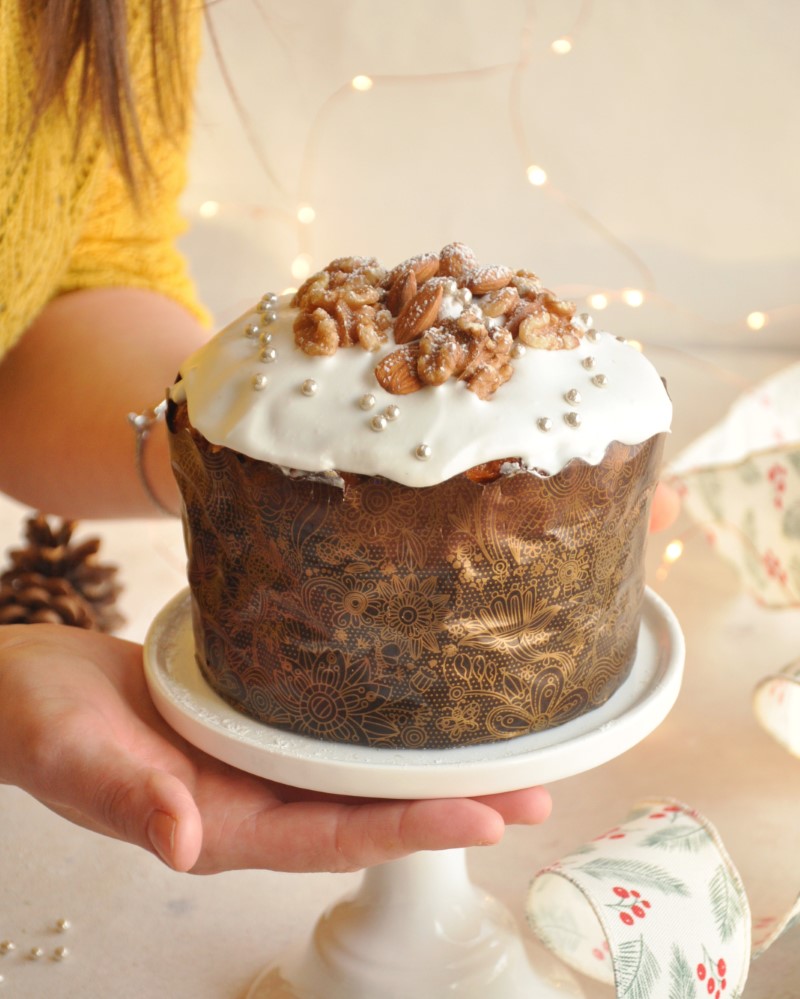 Panettone consists of sweet leavened dough and has different add-ons such as raisins and nuts. It is moist inside and scented with orange and lemon zest, and orange blossom water. It can be served as a dessert but some people would just have it as a snack at any time of the day.
The best homemade Panettone ever
Every year I try different recipes for Panettone. For me it is important that it's moist, but many times that ends up making the bread quite heavy. This time, I made some tweaks to my previous recipe and the result was a super moist panettone that was still light and fluffy. The changes I made were adding honey, switching eggs for yolks, and adding butter and a little more milk to the original recipe. The result was wonderful. In my husband's opinion, this is the best homemade Panettone ever.
Versions and flavours of Panettone
Normally panettone contains raisins, candied orange peel, and walnuts (that's my hometown way anyway). However, many people, especially the younger ones, are not candied fruit lovers. That's why there are so many different versions of panettone, made with other add-ons, such as chocolate chips, dulce de leche, a mixture of different nuts, and no fruits. Another Panettone flavor that is very interesting is cocoa and chocolate panettone. There's also a new trend for ice cream-filled panettone for places with hot climates.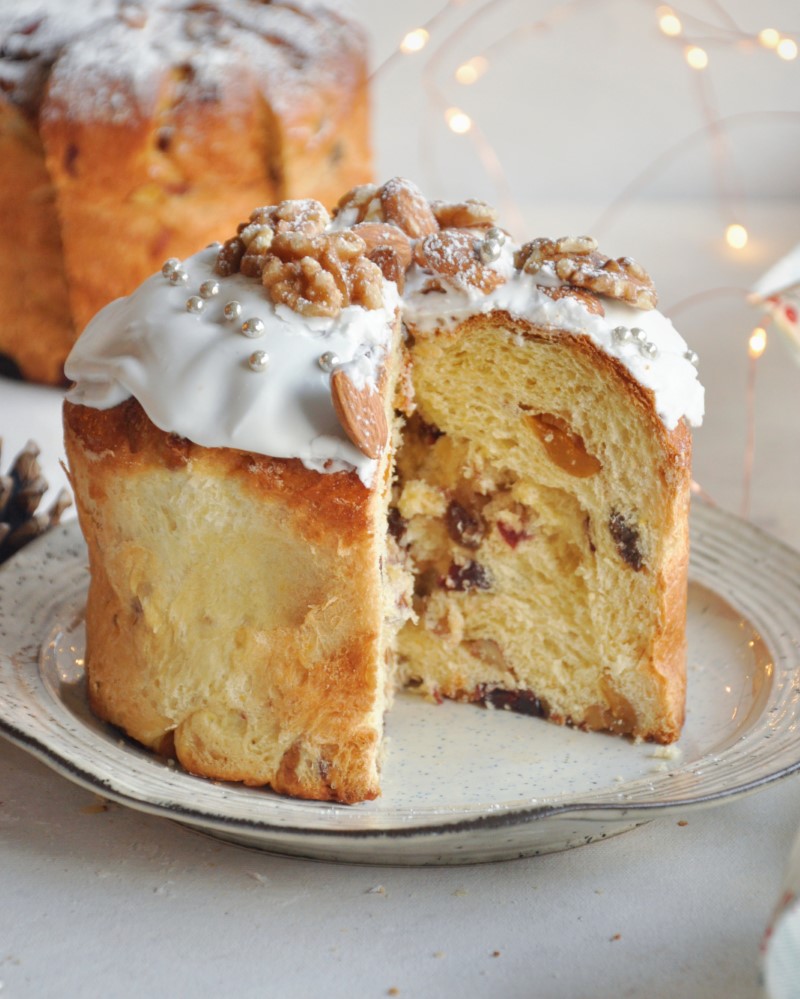 Personally, I'm not a fan of candied fruit so I used a mix of raisins, craisins, dried apricots, walnuts, and almonds. I flavored the dough with orange and lemon zest. To finish it off, I covered it in royal icing and some nuts. The classic way is just to dust it with some icing sugar. Both are delicious. Here is a list of ideas for fillings and decorations. Feel free to choose whatever combination suits you best!
Panettone add-ons ideas
Raisins
Craisins
Dried plums
Maraschino cherries
Dried apricots
Chocolate chips
Any nuts work: walnuts, almonds, cashews, hazelnuts, pistachios, etc.
Dulce de leche (fill out the bread after baking)
Pastry cream (fill out the bread after baking)
Panettone topping ideas
Icing sugar (classic Italian way)
Royal icing
Dark chocolate Ganache
Dark or white chocolate Drizzle
Salted Caramel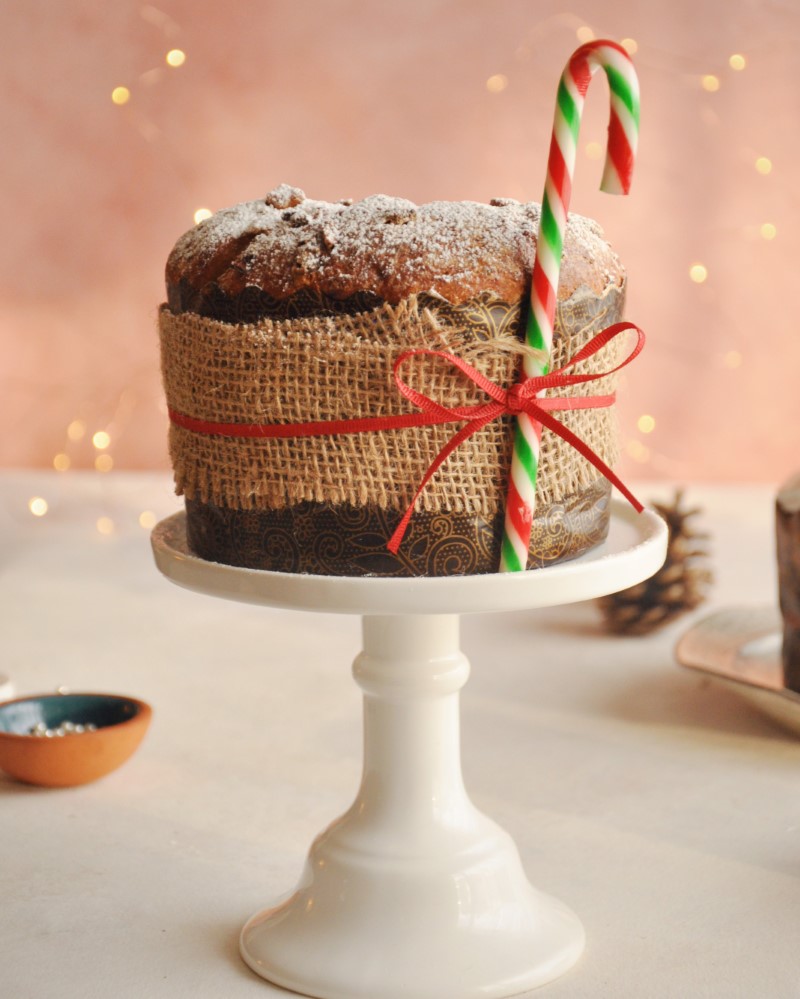 How to make a moist and delicious Panettone?
These are roughly the steps we're going to follow to make a panettone:
Soak the fruit with the liquor and let rest for two hours or overnight.
Make the sponge and let rest for two hours or overnight.
Mix the sugar with the butter until light and fluffy.
Add honey, eggs, and yolks and combine.
Add the sponge and mix. Then add the dry ingredients and combine.
Knead with the mixer hook and continue kneading on the counter. Make 2 buns.
Let them rest until they double their size.
Roll the dough into two rectangles and fill them with the fruits and nuts. Make 4 buns with the filled dough.
Place each bun in a mold and let it rise again.
Bake and decorate once cold.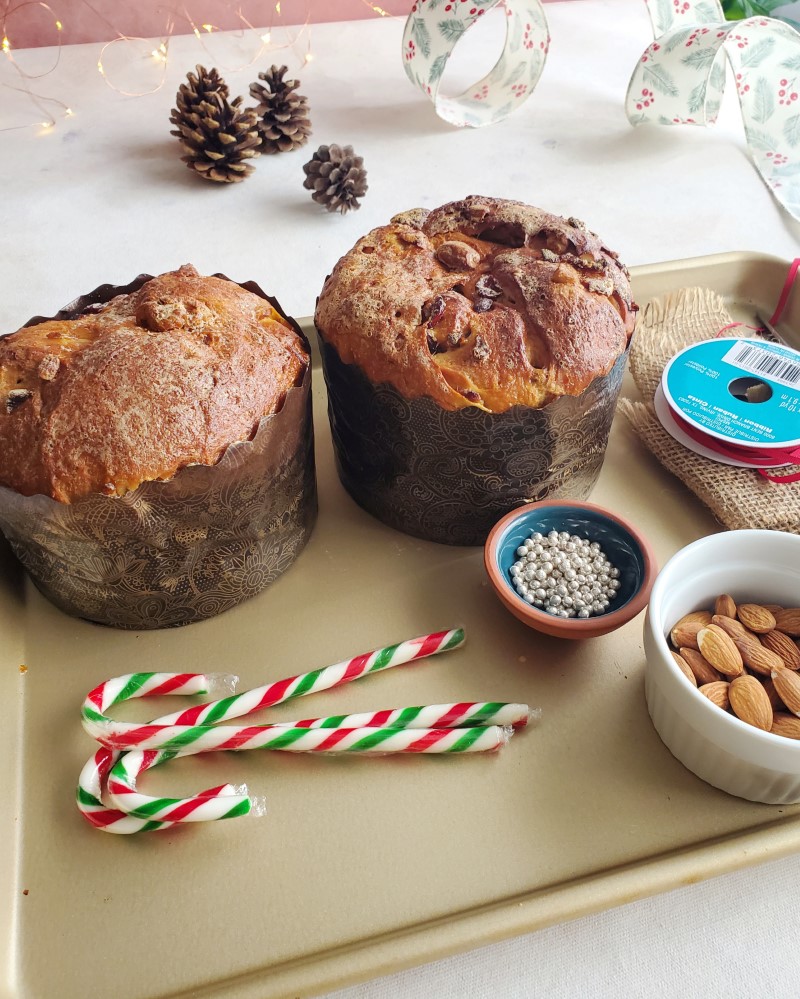 How long does it take to make a panettone?
If the sponge is made the same day it takes around 8 hours to get a Panettone made. It can take around 16 hours if the sponge is made the day before. Since it's a recipe that takes several steps, I recommend starting to prepare everything a day before. This is how long it could take:
Day 1: Prep sponge and other ingredients
Sponge: 5 minutes (rest for 8 hours or 2 hours if done the same day).
Prepare the citrus sugar: 5 minutes (rest for 8 hours or 2 hours if done the same day).
Soak the dried fruits: 5 minutes (rest for 8 hours or 2 hours if done the same day).
Day 2: Mixing the dough and baking
Mix the ingredients: 10 minutes.
Knead the dough: 20 minutes.
First rise: 2 hours.
Adding fruits and shaping: 15 minutes.
Second rise: 1 hour and 30 minutes.
Baking: 40 minutes.
Cool down: 40 minutes.
Decoration: 10 minutes.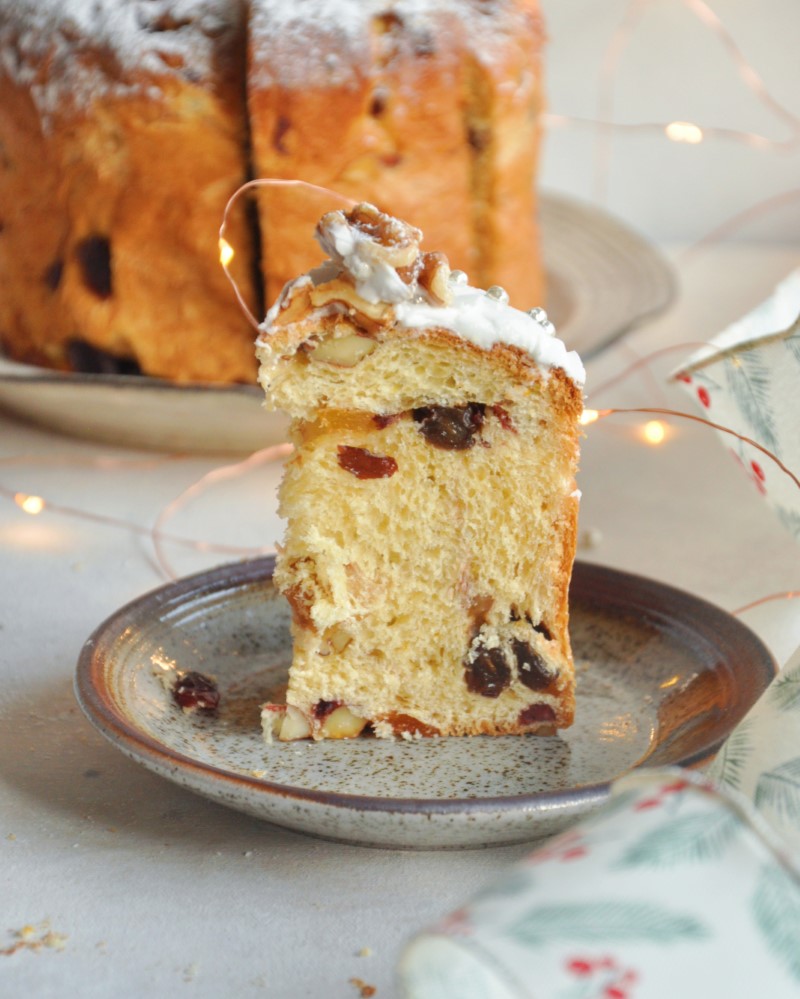 Baker's tips
Sponge
Ideally, we can make the sponge the day before baking to get ahead on time. But it is completely optional. If you make it the day before, it can be left out at room temperature in cool weather or in the fridge in warmer weather.
Flavored sugar
Citrus-scented sugar can be prepared right before mixing the dough, but if it's made the day before, the flavor will be more intense. This sugar scent trick can be used in any lemon or orange-flavored recipe. You just need to rub the sugar with the zest between your fingers until the essential oils of the lemon and orange are released, and we are left with a wet-looking sugar.
Room temperature ingredients
It is very important that the ingredients are at room temperature for them to get combined easily and to get a homogenous batter. Butter can be softened in the microwave. Eggs can be tempered by placing them in warm water for a few minutes before breaking them.
Rising time
The panettone's rising time can vary depending on the weather. If it's hot and humid it can rise a lot faster than in colder weather. That's why it's better to check on the volume of the bread instead of checking on the rising time. When the dough has doubled in size, you'll know it's ready for the next step. The times that I give to you in this recipe are approximate.
How to make a Panettone without a paper mold?
If you aren't able to get a panettone paper mold, there is a very easy way to make it at home. Butter or oil the sides and bottom of a 5-inch cake pan. Stick a circle of parchment paper in the bottom. Cut a strip of parchment paper 4 inches high and line it all around the inside walls of the mold. Place your dough inside and continue with the next step.
How to store a panettone?
Panettone should be wrapped up in plastic so that it does not dry out. That way it will keep its freshness for up to 3 days at room temperature. After that time it may start to dry out, however, it will be just as tasty. I recommend serving it the same day it's baked. Otherwise, it can be frozen after baking, for up to 2 months.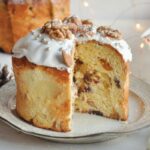 Print Recipe
Moist and Delicious Panettone
This panettone is light and moist, it has the perfect amount of sweetness and it has a subtle orange and lemon flavor. It's filled with nuts and dried fruits, which makes it the best treat for Christmas time!
Servings:
4
panettones (500g each – 5inch molds)
Ingredients
For the sponge:
250

g

All-purpose flour

220

ml

Warm milk

20

g

Instant yeast

or 60 g fresh yeast
For the dough:
100

g

Granulated sugar

Zest of 1 Orange

Zest of 1 Lemon

220

g

Unsalted butter

softened

120

g

Honey

1

tsp

Orange blossom water

optional

2

Eggs

room temperature

2

Egg yolks

room temperature

500

g

All-purpose flour

1

tsp

Salt
For the filling:
100

g

Walnuts

lightly chopped

100

g

Almonds lightly chopped

80

g

Raisins

80

g

Craisins

100

g

Dried apricots or orange peels

1

tsp

vanilla extract

100

ml

Brandy

can be replaced with water or grape juice
Egg wash:
1

Egg white

3

Tablespoons

powdered/ icing sugar
For the glaze:
1

Egg White

200

g

Powdered/ icing sugar

2

tbsp

Lemon juice

Some whole walnuts and silver pearls to decorate
Instructions
For the Filling:
Chop the apricots into small pieces, mix them with the raisins and craisins and soak them with the brandy and vanilla extract. Brandy can be replaced with any liqueur, grape juice, or water. Let them rest for at least 2 hours or overnight. Just before adding them to the dough, strain, and pat dry with a paper towel to remove excess liquid.
For the Sponge:
Mix the warm milk with the yeast and the flour with a spoon or spatula until combined. Cover with plastic wrap and let rest for 2 hours at room temperature or overnight in the fridge and remove it an hour before using it.
For the Dough:
With your fingers, rub the sugar together with the lemon and orange zest until you get moist and scented sugar. This can be done on the spot or 2 to 8 hours before you start mixing the dough.

In a stand mixer fitted with a paddle attachment, beat the sugar with the soft butter until pale and fluffy.

Add the honey, the orange blossom water, and the egg yolks and combine. Then add the eggs one at a time, mixing well between each addition.

Scoop out small pieces of the sponge and add them to the mixture while mixing on low speed until combined.

Add the flour and the salt and combine. Switch the paddle attachment for the hook and start kneading for 10 minutes at low speed. (It can also be done by hand). Transfer the dough to the counter and finish kneading by hand for 10 minutes until the dough is smooth.

Make two same-size buns, place each in a bowl lightly oiled, cover, and let rest in a warm place until they double their size. Approximately 2 hours.

Once they have grown, roll the dough on the counter with a rolling pin to get two rectangles of ¼ inch thickness.

Distribute the fruits and nuts on both rectangles, spreading them over the entire surface of the dough. Roll up and cut each of the rolls in half. We will obtain 4 rolls. Each one will be a panettone.

Cut each roll into slices and stack the slices switching positions. Take the stack with your hands and form a bun. Repeat with each of the rolls and place each one in the molds. Place the molds on a baking tray.

Cover lightly with plastic wrap and let rise again for 1 1/2 to 2 hours, until doubled in size.

For the egg wash, mix the egg white with the icing sugar with a fork or small whisk. Brush each of the loaves with the egg wash.

Bake the loaves in a preheated oven at 160°C or 320°F for approximately 40 minutes, until a toothpick inserted in the center comes out dry. In the case of using a thermometer, the inside of the bread should be at 78°C or 170°F. Remove from oven and allow to cool before decorating.
For the glaze:
With a mixer with a whisk attachment, whisk the egg white with the icing sugar and lemon juice until a glossy white icing forms. You can add a little extra lemon juice or water to get a more liquid consistency.

Pour the glaze on the panettones and immediately place the nuts and the pearls.

Sprinkle a little more powdered sugar over the nuts for a finishing touch.

Serve and store covered at room temperature for up to three days.