To honor the year 2020 I prepared this banana bread recipe. Who didn't make banana bread at least once during the pandemic? I really don't know where that crazy trend came from but for my part I was able to polish my recipe and this is the best version I have come up with so far.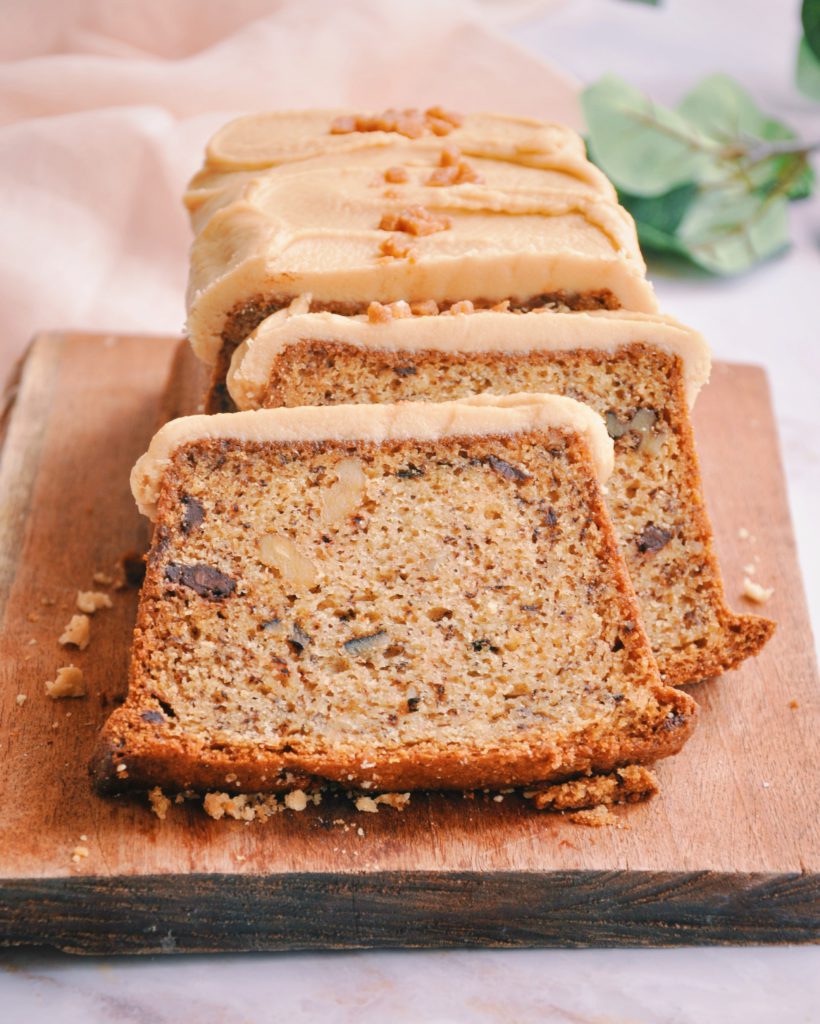 This cake has an intense banana flavor and is super moist, but at the same time it has a great firmness to it, meaning it does not fall apart when we take a slice.
Using ripe bananas is key to this preparation, since they not only give a more intense flavor but also help to create that characteristic moist crumb. Also keep in mind that buttermilk helps a lot to conserve that humidity. In any case, it is a good idea to always keep it protected from the air so that it does not dry out.
This bread always combines very well with walnuts and chopped chocolate. And this time I decided to give it a more interesting touch by adding a brown sugar frosting. That butterscotch flavor goes very well with the banana.
Although I could not get the banana bread to grow a tummy this time, I preferred not to modify the recipe to achieve that, since it would mean sacrificing moisture and flavor, just to gain on looks XD. I propose that you try it yourself and then let me know what you think!
Very ripe bananas
This recipe is great for those times when we have super ripe bananas at home. In fact, when you feel it's time to throw away the bananas because they are black and gross, that's the best time to use them, as they will give extra sweetness and moisture to the cake. If you don't have ripe bananas on hand, there is a way to ripe them up so that they have a better consistency. We can bake at 170 °C or 340 °F for 15 or 20 minutes, unpeeled, until they are completely black, after that, we just have to wait for them to cool down and peel.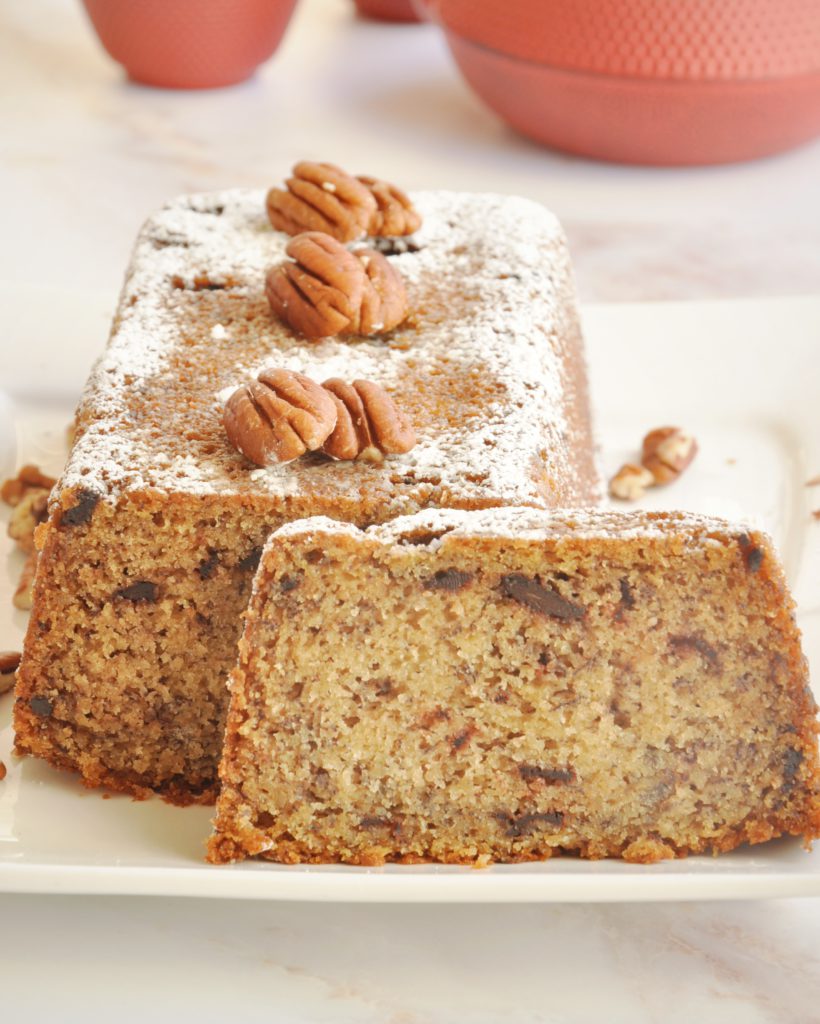 Baker's Tips
1) You can use the nuts of your preference or even omit this ingredient.
2) Frosting is optional. For an easier option you can simply sprinkle with powdered sugar. Other ideas would be a chocolate ganache topping or spreading some dulce de leche on top.
3) For the glaze, if you want a more liquid consistency, you can add more milk to it. On the other hand, if a little thicker is preferred, add powdered sugar in small amounts until the desired consistency is achieved.
4) This same recipe can be used to make a layered cake: you can cut in the middle, fill and decorate it.
5) Store this banana bread on an airtight container or covered in plastic wrap at room temperature.
Print Recipe
Banana bread with brown sugar icing
This banana bread is super moist and has a deep flavor of the banana combined with brown sugar. The walnuts and chopped chocolate give this loaf the tastiest touch. And the brown sugar icing is just the perfect way to finish it up.
Ingredients
Batter:
180

g

Unsalted butter

240

g

Granulated sugar

60

g

Buttermilk

1

tsp

vanilla extract

3

Eggs

200

g

Banana

2 bananas

300

g

All purpose flour

2

tsp

baking powder

1

tsp

baking soda

50

g

Walnuts

optional

50

g

Chopped semi sweet chocolate

optional
Brown sugar icing:
160

g

Icing sugar

80

g

Brown sugar

20

g

Milk

20

g

Unsalted butter

2

tsp

Cognac or Brandy
Instructions
In a mixer with a paddle attachment on, beat the butter and sugar until light and fluffy.

Add the vanilla and eggs one by one, mixing well after each addition. Make sure to scrape down the sides of the bowl to integrate the butter.

Smash the bananas and add into the mixture. Mix well.

Sift the flour with the baking powder and baking soda and add half to the batter.

Add the buttermilk to the mixture and combine.

Add the rest of the dry ingredients, the walnuts and the chopped chocolate and mix until fully combined.

Put the mixture into a greased mold and smooth the surface with a small spatula.

Bake in a preheated oven at 180 ° C or 360°F for approximately 40 minutes, until a toothpick inserted comes out clean.

Wait 10 minutes and unmold. Let cool completely before icing and slicing.

For the icing, mix the two sugars until combined. Microwave the butter together with the milk until the butter melts and mix with the sugar blend. Add the liquor and finish incorporating. Apply the icing to the banana bread quickly because it tends to dry out.