This is one of the desserts I've made the most in my life. And I should also say it's one of my favorites. When I discovered it, I was very young and I remember that I used to serve myself a portion of the tres leches mixture and I had it with a spoon like a soup. Yes, it sounds excessive (maybe it is), but for a dairy lover like me, it's impossible not to be tempted.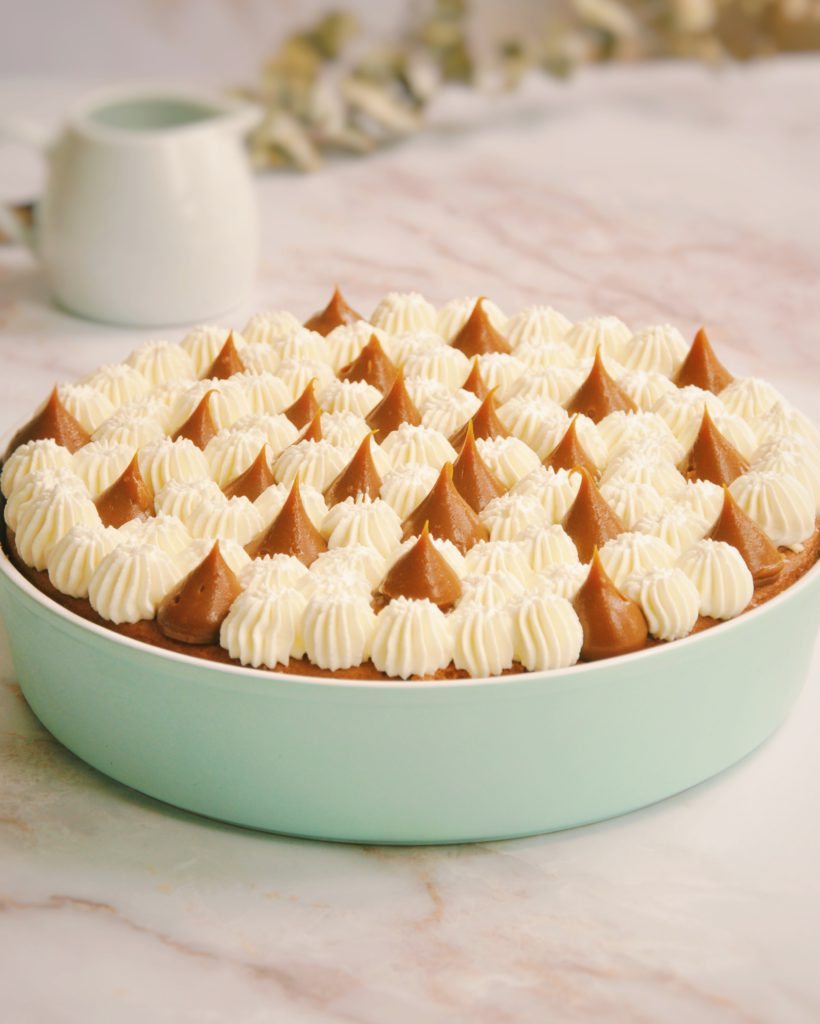 When I finally finished polishing tres leches cake recipe, I liked the result so much that I started selling it. And in fact it was one of the few desserts that I sold when I had my pastry shop, since I was more dedicated to decorated cakes.
It was actually really hard to get evaporated milk in Argentina, so I used to prepare it at home. It is a bit of a longer process but it is definitely worth the wait.
Tres leches cake is basically a dessert made up of a sponge base, which is soaked with a mixture of condensed milk, evaporated milk and whipping cream. It is a simple dessert that can be topped with either whipped cream or italian meringue, and can even be served on its own, without any frosting.
I highly recommend that you try this classic Latin American treat. And if you've already tried it, make it with my recipe and let me know how it works out.
How to make evaporated milk
For making 400g of evaporated milk, place 800 ml of whole milk in a saucepan and bring it to low heat. Let it simmer, mixing occasionally, until you see that the milk has reduced by half. It can be measured by pouring the milk into a measuring cup or weighing it out, until the milk reaches 400g / ml.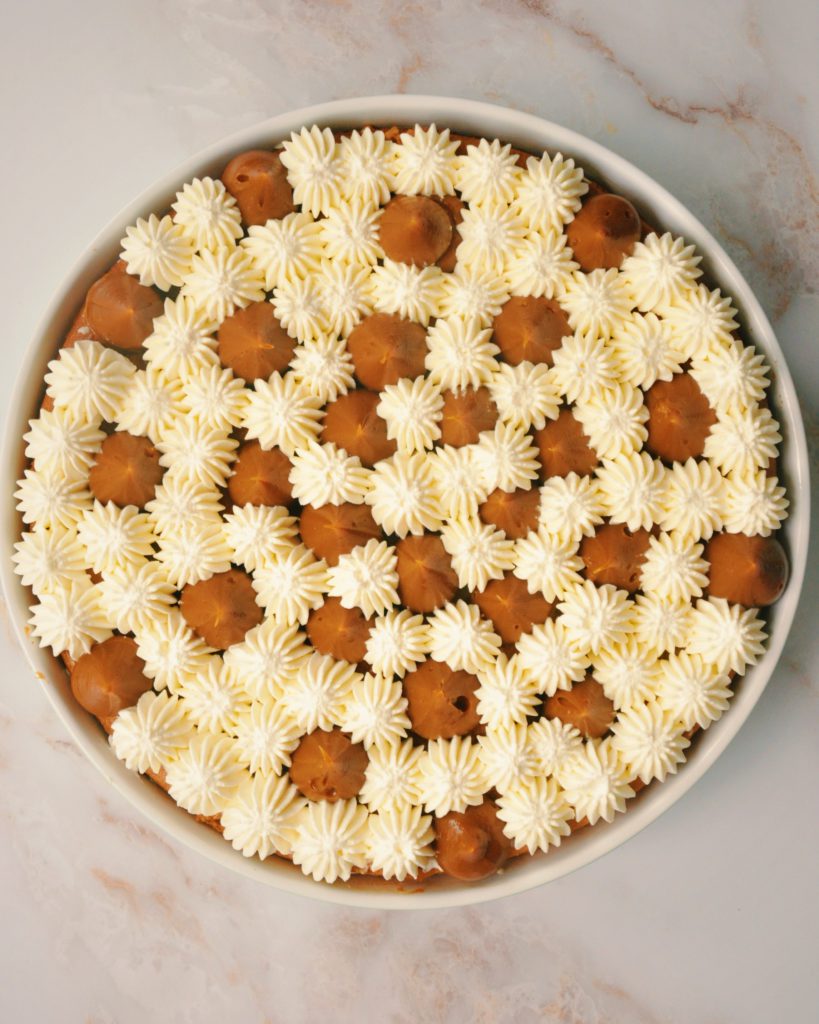 Baker's tips
1) I recommend baking directly on the serving dish to avoid messy edges and excess liquid that could drip off the sponge cake. If you prefer to unmold the dessert, it is better to do it on a plate with a shallow rim, to contain the excess liquid.
2) The sponge cake can be soaked using a ladle to pour the liquid or a jug with a pouring spout. At this point, keep in mind to pour the liquid evenly through the center and edges of the cake.
3) It's ideal to bake and soak the cake the day before serving it so that it absorbs the liquids completely and so that the flavors settle. It can be stored wrapped in plastic and decorated on the day it is to be served.
4) This time to decorate, I piped chantilly cream dollops interspersed with dulce de leche blobs. Another very good option is to decorate with Italian meringue. Whatever your choice is, it can be done with a piping bag or simply by spreading in a rustic way with a spatula until getting a pretty design.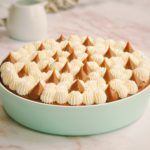 Print Recipe
The Best Tres Leches Cake
Tres leches Cake is a soft and fluffy sponge soaked in the most delicious mixture of condensed milk, evaporated milk and whipping cream. Topping this cake with whipped cream and dulce de leche takes it to the next level. This mexican dessert is the best for dairy lovers!For 22 cm/ 8 inch round cake pan
Servings: 12 slices
Ingredients
Cake:
130 g Granulated Sugar
6 yolks
3 eggs
2 tsp Vanilla extract
150 g All Purpose Flour
5 g baking powder
100 g unsalted butter
Tres leches mixture:
400 g condensed milk
400 g evaporated milk
300 g heavy cream
Frosting:
300 g heavy cream
300 g Dulce de leche optional
Instructions
On a mixer with the whisk attachment on, beat the eggs and yolks together with the sugar and vanilla until reaching ribbon stage: when lifting the whisk attachment, the batter should fall forming ribbon-like trails that will remain visible on the batter for several seconds.

Sift the flour and baking powder and add to the batter in three parts, folding gently with a spatula or hand whisk until the flour is completely incorporated.

Melt the butter and add to the mixture, folding in gently but quickly so that the batter doesn't sink.

Pour the mixture into a greased pan (I prefer to bake this dessert in the same dish where I am going to serve it). Bake in a preheated oven at 180 ° C or 355° F for 20-30 minutes, until golden brown. To know if it is ready, gently press the top of the cake, if it springs back, it's ready. If the indentation remains, give it a little more time.

Remove from the oven and poke with a fork several times and let cool before soaking with the milk mixture.

For the tres leches mixture, mix all the ingredients until they are combined and pour it slowly over the entire surface of the cake, until completely soaked. Let rest for four hours or overnight before decorating so that the milk mixture has finished settling.

Decorate with a piping bag creating dollops of dulce de leche and chantilly cream. For making chantilly cream, mix the heavy cream at medium speed until getting stiff peaks. I recommend previously chilling the bowl and whisk for a better result. You can also sweeten it with a little sugar.

Another option is to place the chantilly cream on top in a rustic way. Store refrigerated.