I'm surprised by how rice pudding is a food that evokes a cozy or warm feeling of home. This happens a lot in Latin America, anyway. Perhaps it's because it is one of those desserts that mothers and grandmothers always prepared for us in our childhood.
This classic dessert for everyday is very popular in different countries, and depending on the place of origin it has its variants.
Personally, I like a starchy and creamy rice pudding, but at the same time it needs to have a good amount of liquid in each serving. Also, to make it extra caloric and delicious, I like to add a topping of dulce de leche, salted caramel or honey.
It can be eaten cold or warm depending on the season, or according to personal preference. The aromas we use to complement and enhance the flavor of this dessert depend on your taste too. In this case, I encourage you to use cinnamon sticks and orange peel. However, the whole idea is for you to play with flavors and experiment with what catches our attention the most; other citrus, vanilla, or chai tea are some ideas. In fact, I'm such a fan of rice pudding that I have yet to try new flavor tests, one of which includes chocolate!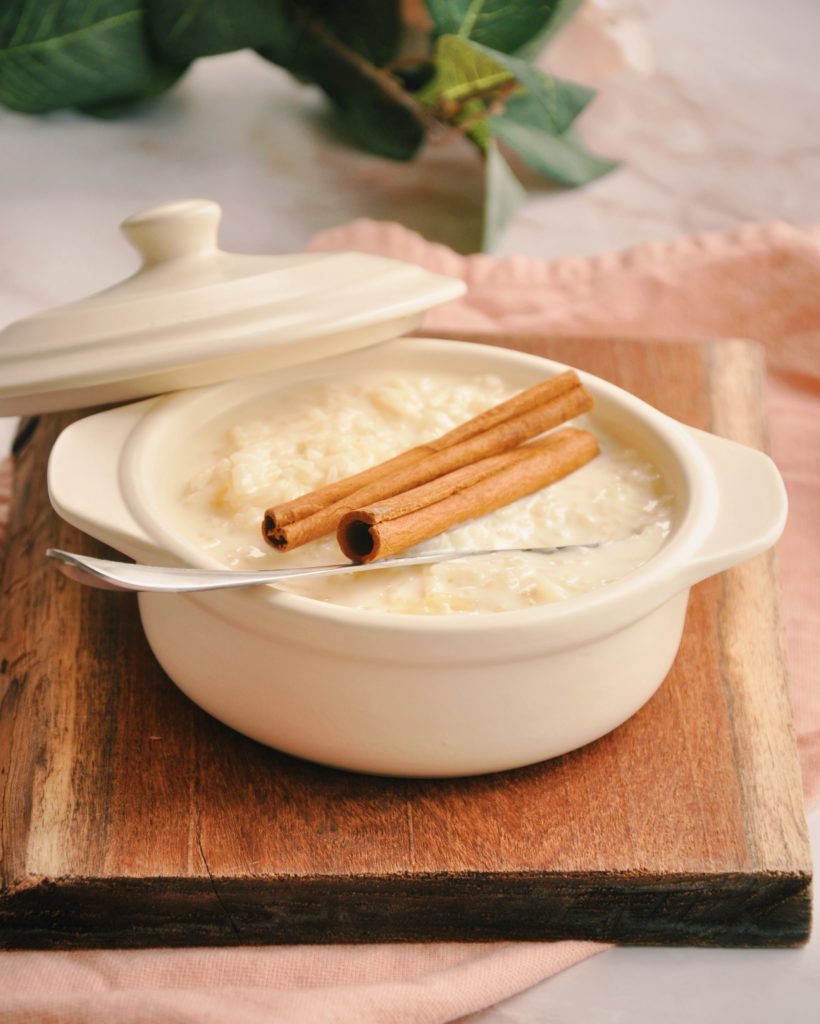 Baker's tips
Choose the type of rice. You can actually use whatever kind of rice you have on hand. White long grain rice is usually the one we find more often in our pantries. But if I had to choose, I'd go for types of rice that absorb more liquid and release more starch to create that creamy texture, such as arborio, which is the one used to make risotto.
Use whole milk. Although you can use skim milk (which by the way is a good option to make a low calorie version), it is preferable to use whole milk to achieve that creamy result. In my recipe, I even added whipping cream to the mixture, to add that extra fat percentage.
Play with flavors. Take the chance to change and combine the scents according to your preference. Some ideas might be: vanilla, cinnamon, orange peel, lemon peel, chai tea, earl gray tea.
To get the most of the essential oils from the oranges, make sure you use a veggie peeler to get only the outer layer of the skin; you don't want to use the white part of the peel because it tends to give a bitter taste. Instead of the peel strips you can also use zest, without the need to remove it later.
Play with the toppings. This is where you can make it more interesting and personalized for family and friends. Some topping ideas are: liquid caramel, dulce de leche, honey, maple syrup, chopped chocolate, raisins, or sprinkle cocoa or cinnamon powder.
White rice pudding. A trick to obtain a less yellowish rice pudding is to add the sugar last, when the rice is practically ready, that way the sugar won't begin to caramelize and turn the white into a more toasted color.
How to store it. It can be kept in the refrigerator for 4-5 days. It can also be freezed for up to a month. If some moisture is lost after storing, it can be loosened up by mixing with a little more milk or cream.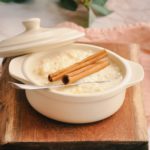 Print Recipe
Super Creamy Rice Pudding
This recipe is the only one you'll need for rice pudding. It's incredibly creamy, it has the right amount of sweetness and the subtle taste of cinnamon and orange peel. It's just right!
Ingredients
1

L

Whole Milk

200

g

whipping cream

2

cinnamon sticks

2

Orange peel strips

150

g

Granulated Sugar

150

g

White long grain rice or arborio rice
Instructions
In a large saucepan place the milk, whipping cream, sugar, cinnamon sticks and orange peel. Mix well and bring to medium heat until the milk begins to boil.

Lower the temperature to a minimum, add the rice and mix.

Continue cooking for about 30 minutes, mixing occasionally, until the rice is very soft.

Remove the cinnamon sticks and the orange peel and let cool. Serve cold or warm alone or with dulce de leche, honey or liquid caramel.