This post features affiliate links, meaning we'll earn a small commission if you purchase through these links.
Rogel cake is one of the most loved cakes in Argentina. You can find it in every big or small bakery throughout the country. It's also a favorite for events and meetings. This cake consists of many thin, crunchy cookies with a neutral flavor that we layer with dulce de leche. We decorate this cake with a delicate Italian meringue, commonly placed on top with a rustic design. I prefer to make big meringue dollops, to make the cake look taller and fancier. This dessert is a tribute to dulce de leche, which makes it the favorite of many Argentines.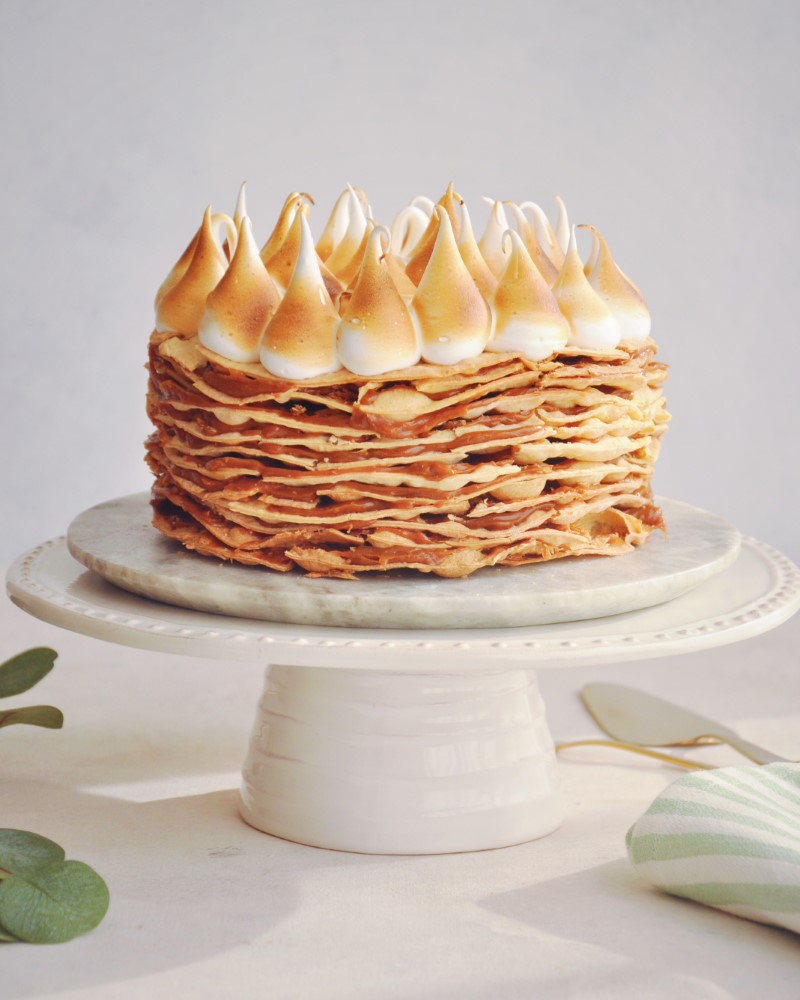 If you're into learning more recipes with dulce de leche, you should check out my walnut dulce de leche cake. You will love it!
Rogel Cake origins
The origin of this dessert is uncertain (as is generally the case in many dishes). Some say it was born in Buenos Aires from a lady named Rogelia, who used to sell it to her neighbors in the Belgrano area. Others say it comes from another neighborhood in Buenos Aires, as a version of a Dutch cake with a fruit filling. Other people relate it to the alfajor from Santa Fe province ("alfajor santafecino"), a small crispy cookie with dulce de leche filling and covered with royal icing.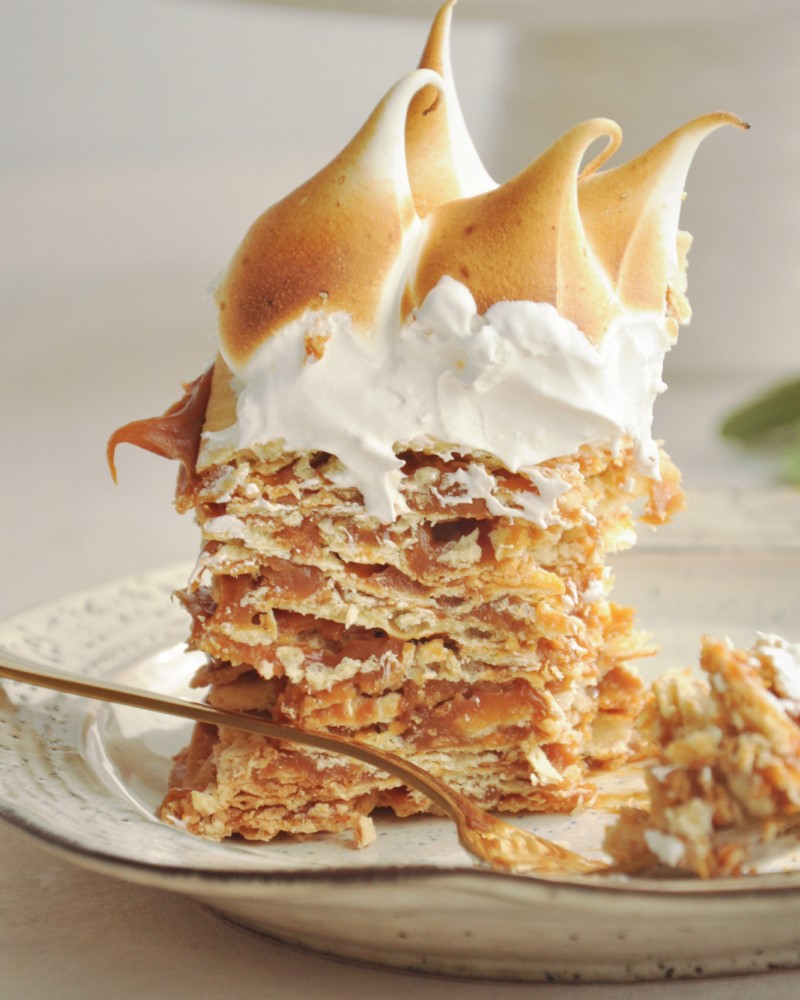 How to make a Rogel Cake?
These are the steps we need to follow to make this Rogel Cake:
Prepare the dough and make small buns. Let the buns rest
Stretch each bun until you get thin layers
Cut circles and remove excess dough
Bake the layers
Assemble the cake with layers of cookies with dulce de leche
Make an Italian meringue and decorate the cake with a piping bag. Burn the meringue with a torch and serve.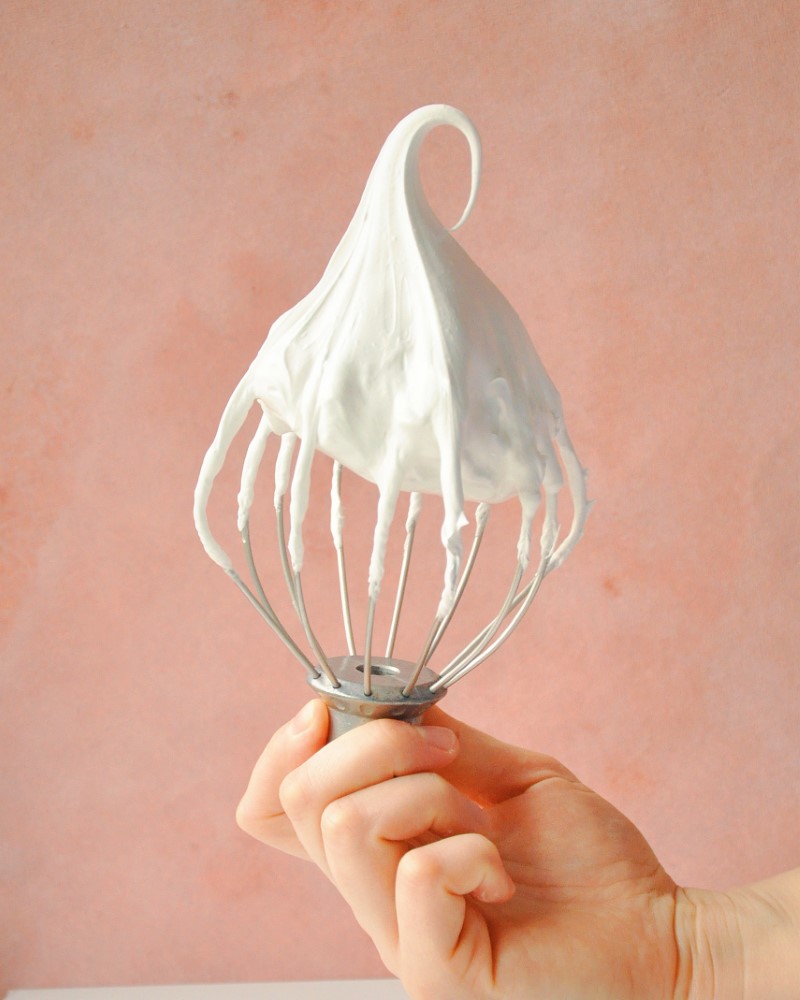 ¿Why do we use Vodka in this cake?
This recipe calls for Vodka because it helps the cookie to dry out and get crispy in the oven. If you don't consume alcohol, this shouldn't be an issue because alcohol evaporates during baking.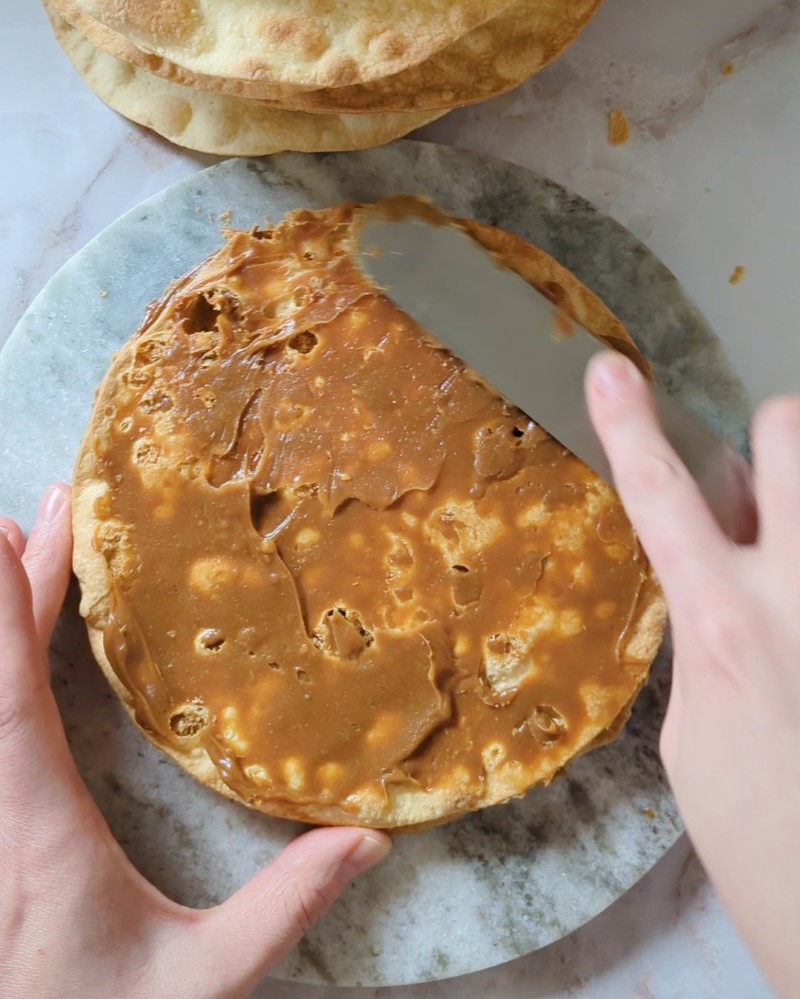 What kind of dulce de leche do we use for Rogel Cake?
For Rogel cake, we use thick dulce de leche. There are two types of dulce de leche in Argentina: Classic dulce de leche, with a lighter consistency, great for spreading. The other kind is thick dulce de leche, or baker's dulce de leche, which we use to fill cakes and alfajores. Using thick dulce de leche helps the cake to be stable and the cuts to be cleaner. If you can access only classic dulce de leche (the one we usually get at stores in North America), I recommend picking the thicker brands or making your own, using the longer baking time. You can see my dulce de leche recipe here.
Where can I get dulce de leche?
I normally buy dulce de leche for my recipes instead of making it at home. It saves time and the results are usually better! I usually order it online, because where I live the good brands are not so easy to find. If you want to do the same, check out these links below (I included only dulce de leche for baking, which is perfect for this recipe):
Don't forget to use my discount code LUCIAPAULA in your first purchase from Pampa Direct to get a 10% discount.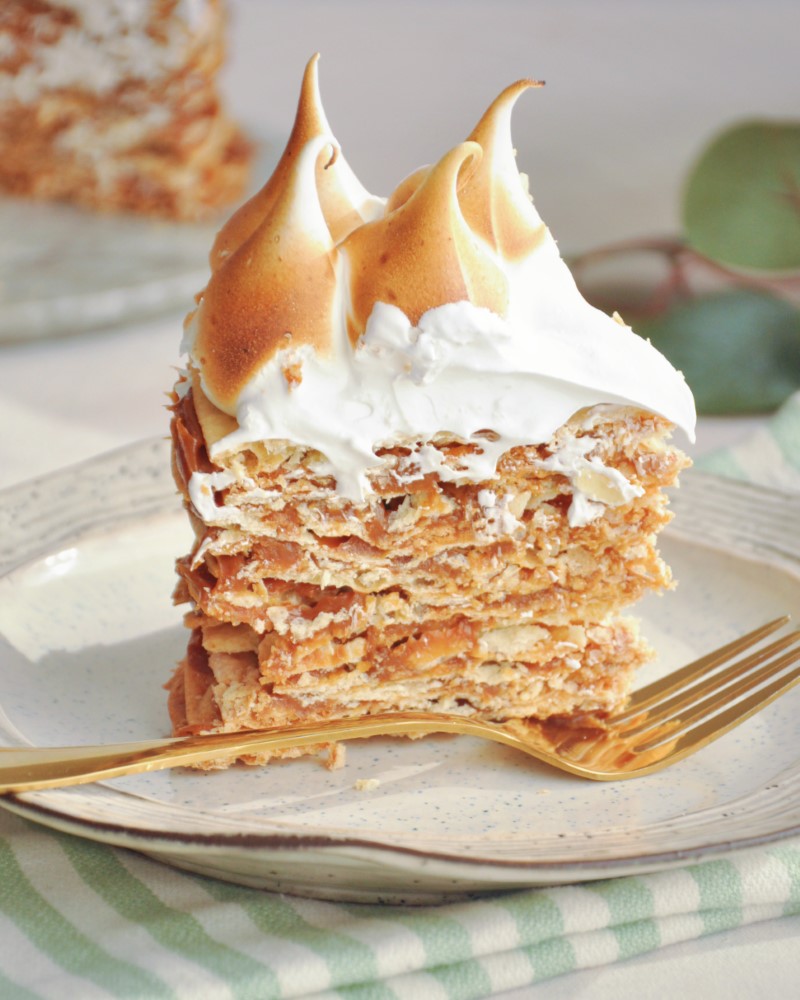 Baker's tips
Size of the cookies
The layers tend to shrink in the oven, so it's a good idea to cut the circles ½ or 1 inch bigger than the size we expect.
How to stack layers of raw dough
While the cookies are baking, you can roll and cut the following layers. However, if you prefer to finish all the cutting and bake everything at once, you can stack the unbaked layers. Just be sure to place a parchment paper between them to avoid them from sticking together.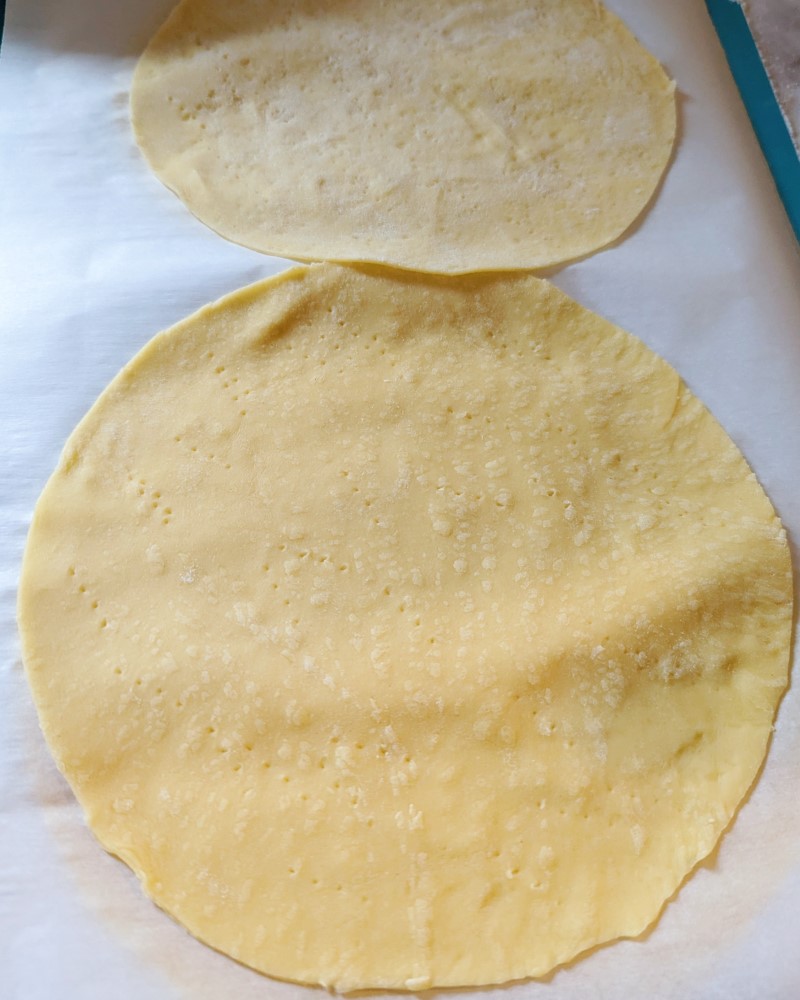 Important baking notes
Baking is crucial to the success of this cake. If we overbake one of the cookie layers, we can't use it, meaning we'll end up wasting time and energy. Therefore, I recommend checking the layers halfway through baking and flipping them if they look browner on one side. Use gloves to avoid getting burned. Also, it's very important to check the cookies 2 minutes before baking time is over because some layers tend to be ready sooner than others. Don't forget to set your timers!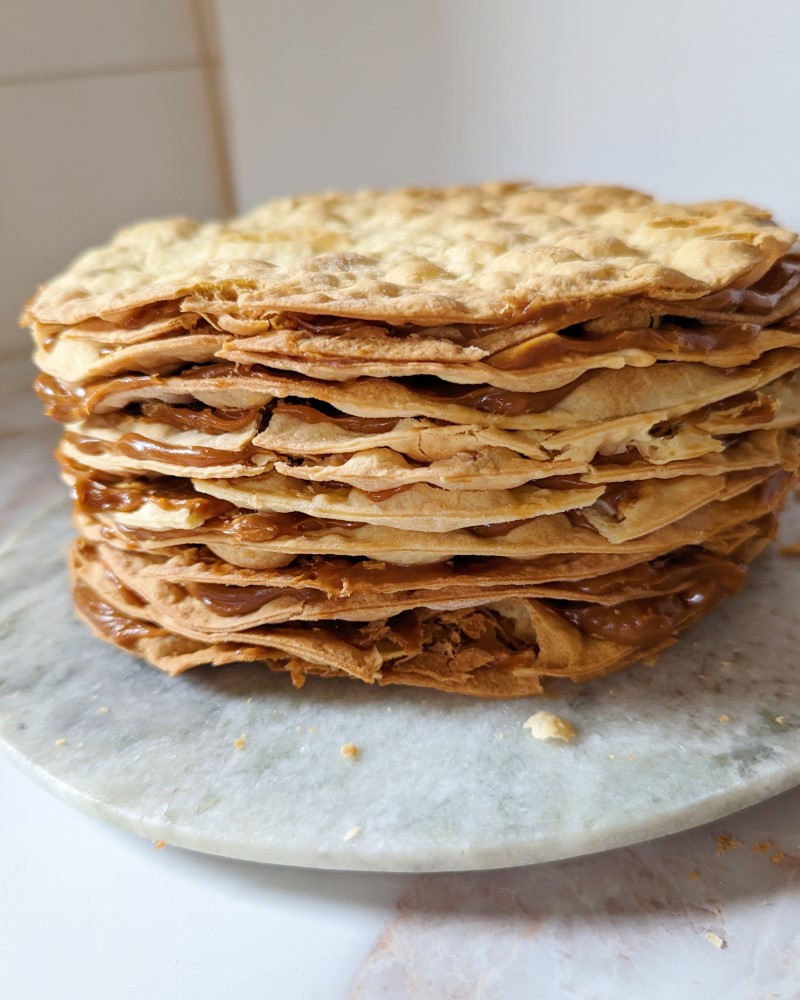 Use a small amount of dulce de leche
It's vital not to go crazy with the layers of dulce de leche. Spread an ultra-thin layer over each cookie, even if it seems too little. Keep in mind we're using almost one kilo of dulce de leche for the whole cake, and we don't want it to be overly sweet.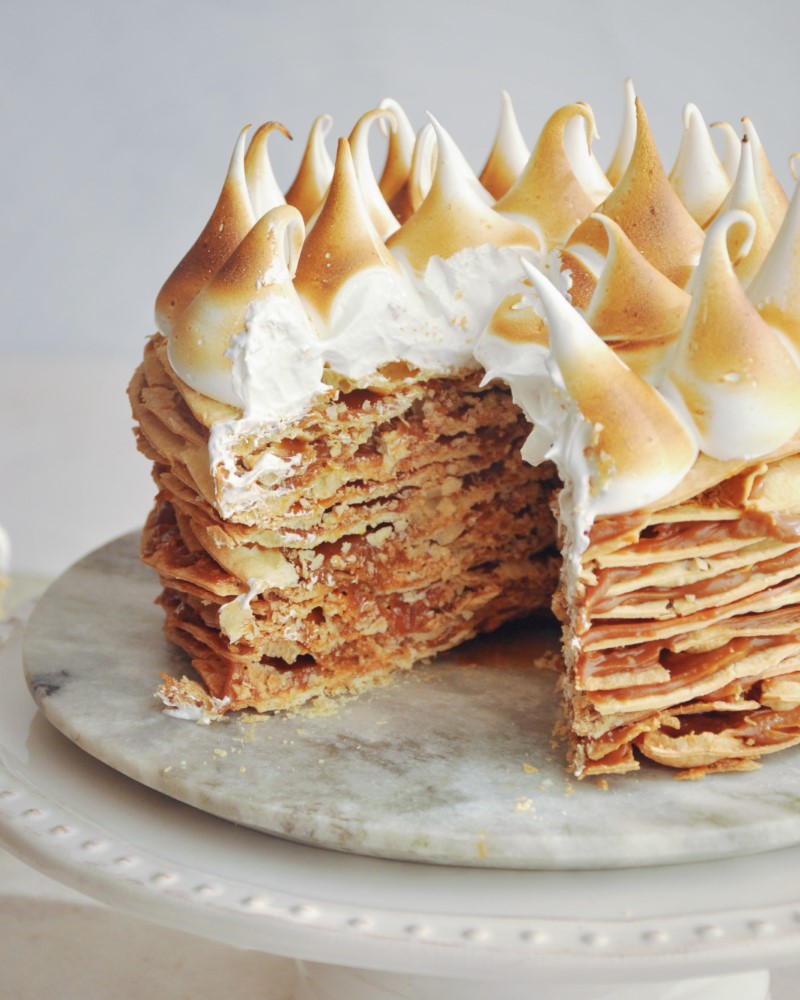 Conservation of Rogel Cake
Store this cake at room temperature. Cover the sides of the cake with plastic wrap, making sure not to touch the meringue. You can also cover it with a glass dome or keep it in a cake box. Eat within five days.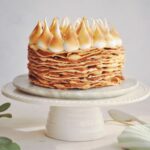 Print Recipe
Rogel Cake (Torta Rogel)
Rogel cake is one of the most beloved cakes in Argentina. Thin crispy cookie layers with thick and delicious dulce de leche and topped with toasted Italian meringue, this cake always gets all the applause! This recipe makes an 8-inch (20 cm) cake.
Ingredients
For the cake:
600

g

All-purpose flour

10

g

Salt

6

Egg yolks

180

ml

Water

3

tbsp

Vodka

120

g

Unsalted butter

soft

800

g- 1Kg Dulce de leche
For the meringue:
140

g

Egg whites

4 egg whites

280

g

Granulated sugar

140

ml

Water
Instructions
For the cake:
In a bowl, mix the flour with the salt. Make a well in the center and pour in the water, the yolks, and the Vodka.

Mix everything with a spatula until you form a dough, and transfer it to the counter. You can also use a stand mixer with a dough hook attachment throughout the process.

Add the soft butter in three parts, kneading well between each addition. First, it might look like a sticky dough, but as you add air to the mixture, the dough will become drier and firmer.

After combining all the butter, knead for about ten more minutes until the dough is smooth.

Make 14 same-size buns. Cover and let rest for at least half an hour. If you make a finger mark and it keeps its shape, the dough will be ready to be rolled.

Roll out the dough with a rolling pin until you get a 2 mm thickness dough (thinner than a coin)

Cut with a sharp knife using a 9-inch mold or plate to create 8-inch layers (they will shrink when baking). Place on clean baking trays and prick with a fork.

Bake at 390°F (200ºC) for approx. 10-12 minutes until the edges get lightly golden.

Let cool and build the cake layering the cookies spread with a small amount of dulce de leche. When you place the last cookie layer, place a clean tray on the top of the cake and press lightly with both hands to make the cake more compact.
For the Italian meringue:
In a saucepan place the sugar and cover it with water. Bring to high heat. While the syrup is heating up, beat the egg whites at medium speed until stiff peaks form. Use a stand mixer with a whisk attachment or a handheld mixer.

When the syrup reaches 240°F (117ºC) or soft ball stage, drizzle it slowly while the whites keep whipping.

Continue mixing on medium-high speed until the meringue reaches room temperature and gets stiff peaks.

Place the meringue in a bag fitted with a large round tip. Make meringue dollops on top of the cake. Burn the meringue with a torch and serve.