This post features affiliate links, meaning we'll earn a small commission if you purchase through these links.
Meringue Kiss Alfajores are made of a sweet cornstarch cookie with dulce de leche filling and a dry meringue kiss on top. They are delicious, sweet, and have a soft and tender texture. They are the perfect treat for a party or to give as a present.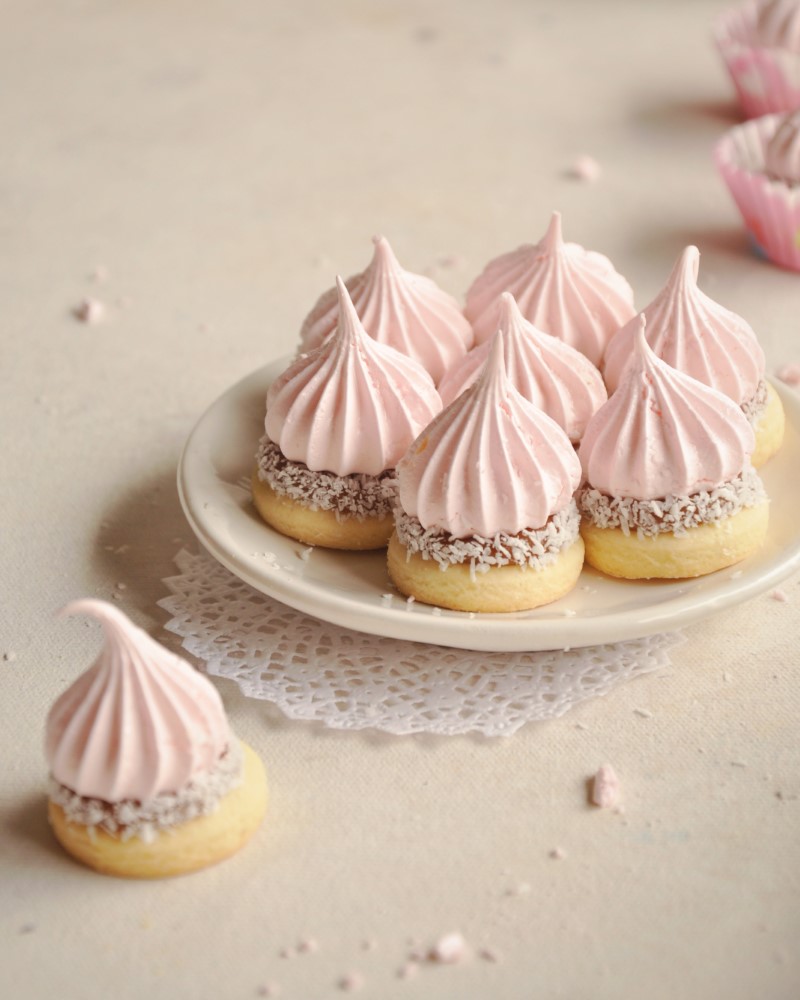 I got the idea for these alfajores from Miss Petel's meringue alfajores. And since I always make alfajores at home, I thought I should make my recipe! By the way, If you'd like to make alfajores you need to try my recipe: just click here!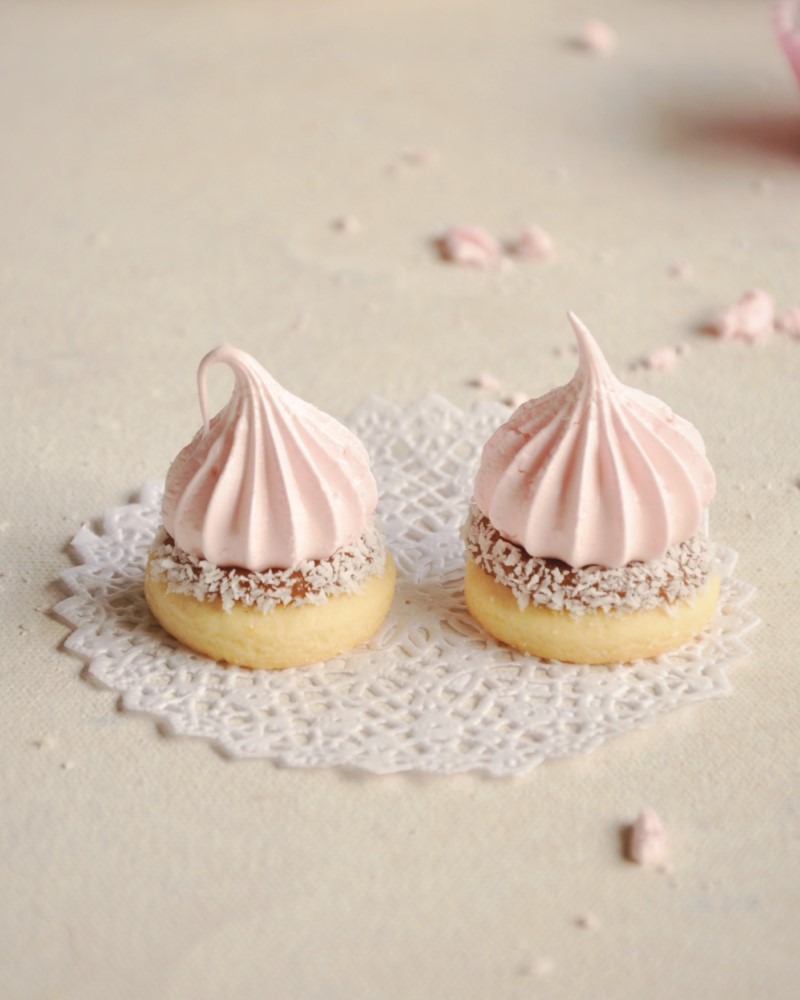 ¿How to make Meringue Kiss Alfajores?
These are the steps we're going to follow to make this recipe:
Make the cornstarch dough, cut and bake the cookies
Make the meringue kisses and bake them
Fill the cookies with dulce de leche and top with the meringues
Roll the sides into shredded coconut
Serve or store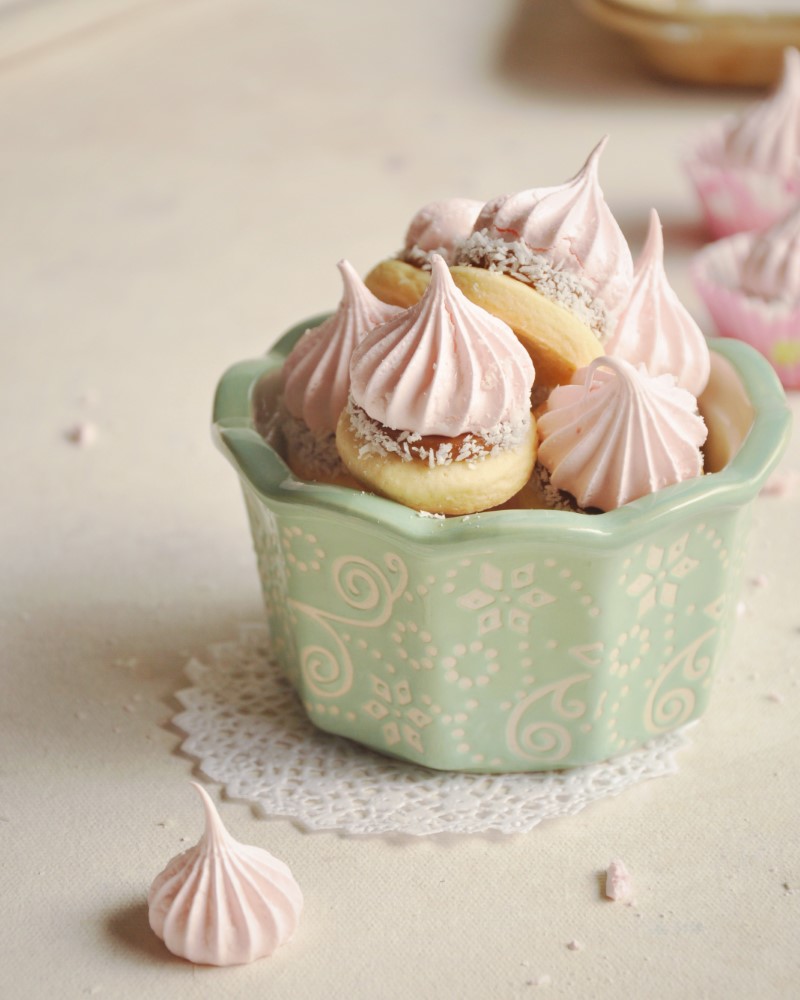 Where can I get dulce de leche?
I normally buy dulce de leche for my recipes instead of making it at home. It saves time and the results are usually better! I usually order it online, because where I live the good brands are not so easy to find. If you want to do the same, check out these links below (I included only dulce de leche for baking, which is perfect for this recipe):
Don't forget to use my discount code LUCIAPAULA in your first purchase from Pampa Direct to get a 10% discount.
What's the best occasion for Meringue Kiss Alfajores?
Of course, you can make this meringue kiss alfajores for yourself! But they are also great for giving as a present, nicely packed in a box. These meringue treats are super cute and fancy. That makes them perfect for a party/event treat, too.
Besides that, meringue kiss alfajores keep their freshness for a long time, for up to two weeks. That means you can make them ahead of time and make your life easier when planning an event.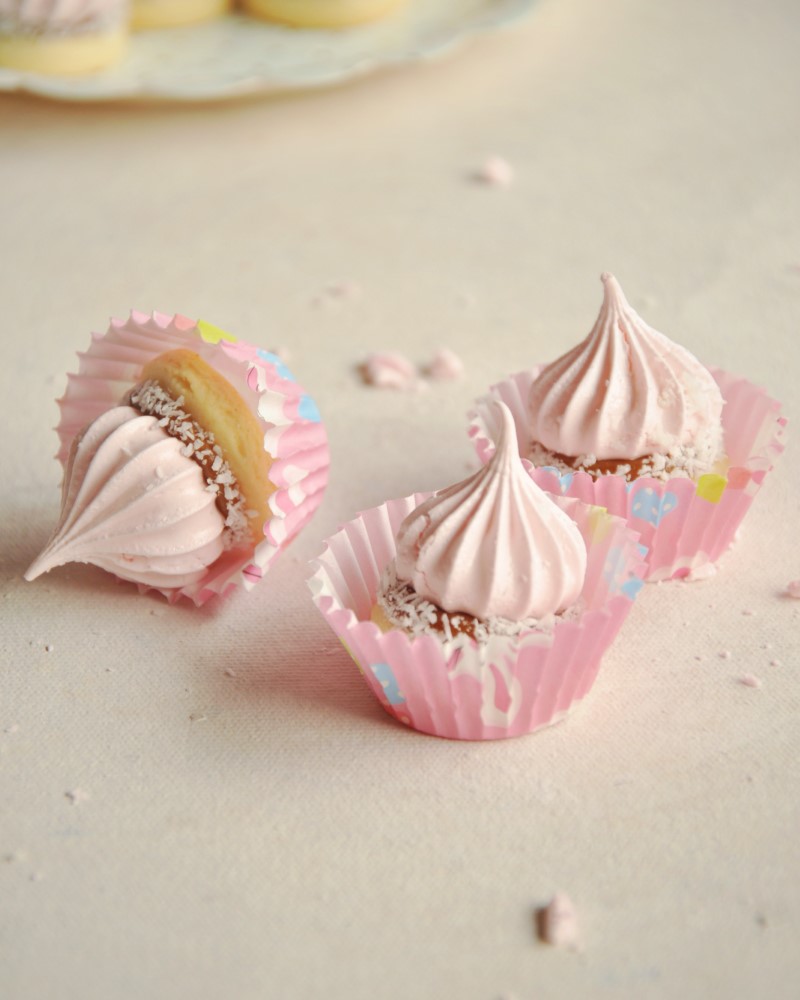 Italian meringue for the meringue kisses
To make dried meringue or meringue cookies, we generally use French meringue, meaning the meringue that's not cooked. In this recipe, I decided to make Italian meringue since it's sturdier than French meringue. This way, when we use a star tip to make the kisses, they keep their shape perfectly.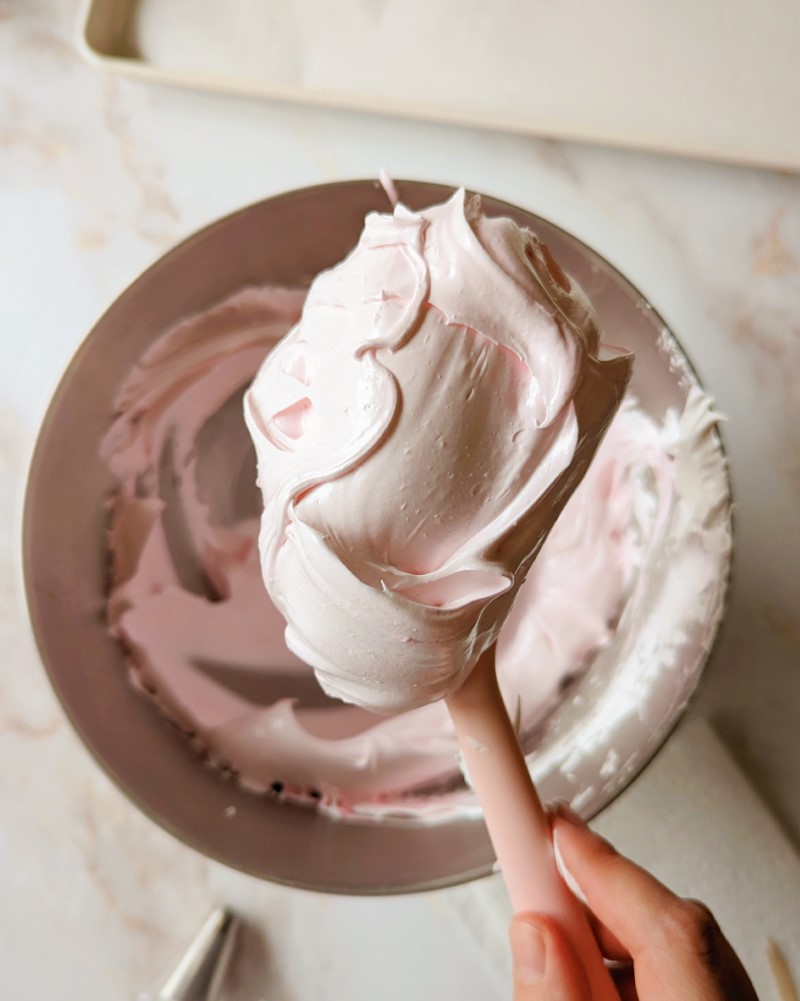 Baker's tips
Size of Meringue Kiss Alfajores
When cutting the cookies, I recommend using a small cookie cutter. I used a 1-inch round cutter (3cm). That way, you'll get a perfect bite-size on each alfajor. Additionally, it will be much faster to bake the meringues if you make them small.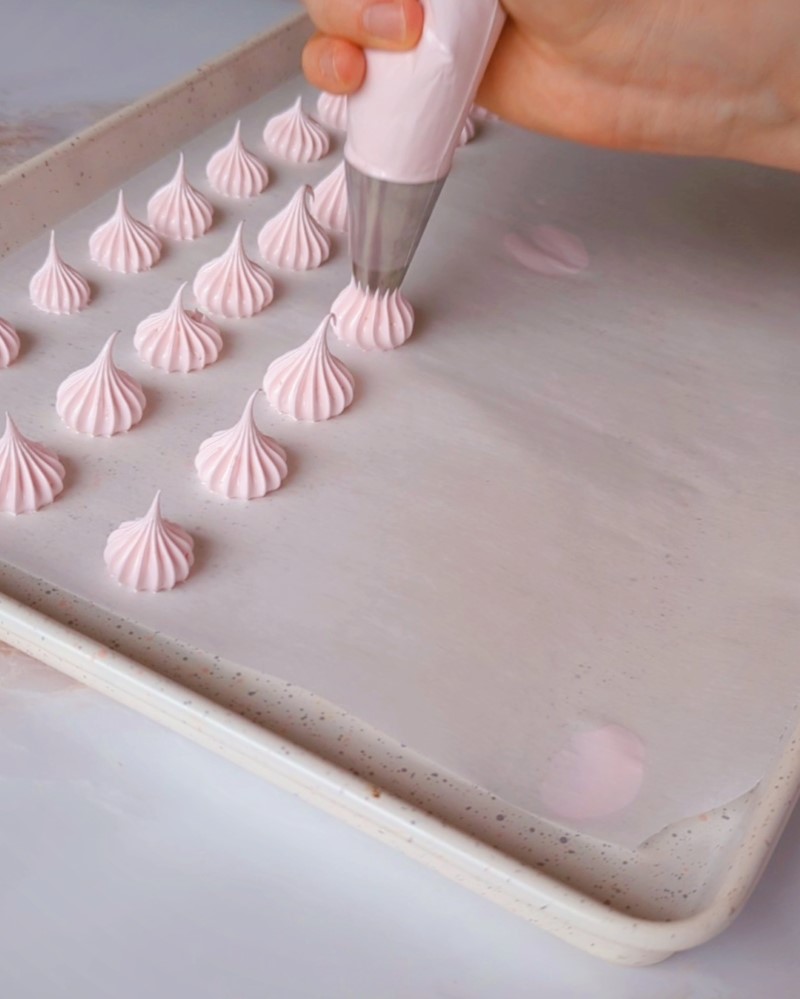 Bake the cookies before the meringue kisses
It's a good idea to bake the cookies before the meringues. That way, once the cookies are baked, we can use them as a size template to make the same-size meringues. The reason is cookies tend to expand more than the meringues, and their size after baking could change.
How to avoid meringue kisses from cracking?
The oven temperature must be 195°F (90°C) and no higher than 210°F (100°C) otherwise your meringues could crack and get gold/ brown. If you don't own an oven thermometer, I recommend setting it to the lowest temperature possible. Keep the oven door cracked open, with a wooden spoon throughout the cooking time.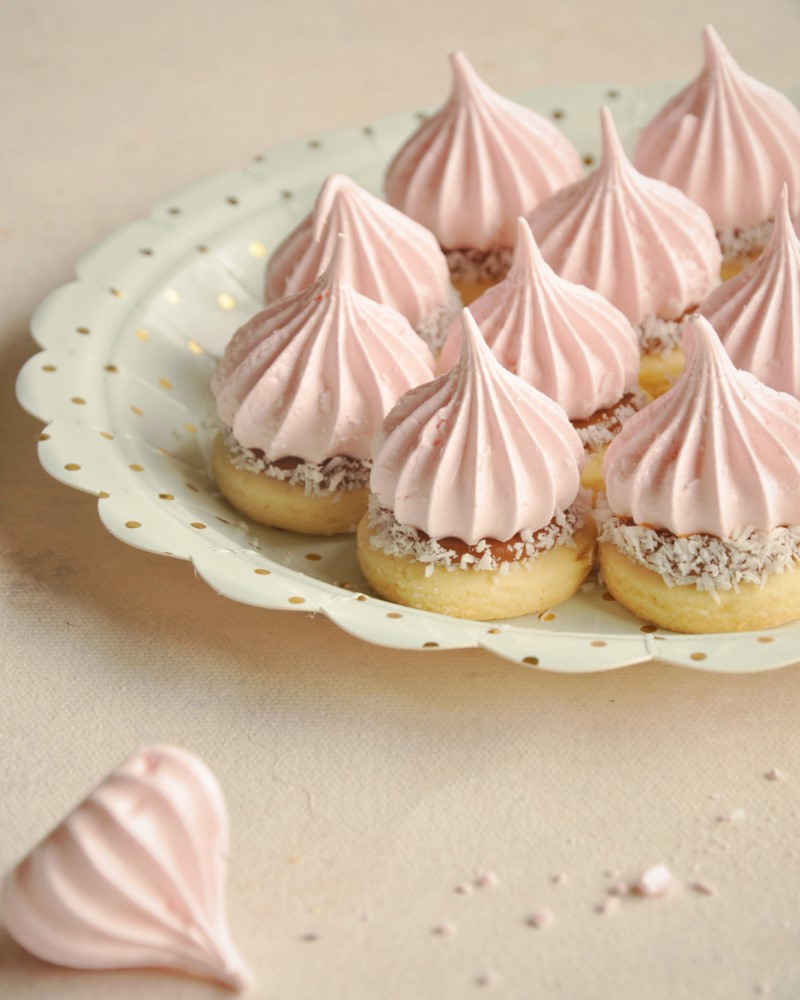 Storing of Meringue Kiss Alfajores
Meringue kiss alfajores can be stored for up to a week at room temperature. Keep them in an airtight container. That will help them absorb the humidity from the air. If your meringues get a little humid or chewy inside, you can fix them by baking them again, already built and all. Bake at 195°F for 30 minutes, turn the oven off and let them cool down inside the oven. They'll look like new.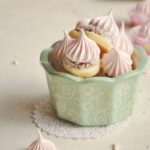 Print Recipe
Meringue Kiss Alfajores
Meringue kiss alfajores are similar to cornstarch alfajores. They are made of cornstarch cookies, dulce de leche, and dried meringues. They are sweet, tender, and super cute. They are the perfect gift or treat to share at an event!
Servings:
60
meringue kiss alfajores
Ingredients
For the cookies:
100

g

Unsalted butter

Soft

80

g

Granulated sugar

1

tsp

Vanilla extract

1

Egg yolk

1

Egg

100

g

All purpose flour

150

g

Cornstarch

1

tsp

Baking powder

1/2

tsp

Baking soda
For the meringue kisses:
70

g

Egg Whites

140

g

Granulated Sugar

70

ml

Water

1

tip pf a toothpick

Red or oink food color
For building:
300

g

Dulce de leche

50

g

Unsweetened Shredded Coconut
Instructions
For the cookies:
In a bowl, beat the butter with the sugar and vanilla until light and creamy. Use a stand mixer with a paddle attachment or a handheld mixer.

Add the yolk and the egg and beat until combined.

Sift the dry ingredients and add them to the mixture. Combine with a spatula or spoon. Transfer to the counter and make a ball without kneading the dough.

Roll the dough to a 1/4-inch thickness or a little less. Cut the dough with a round 1-inch cookie cutter.

Place the cookies in a tray lined with parchment paper or a buttered tray. Leave space between them.

Bake at 180ºC for 8-10 minutes or until golden on the bottom. They should be white on top. Let them cool before the assembly.
For the meringues:
Place the water and sugar in a saucepan and bring to medium heat.

Place the egg whites in the mixer bowl. When the syrup starts boiling, start mixing the egg whites with the whisk attachment at medium/high speed. When the whites reach stiff peaks, set the mixer at low speed.

When the syrup reaches 240°F (117°C), or the soft ball stage, drizzle it into the whites while mixing on medium speed. Continue mixing at high speed until the meringue reaches room temperature. Add the food color and mix until combined.

Place the meringue in a piping bag with a star tip. Stick parchment paper on a baking tray with some meringue, or use a silicone mat. Make the meringue kisses the same size as the cookies.

Bake for 2 hours in the oven at 195°F (90°C). If your oven does not have a thermometer, set it to the lowest temperature possible and leave the oven door slightly open with a wooden spoon throughout baking time.
For the assembly:
Place the dulce de leche in a piping bag with a round tip. Make a dollop on each cookie and stick a meringue in each one of them.

Run de sides of the alfajores through shredded coconut to get the dulce de leche covered.

Serve or store in an airtight container at room temperature for up to a week.