This post features affiliate links, meaning we'll earn a small commission if you purchase through these links.
Alfajores are one of the most traditional sweets in Argentine bakeries. They are present at every tea gathering and are a favorite for children's birthdays. There are many kinds of alfajores. The most popular ones are cornstarch alfajores ("alfajores de maicena") and chocolate covered alfajores.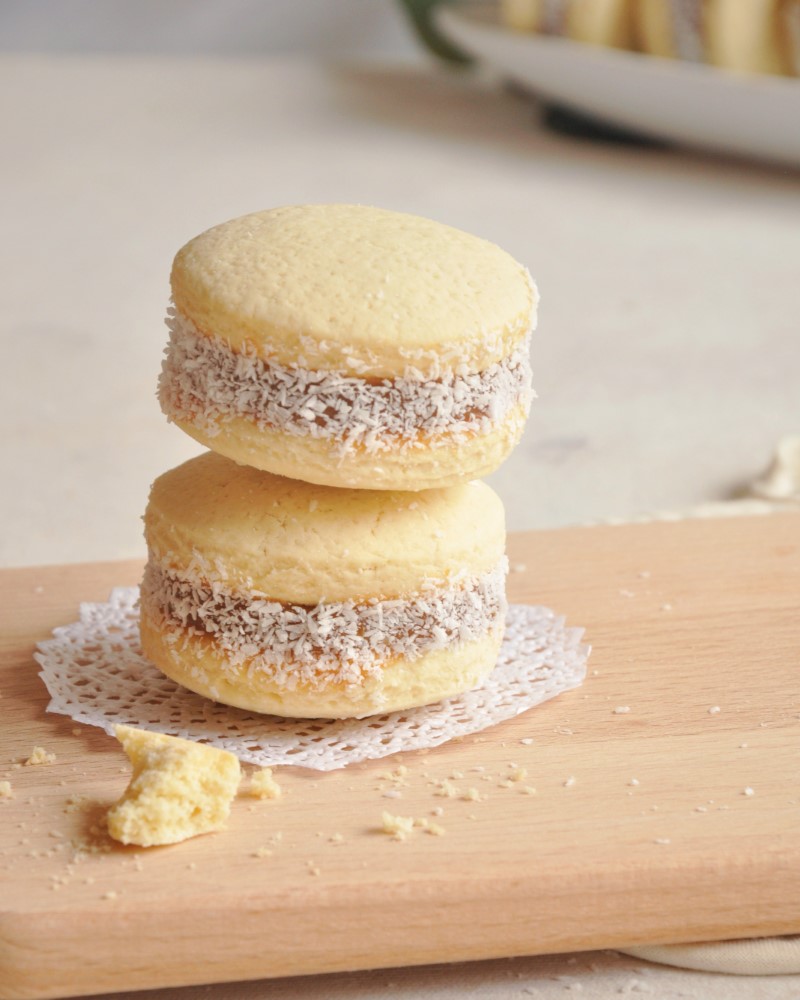 This time I'll teach you how to make the best cornstarch alfajores. They are sandwich cookies made with cornstarch dough cookies and filled with a generous amount of dulce de leche. They are incredibly soft and crumbly and fall apart when you bite into them. The cookie and the filling make the perfect combination of texture and sweetness. It's a simple yet delicious recipe you must have in your recipe notebook! I worked on this cornstarch alfajores recipe for years, making small changes every time. Finally, I could get the texture and flavor I was looking for, and this is the final version that always gets all the applause.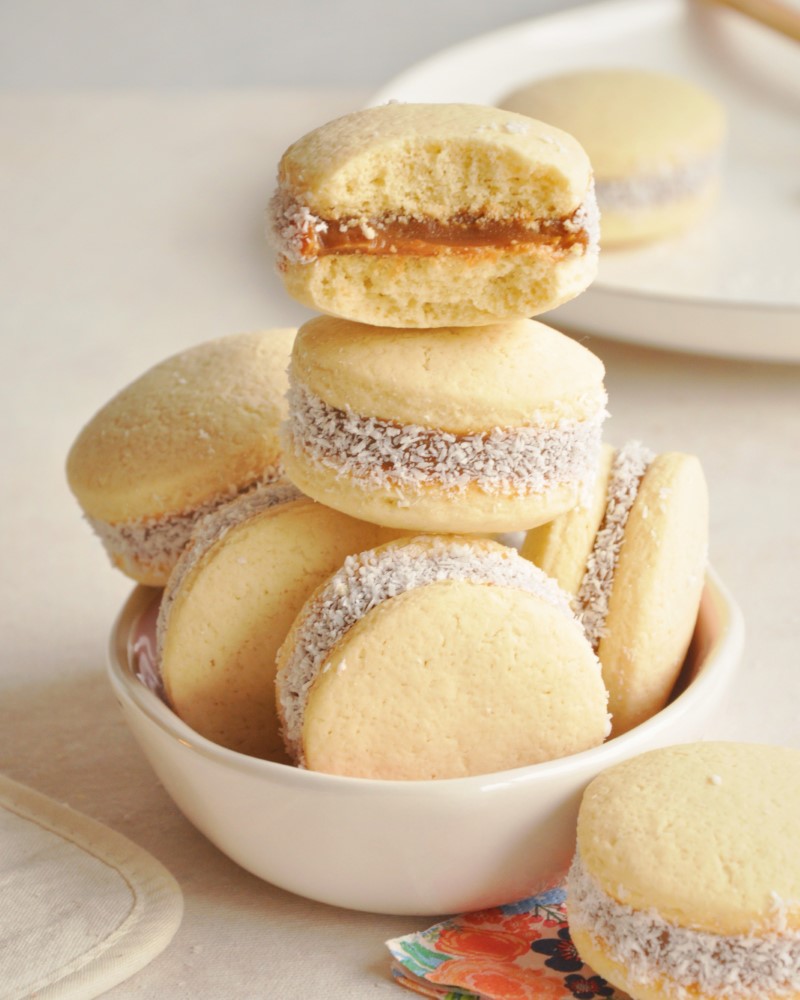 How to make Alfajores with Dulce de Leche
These are roughly the steps we need to follow to make this recipe:
Cream the butter with the sugar
Add the egg and yolks and combine
Add the dry ingredients and form a dough
Roll the dough and cut circles
Bake the cookies and cool them down
Fill the cookies with dulce de leche
Cover the sides with shredded coconut and serve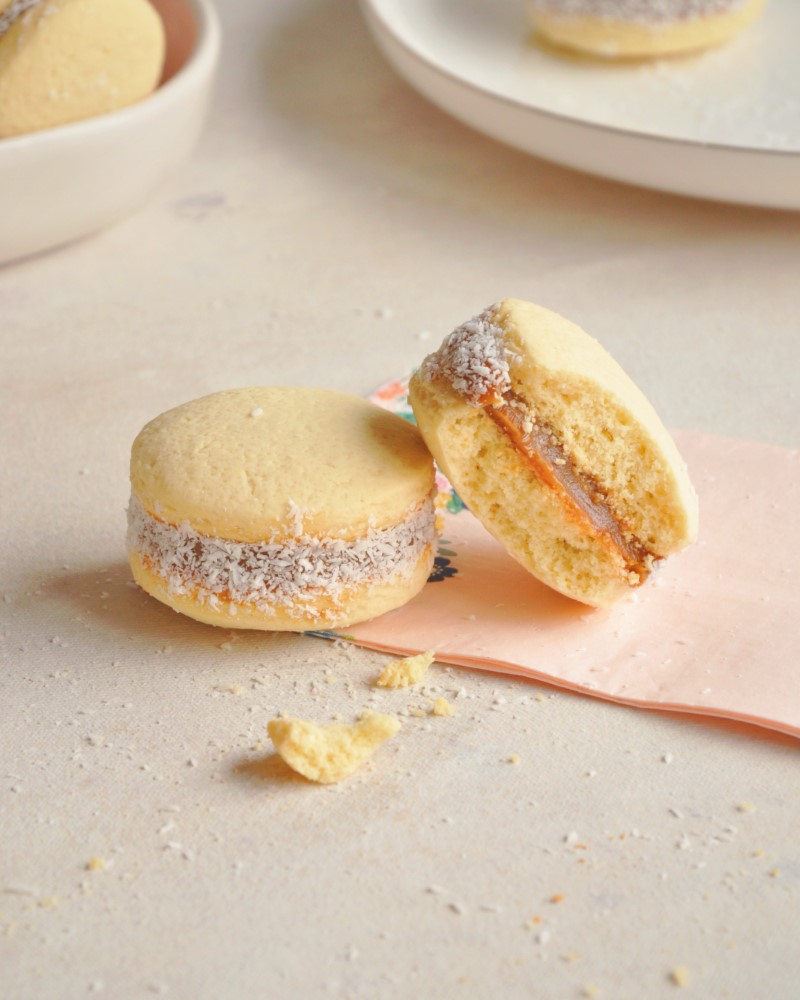 How to get crumbly and soft cookies for alfajores
This recipe calls for more yolks than eggs. That makes the dough less tense, softer, and more delicate. In addition, we use a large amount of cornstarch in this recipe, which makes the cookies brittle, and crumbly, and they fall apart when we bite into them.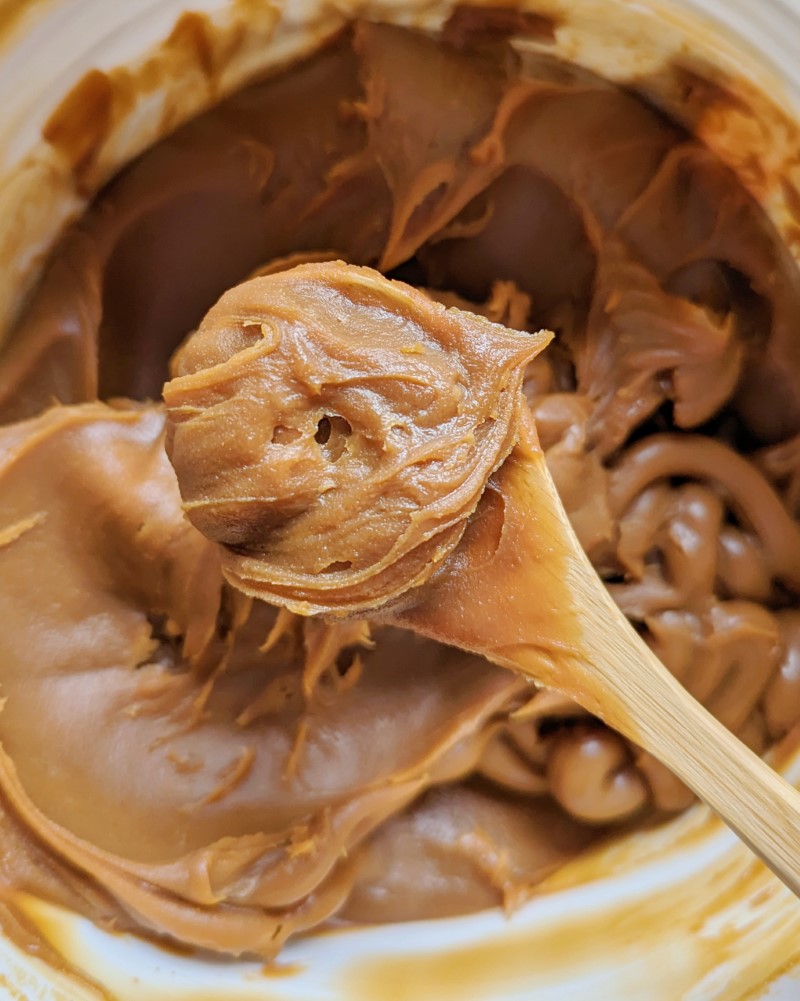 What dulce de leche should I use for alfajores?
To fill out alfajores, you have to use thick dulce de leche. For those who live in South America, it's easy to buy, since you can find thick dulce de leche or "baker's dulce de leche" at any grocery store. For those who can't access this kind of dulce de leche, I recommend making your own at home by cooking a can of sweetened condensed milk. The longer we cook the condensed milk, the thicker the dulce de leche will be. It can take around four and a half hours. Check out my recipe for homemade dulce de leche here.
If you can only access a more liquid dulce de leche, I recommend making thinner cookies and filling them with less dulce de leche, or else things could get Messi. (I mean, messy 😉)
Where can I get dulce de leche?
I normally buy dulce de leche for my recipes instead of making it at home. It saves time and the results are usually better! I usually order it online, because where I live the good brands are not so easy to find. If you want to do the same, check out these links below (I included only dulce de leche for baking, which is perfect for this recipe):
Don't forget to use my discount code LUCIAPAULA in your first purchase from Pampa Direct to get a 10% discount.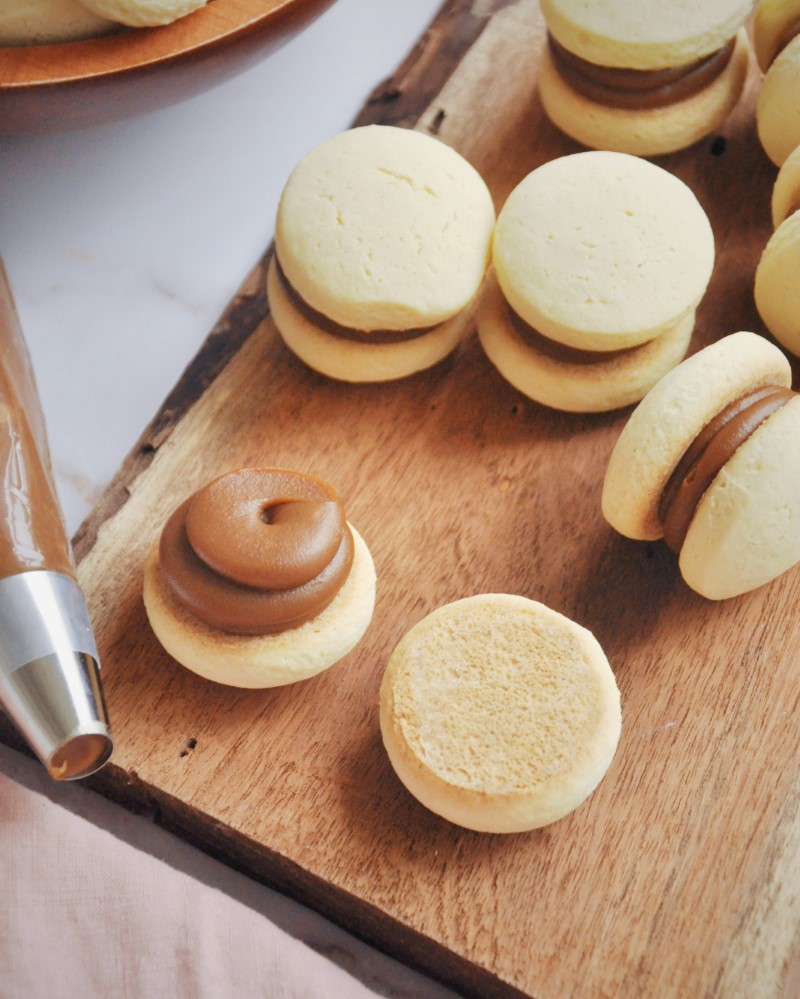 Baker's Tips
How long does it take to bake the alfajores cookies?
Bake the cookies just until the bottoms are slightly golden. The tops of the cookie should be pale and not golden. Always check the cookies the first time the recipe calls for and add more time if necessary.
What is the best way to fill alfajores?
The easiest way to fill alfajores is with a piping bag with a round tip. Not only it's the faster way, but also we make sure to put the same amount in every alfajor. You could also do it with a knife or a small spatula, but it's more time-consuming.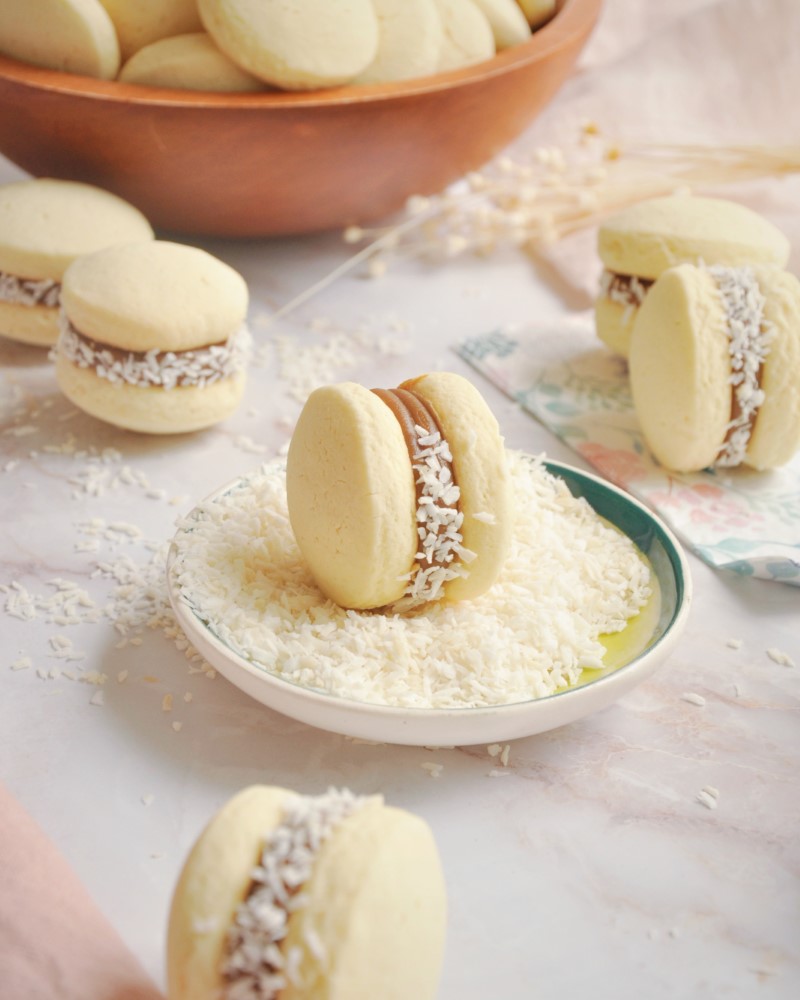 Can I skip the shredded coconut in alfajores?
Cornstarch alfajores traditionally go with shredded coconut on the sides, glued to the dulce de leche. This not only gives the alfajores a prettier finish but helps prevent the dulce de leche from drying out in contact with the air. If you prefer to skip it, you can do it since it doesn't change the flavor or texture of the final product much.
How far in advance do I have to make the alfajores?
It is better to make the alfajores a day before serving them. That way, the dulce de leche becomes a little firmer, and the cookies don't slide when eating. Flavors and textures also settle when we give it a little rest time.
Conservation of alfajores
Store dulce de leche alfajores at room temperature for up to 2 weeks in an airtight container or a tightly closed bag.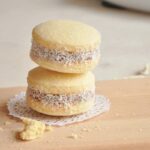 Print Recipe
Alfajores (Dulce de Leche Sandwich Cookies)
These alfajores with dulce de leche are extremely popular in Argentina. As we make them with cornstarch, they are soft, crumbly, and melt in your mouth. The cookies are not so sweet, which is the perfect pair with a generous amount of dulce de leche we use for filling.
Ingredients
200

g

Unsalted Butter

room temperature

150

g

Granulated Sugar

1

tsp

Vanilla Extract

4

Egg Yolks

1

Egg

200

g

All Purpose Flour

300

g

Cornstarch

2

tsp

Baking Powder

1

tsp

Baking Soda

600

g

Thick dulce de leche

80

g

Unsweetened shredded coconut
Instructions
In a bowl, beat the room-temperature butter with the sugar and the vanilla until light and fluffy. You can use a stand mixer with a paddle attachment or do it by hand with a whisk.

Add the egg and the yolks and mix until combined.

Sift together the dry ingredients and add them to the mixture. Continue mixing just until combined. Place the dough on the counter and knead slightly to form a ball.

With a rolling pin, roll the dough to ¼ inch. Sprinkle some flour on the counter and on top of the dough to avoid it from sticking. Cut the cookies with a 2-inch round cookie cutter.

Place the cookies on a tray lined with parchment paper or a buttered tray.

Bake at 350°F (180°C) for 10-12 minutes or until they are slightly golden on the bottom. They should look completely white on top.

Let the cookies cool down. Fill out a piping bag with dulce de leche, and fill out the alfajores with a generous amount of filling.

Clean up the excess dulce de leche from the sides with a knife and roll them into shredded coconut.
Notes
Ideally, let them rest for a day before serving them as the texture and flavor will improve after a day.